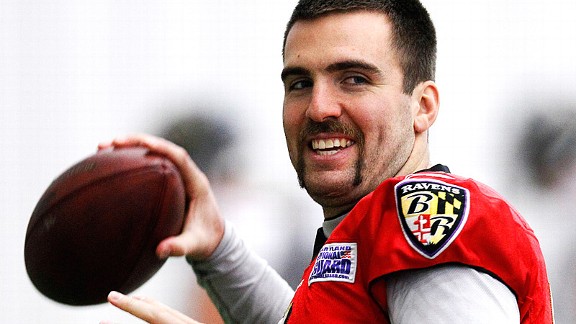 AP Photo/Patrick Semansky"It's not really my personality to have something like this on my face ... " Joe Flacco said.
BALTIMORE -- If fashionable and Fu Manchu ever belonged in the same sentence, it's now. You can thank Ravens quarterback Joe Flacco, who grew one during the season.
Flacco isn't the first pro athlete to make facial hair, well, vogue -- why it was just two years ago that the citizens of San Francisco were sporting bodacious beards and chanting "Fear the Beard" as hairy-faced reliever Brian Wilson and the Giants won the 2010 World Series.
Flacco's Fu has spawned "Fanstaches" -- stick-on purple felt renditions of the distinctive look. Fans can order their very own faux Fu whiskers for $5 at Fanstache.com
"It's a chick magnet," quipped Cody Ruth, a Thomasville, Pa., resident who wore a Fanstache along with his brother-in-law during last weekend's playoff win against Houston.
Six ardent fans developed the idea for the Fanstache after the Dec. 11 win over Indianapolis.
"We thought, 'Wouldn't it be awesome if everybody could wear one?'" said Valerie Griffin, who hosts her fellow Fanstache creators as they watch games at her house. "I guess we woke up Monday morning, after we all slept on it, and thought, 'It's not a bad idea.'"
The group immediately applied for a trademark and set to work making prototypes of the temporary fake Fu. Fanstache is having trouble keeping up with demand as the Ravens extend their playoff run, but the people behind the purple tresses aren't quitting their day jobs.
"It's been insane," Valerie Griffin said. "We don't really sleep that much."
Fu Manchus, both real and fake, are gaining traction with fans -- and players.
Running back Ray Rice did a news conference earlier this month wearing a Fanstache.
"I've got a baby face," he said. "I just get a couple of prickles here and there."
As for Flacco -- who will lead the Ravens in the AFC Championship at New England on Sunday -- he is unfazed about the following his mustache has generated.
"People will get going with anything, no matter how crazy it is," he said. "It's not really my personality to have something like this on my face, but you know what? What are you going to do?"