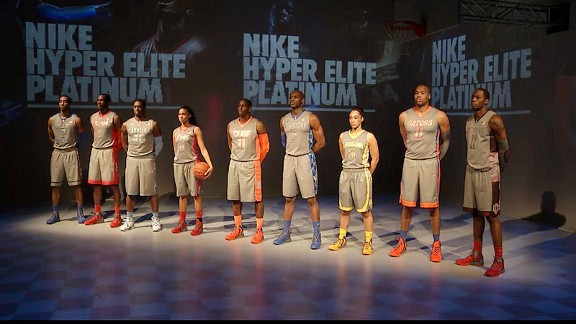 Courtesy of Nike
When the Uni Watch college basketball season-preview column ran back in November, the opening sentence was, "College basketball is under a cloud -- a gray cloud." That was a reference to all the schools that were rolling out gray uniforms this season.
Turns out that wasn't the half of it.
Nike has just unveiled its new series of Hyper Elite college hoops that we'll start seeing during the run-up to March Madness, and guess what they all have in common? Here, take a look.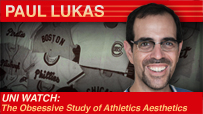 As you can see in the background of that shot, Nike is calling this the Hyper Elite Platinum series, with "platinum" supposedly referring to the color of the uniforms. Can't blame 'em for trying to come up with a snazzy-sounding name, but come on -- they're gray.
These uniforms are being rolled out for the nine Nike programs that have won national championships: Arizona, Baylor (women), Connecticut (men and women), Duke, Florida, Kentucky, North Carolina, and Syracuse. In addition to the gray base color, the uniforms feature the following elements:
• The letters and numbers are reflective.
• As Nike has done in the past, the back of each jersey features a sublimated graphic -- in this case, an enlarged version of the school's logo. In the past, however, the graphic only covered the center area of the back of the jersey; now it will extend from shoulder to shoulder.