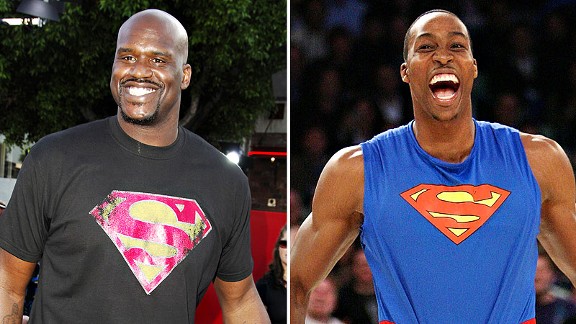 Getty ImagesShaquille O'Neal and Dwight Howard are large men who fancy themselves as Superman.
Dwight Howard vs. Shaquille O'Neal: Who really owns the Superman name?
When Howard donned a Superman shirt and red cape at the NBA Slam Dunk Contest in 2008, he unseated Shaq as the sports world's resident Superman and became the player synonymous with Clark Kent's alter-ego.
But Shaq, not one to deny any media squabble (or movie offer), has not-so-subtly made it clear he wants to be the NBA figure with the "S" on his chest.
"The whole Superman thing doesn't work for me," Shaq wrote in his autobiography in reference to Howard. At Shaq's retirement press conference in Orlando, he passed out shirts that read, "The Real Superman," an obvious dig at Howard. LeBron James, Shaq's former teammate in Cleveland, once said, "That's definitely his nickname, and the fact that everybody kind of gave Dwight his name kind of bothers him a little bit."
And that's not to mention the numerous public barbs Shaq has lobbed at Howard over the years.
"He's mad about Superman," Howard said last week after Shaq criticized Howard on TNT. "I didn't know he made it up. I didn't know Superman came from Shaquille O'Neal."
Well, that seems like a valid point. Neither of the bickering NBA big men actually owns the Superman name. Not even close.
So, who owns Superman?
Jerry Siegel and Joe Shuster, both of whom are deceased, created Superman in the 1930s and sold their comic to a company now called DC Comics.
Laura Siegel Larson, the daughter of Jerry Siegel, and Mark Perry, the nephew of Shuster, are the legal heirs to their family members' work. Both families are currently involved in litigation battles against Time Warner and DC Comics, with the outcome so muddled in appeals and complications that neither could speak to ESPN.com for this blog post.
Their lawyer, however, had this to say when asked what his clients think about Shaq and Dwight quarreling over the Superman name.
"The test of who's Superman is not a test of who can jump the highest or who has the most physical prowess, but Superman more than anything was the champion of the oppressed," said Marc Toberoff, the California lawyer who represents the Siegel and Shuster families. "He looked beyond himself to do something for the public good. That's the real test for Dwight Howard and Shaquille O'Neal."
Fair enough. Both men have done plenty for their communities, to be fair.
Makes you wonder, though: What would Kal-El from Krypton think about Howard demanding a trade from poor, oppressed Orlando?