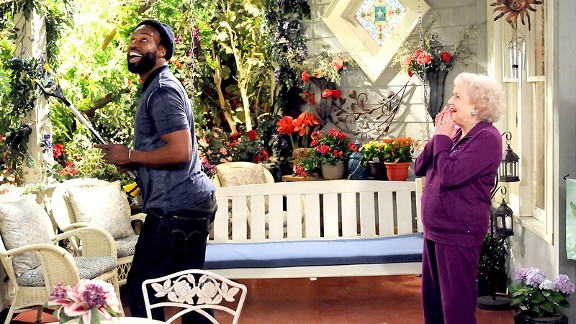 Courtesy of TV LandBaron Davis couldn't remember his lines the first time he met Betty White on set.
Baron Davis is totally choking.
It's a chilly November evening in Hollywood, and the NBA veteran (now with the Knicks) is about to tape a cameo for the TV Land sitcom "Hot In Cleveland." That was the plan, anyway. Upon arrival, Davis took one look at the series lead, the illustrious Betty White, and all but ran for the door.
"I just forgot all of my lines!" Davis yelps at the 90-year-old comedienne and TV legend, his eyes as wide as the ball he bounces for a living. "I'm so starstruck!"
Can't blame him. Davis is about to go toe-to-toe with the star of his all-time favorite sitcom, "Golden Girls," in a scene that sees Davis paying a visit to White's Elka, who is something of a "sports whisperer," for help with his game. Elka advises the point guard to "bring back Kareem's sky hook." He balks. "Well, if you're too chicken …"
That does the trick.
Davis, though, is a trained actor, having hired an acting coach last fall. "I get asked to do things like this all the time," he explains, "so I thought I'd put in the work and have the same respect for acting as I do for my sport."
Clearly, it's paying off: Davis quells his jitters and nails his scene in four takes. "His acting skills are wonderful," White confirms. "And he's the sweetest. I hope we write him into the show."
They might have to take a number. This past summer, Davis filmed a role as a gym teacher in Adam Sandler's "Donny's Boy" (formerly "I Hate You, Dad"), which bows in June. Next, he'll shop to networks a self-produced pilot for "I Love Boom," a reality-based sitcom that Davis describes as "Curb Your Enthusiasm meets Entourage," about the off-court life of an NBA player (Davis, playing himself). "It's an offbeat look at a player's typical day off, when he goes to doctor's appointments and always says the wrong things," Davis offers.
If he's serious about an acting career, White says The Bearded One may want to take a razor to his mug: "I advised him to shave. I'm not too good with hairy faces."