The rodent has a rookie card.
This year's Topps baseball card set arrives on Wednesday with more than 300 of the baseball players one might expect -- but no bubble gum -- and with a few other extras, too.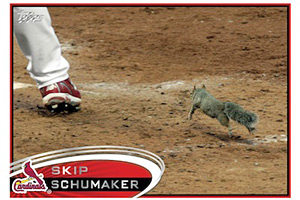 ToppsThe rally squirrel in St. Louis now has his own card.
One of those extras, a tough-to-find short-printed card, features the St. Louis Cardinals' Rally Squirrel -- the four-legged little furry fella who darted out onto the field during the fifth inning of Game 4 of last year's NLDS. From there, the Rally Squirrel became a bit of memorable trivia in a sport known for its Billy Goats and its Billy Buckners as the Cardinals went on to win the World Series.
The card is a rarer version of Skip Schumaker's card -- the rabble-rousing rodent made his run into immortality and into the infield stands as he was awaiting a pitch -- so all you see on it is the infielder's heel in a photo taken by Tom Gannam of The Associated Press. Meanwhile, the regular version of card No. 93 shows Schumaker sliding into home plate.
You may think all of this is a bit nutty, but the first eBay auction to end showed the card commanding $319.95 via a Buy it Now. The first auctioned copy of the card is set to end on Tuesday afternoon and stands at a mere $611.99 after 25 bids.
One of the other short-printed cards includes Albert Pujols in an Angels uniform, and you can find out more about 2012 Topps in the March issue of Beckett Baseball magazine, arriving in hobby shops on Wednesday.