An estimated 150,000 people are expected to descend upon Indianapolis for Super Bowl XLVI between the New England Patriots and New York Giants. That's a whole lot of out-of-town fans with a whole lot of questions.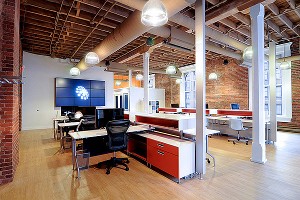 Courtesy of RaidiousThe Super Bowl Social Media Command Center will be looking to help fans with questions around town.
To that end, this Sunday's Super Bowl in Indianapolis is the first to feature a social media command center. While the NFL and traditional media will be covering every possible angle of the game, the Super Bowl Social Media Command Center will provide information on just about anything else a fan visiting Indianapolis would want to know.
Where should you park? Where's a good place to eat? How can you get tickets to the NFL Experience? Staffers at the social media command center will be monitoring the social sphere on a geotargeted basis and responding to make sure questions don't disappear into the Twitterverse.
"We saw a way Indianapolis could take things to next level in terms of how we use social media to deliver a great visitor experience," said Taulbee Jackson, president of Raidious, the digital media company overseeing social media strategy for the Super Bowl Host Committee. "If they're online talking about anything about this [Super Bowl experience], we're able to determine that and respond to them."
The social media command center is staffed by 16 full-time employees and 30 volunteers who manage the @superbowl2012 Twitter handle and related Facebook, Flickr, YouTube and Foursquare accounts. They also will run a blog.
To ensure everything is ready for football's biggest game, Raidious piloted the project during a number of events including the NCAA basketball tournament and football national title game. Based on those results, Jackson is confident his team is prepared to handle the NFL's biggest week.