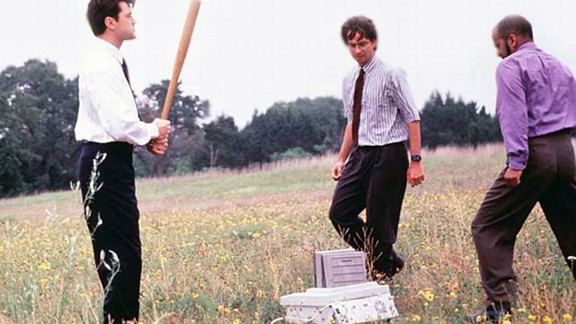 Twentieth Century FoxCoaches deal with the fax machine after getting a "PC Load Letter" message on signing day.
The fax machine, a primitive text-messaging device used by the Boston Celtics' relic-like starters to make social plans, rarely gets much action in today's cloud-based roboscape. But on the first Wednesday of every February, fax machines nationwide are culled from Amish settlements and are given their day in the sun.
As part of the pageantry of national signing day, high school football recruits make their college choices official by faxing in their signed letters of intent. Coaches and boosters stand around ceremoniously, anxiously awaiting a piece of paper that a teenager wrote his name on, while fans oftentimes watch a live web stream from home. Kind of charming, kind of stupid, but 100 percent affirming of our national obsession with hyper-muscled man-children competing in gladiatorial spectacle.
How many more years can the fax machine stay in the spotlight? It's already been ruled obsolete in some corners. At the current pace of things, recruits soon will be able to indicate their college choice via tongue scanner or a Facebook "Like." Or they could be beamed into the field house via hologram, like when Will.i.am chatted up Anderson Cooper.
But no matter what happens to the fax machine in coming years, we can always look back on the wonderful memories it's given us in the past:
• In 2006, Tim Tebow's letter of intent descended into Urban Meyer's office in a beam of light, band geeks heralding its arrival with a blare of trumpets as it gracefully landed in the empty fax machine tray.
• Cam Newton's dad sent letters to Florida, Blinn College, and Auburn, which were actually just invoices.
• The many times Bobby Bowden sat there in a rocking chair, poking the fax machine with a broom handle, reminiscing on the good ol' days when commitment letters were still delivered by mule.
• Billy Cundiff tried to send his letter to Drake University but he didn't angle it properly as he fed it in the machine so it failed to go through.
Ahh, memories.
It's your day, fax machine. Cherish it.