Bettors in Nevada wagered upwards of $93.8 million on Super Bowl XLVI in hopes of striking it rich, and 28-year-old Jona Rechnitz, owner of JSR Capital in New York, was fortunate to live every gambler's dream.
At the MGM Grand in Las Vegas, Rechnitz bet $1,000 at 50-to-1 odds that the first score of Super Bowl XLVI would be a Giants safety. "My friends thought I was crazy," Rechnitz told Page 2. "To be honest, I actually thought I was crazy, too."
Rechnitz was very aware of the long odds he faced and welcomed the criticism and playful jabs while he viewed the game with 11 friends at the Cosmopolitan.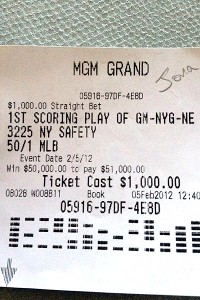 Courtesy of Jona RechnitzJona Rechnitz won big on this ticket when the first points of Super Bowl XLVI were scored on a Giants safety.
After Giants punter Steve Weatherford pinned New England inside its 5-yard line, the suspense mounted considerably for Rechnitz and his friends.
"I had a lot faith in Justin Tuck, Osi Umenyiora and Jason Pierre-Paul," he said, "This was my chance."
On New England's first play, Patriots quarterback Tom Brady threw a deep desperation pass to a vacant area of the field while being pressured by Tuck inside the pocket. When a flag for intentionally grounding was belatedly thrown with 8:52 remaining in the first quarter, the group erupted in cheers as Rechnitz became $50,000 richer.
"We celebrated for at least 10 minutes in complete mayhem," Rechnitz said with a laugh, "and my friends believed the bet was going to go viral!"
Interestingly, Rechnitz isn't an avid gambler. His friends frequent sports books, but this was his first time betting on a Super Bowl.
Here's the catch: Rechnitz said he doesn't believe in gambling as a means of earning income. "It's just something I did for fun, so I'm donating all of the money to charity," he said.
Coincidentally, Rechnitz's belief in charity work stems from his admiration of Patriots owner Robert Kraft and his philanthropic efforts, along with his own religious beliefs. Rechnitz studied for a year in Israel, where he played football at Kraft Family Stadium -- a football structure donated by Kraft in order to support American football overseas. "I have been a fan of Robert Kraft ever since," Rechnitz said.
Rechnitz said he plans to donate 10 percent of his winnings to a charity of Tom Brady's choice, which he hopes Kraft and Brady will match. He also plans to make a 10 percent donation to the charity of choice of the Giants' defensive line. He said the remaining money, after taxes, will be donated to charities which fight poverty and hunger.
Rechnitz did indulge in one purchase, however.
"Well, there is something else I purchased, too," Rechnitz said. "As a tradition, the big winner on Super Bowl night is responsible for purchasing the entire group matching sports gear or apparel to signify our brotherhood, and I bought each of us a pair of Kobe 7s."
So after a $50K win, Jona will surely be back in Vegas to test his luck again, right?
"Nope," he joked, "When you beat Vegas, you leave Vegas."