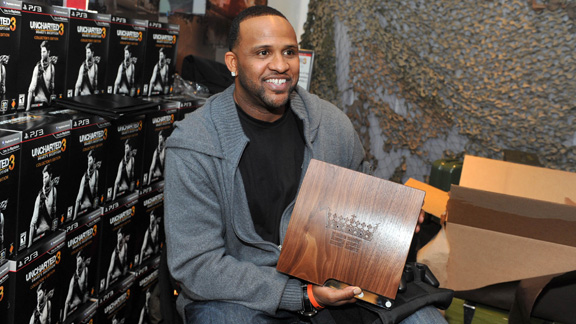 CC Sabathia shows off his customized PlayStation 3.
When Yankee pitcher CC Sabathia hits the road, there's one piece of luggage he never forgets to pack.
"I had a special travel case designed in order to play video games," Sabathia tells me, confessing his love for PlayStation. "I actually gave my first case to Grady Sizemore when I left Cleveland, because he's a big gamer, so when I got to New York I had a new case built. It has a TV, my PlayStation 3, all my controllers, and all my games. I have it delivered to whatever hotel we're staying at when we're on the road."
Sony heard about Sabathia's sweet setup and decided to hook the hurler up with an even more pimped-out system, delivering a customized PlayStation 3 to the Yankee superstar while also letting him get his hands on an early copy of "MLB 12: The Show."
"This system is unbelievable," Sabathia tells me after checking out his eye-popping gift. "It has a 52 on there. There are rubies. It has its own travel case.
"To have a custom PlayStation from Sony, this is every gamer's dream come true."
Jon Robinson: When you bring your PlayStation 3 on the road, what do you like to play?
CC Sabathia: A lot of the guys on the team like to play "FIFA," so I've been practicing that a lot lately so I can get back at these guys once the season starts. We also play "The Show," "NBA 2K" "NBA Jam," and "Madden." I like to play it all. I grew up on video games, and now, it's still a big part of my life.