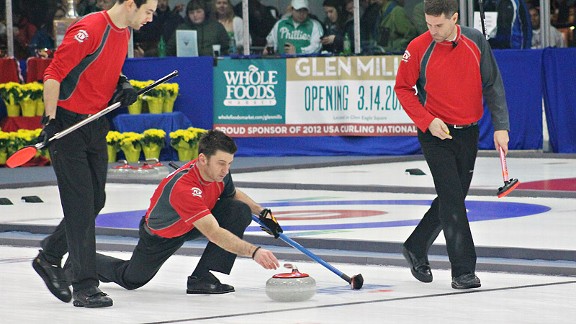 Courtesy of Phil HeckenAbout 1,000 fans showed up in Aston, Pa., over the weekend to watch the USA Curling Nationals.
Ah, mid-February. Football season is over, baseball season hasn't started, and March Madness is still a few weeks away. It's a sports wasteland, right?
Wrong (and not just because of Jeremy Lin). In fact, an Olympic sport held its annual U.S championships over the weekend. In case you're scratching your head and muttering, "Hmmm, which sport was that?" here's a hint: The trophy presentation ceremony at the end of the tournament included a procession of bagpipes.
That's right, the 2012 USA Curling Nationals took place and you didn't even notice. No surprise there, since one of the immutable laws of sports is that Americans ignore curling until the Winter Olympics, at which point they say, "Oh right, the funny game with the brooms, that's sorta cool," and then the moment passes and curling falls off everyone's radar for another four years.
Or at least that's how it works for most Americans. But for a small cadre of hardcore fans, curling is right up there with the NFL. About 1,000 of those fans, plus a few curious neophytes, showed up over the weekend for the USA Nationals, which took place in the bustling metropolis of Aston, Pa., population 16,000. (Apparently Indianapolis was still busy cleaning up from the Super Bowl.)
Curling is a remarkably endearing little subculture. Where else can you mingle with two- and three-time Olympians over a pitcher of beer? And don't kid yourself -- these guys and gals are serious athletes. If you doubt that, check out the arms on Dean Gemmel, a member of Team McCormick, which won the Nationals and will be representing the United States at the World Championships in Switzerland in April. The guy is totally ripped! So are lots of other curlers, but you usually can't tell because most of them wear jackets while competing. Having done a bit of curling myself two years ago, I can tell you that it's a lot more strenuous than it looks.
Until this past weekend, however, I'd never experienced curling as a live spectator sport, and it was fun. You know how a lucky fan at a basketball or hockey game will try to win a car by shooting a half-court basket or shooting a puck into a narrow slot? They did something similar at the Nationals, only it was way more entertaining, because anyone who's never curled before is practically guaranteed to fall on their butt (or worse) while attempting to slide a rock down the ice. Aside from providing an easy laugh, this also reinforced the underlying point that curling is a lot trickier than a lot of folks realize.
Other observations: It turns out that a guy sitting next to you with a cowbell is just as annoying at a curling tournament as it is at a ballgame. Ditto for a guy with a vuvuzela (yes, someone showed up with a vuvuzela). On the other hand, this was the first time I'd ever heard someone blowing a duck call at a sporting event -- an amusing touch that seemed to fit in with curling's slightly eccentric ethos.
Speaking of which: the bagpipes! Curling originated in Scotland, so tournaments -- or bonspiels, as they're more properly called -- often begin and end with a playing of the pipes, complete with full Scottish dress (read: kilts). Here's how the ceremonial procession looked just prior to the awarding of the trophy. For now, at least, that's a unique sporting experience that even Jeremy Lin can't match.