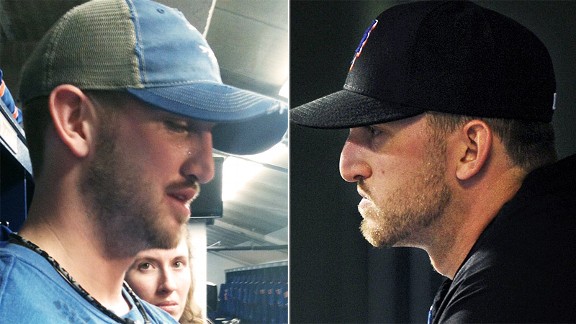 Courtesy Adam Rubin/Getty ImagesJon Niese on Monday (left), and his pre-rhinoplasty profile (right).
PORT ST. LUCIE, Fla. -- Before Carlos Beltran was traded to the San Francisco Giants last July, he playfully told New York Mets left-hander Jon Niese, "Hey, we need to get you a new nose.
Beltran offered to pay. Now he might be finding a bill in the mail soon, according to Niese.
Originally motivated by aesthetics, Niese got a nose job in October.
"He wanted me to have a new nose," Niese said about Beltran. "So he offered to pay for it. I was just like, 'All right.' Then it turned into seeing doctors and to getting it fixed."
An originally unintended byproduct of the rhinoplasty procedure is improved breathing, Niese said Monday, upon reporting to Mets camp.
• Click here to read the rest of the story at ESPN New York.