It might be hard to fathom, but as a freshman baseball player at Aberdeen High School in Maryland in the mid-1970s, baseball Hall of Famer Cal Ripken Jr. was hung upside down in the school stairwell by his feet about 20 feet in the air, a victim of hazing.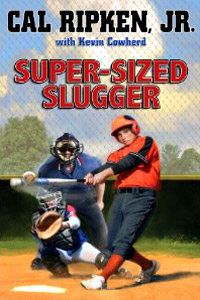 Courtesy of Hyperion "Super-sized Slugger" is about a high school player who is being bullied.
"I was a freshman who had made the varsity team, so I was a boy really playing with men. It became an environment to be picked on," said Ripken, who had spent his whole life in that area outside Baltimore. "It was part of the initiation, I guess. All the stuff in my pockets came out."
At the time, Ripken didn't tell anyone. Not the baseball coach. Not his teachers. Not even his dad, Cal Ripken Sr., who was a coach with the Baltimore Orioles.
"The other thing they would do is the older players would sneak up behind you and slap you on the back of the neck," said Ripken, whose younger brother also eventually played on the high school team. "You feel powerless. You don't know what to do for a solution."
As Ripken got older, he refrained from doing what he saw.
"Anything you do that is demeaning to someone else is wrong," said Ripken, who played 20 years all with the Orioles. "I don't believe you can build a team with that attitude."
Ripken retired in 2001 and has devoted his life to helping young people learn baseball and team-building.
And he's just released his second book -- "Super-sized Slugger" -- about a baseball player in high school being bullied because he is different. Cody Parker is overweight, scared and hates his new life in Dullsville, Md., where he's a target for teasing. But Cody loves the game and hopes to lead his team to the title.
"I'm trying to instill old-school values and principles," said the 51-year-old Ripken, who wrote another book called "Hothead" and is almost finished writing his third. "When it came to bullying, I didn't know what to do. But in this story, we talk about trusting adults, your coach, a teacher and your parents for advice. We all can learn from these principles."