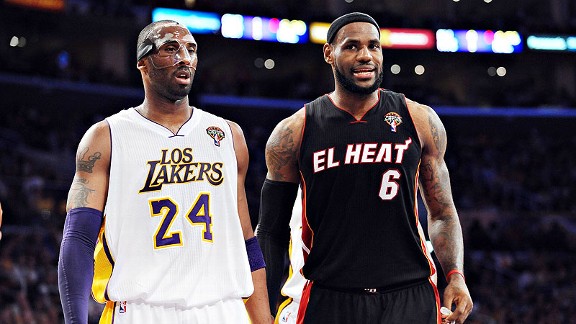 Noah Graham/NBAE/Getty ImagesThe NBA doesn't use Spanish nicknames on its Latin-themed jerseys, drawing boos from some fans.
Every year around this time, like clockwork, two things happen:
1. The NBA runs its "Noche Latina" promotion to appeal to Hispanic fans, which means we see lots of jerseys with "El" and "Los" added to them.
2. The Uni Watch inbox fills up with lots of emails saying, "This is stupid! Instead of Los Bulls, it should be Los Toros. Instead of El Heat, it should be El Calor."
That ritual has been playing out again over the past week or so. And yes, simply putting "Los" and "El" in front of a team insignia seems kind of silly, but there's a good reason for it: The NBA's market research shows that Hispanic fans in, say, Chicago don't refer to the Bulls as los Toros; they refer to them as los Bulls. That's also how the Spanish-language media refer to them, as you can see in this ESPN Deportes game recap.
So that's that, right? Well, maybe. One thing I've been struck by in recent years is the extremely positive response -- from Hispanic and non-Hispanic fans alike -- to the Milwaukee Brewers' "Cerveceros" jerseys and the San Francisco Giants' "Gigantes" jerseys. Nobody in the Hispanic community refers to the teams by these names, but everyone seems to appreciate the gesture of actually translating the team name instead of simply slapping a "Los" on the jersey. So maybe the NBA should consider going with Los Toros and El Calor after all. These terms may not be part of the fan base's vernacular, but they probably do the job better in terms of Hispanic outreach, plus they're just a lot more fun.
The Brewers, incidentally, are taking things a step further this season: July 1 has been designated as Italian Heritage Night, and the team will be wearing uniforms with an Italian translation of the team's name -- apparently the first time an Italian insignia has ever appeared on a major-level North American sports uni. They were originally planning to use "Birraioli" on the jersey, but it turns out that that roughly translates to "heavy drinkers." The current plan is to go with "Birrai," which is the more appropriate term. Just goes to show that a lot can get lost in a translation.