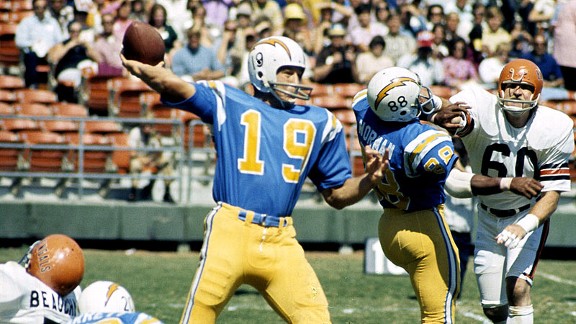 Charles Aqua Viva/Getty ImagesPeyton Manning will join Johnny Unitas as legendary Colts who finished with another team.
On Wednesday, Peyton Manning and the Indianapolis Colts officially parted ways after 14 seasons. We'll soon find out where the four-time MVP, who choked up at his goodbye press conference, will resume his NFL career (editor's note: he reportedly will pick a team within a week).
When it comes to Hall of Famers who spent the majority of their careers with one franchise before retiring with another, the team that signs Manning hopes he's more Joe Montana than Joe Namath. Here are several other greats who were once in Manning's shoes.
1. Johnny Unitas -- San Diego Chargers
The Baltimore Colts began a youth movement in 1972 by benching Unitas, their quarterback of 17 years, early in the season. In 1973, Baltimore traded the 39-year-old to the San Diego Chargers. The split wasn't amicable.
"You can fry an egg too long," Colts general manager Joe Thomas said. "The deal is done, and that's it. He's their property, period. From here on in, I will have nothing to say about Johnny Unitas." Unitas, who sued the Colts for $725,000 on charges of a malicious breach of contract, was benched at halftime in his fourth game with the Chargers in favor of rookie Dan Fouts. He retired during training camp the following year.
2. Joe Namath -- Los Angeles Rams
The New York Jets elected not to renew Broadway Joe's $450,000 contract after the 1976 season, and who could blame them? The gimpy-kneed Namath, who earned legend status in New York after guaranteeing victory over the Baltimore Colts in Super Bowl III and backing it up, was 4-17 as the Jets' starter over the previous two seasons.
"It's a strange feeling; it hasn't really hit home yet," Al Ward, the Jets' general manager said after releasing Namath. "I don't think it'll really sink in until I see him in a different uniform for the first time." Namath signed with the Rams for an estimated $150,000 and started four games in his only season in Los Angeles before retiring.
• Read Scott Allen's full post at MentalFloss.com.