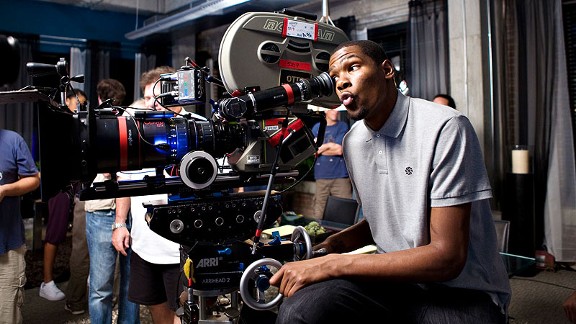 Courtesy of Warner Brothers Kevin Durant hams it up during the filming of "Thunderstruck," which should be released this year.
The hardest part for Kevin Durant while shooting the movie "Thunderstruck" -- a film in which he magically and tragically switches talents with an awkward eighth-grader -- wasn't the acting part.
It was missing jump shots.
Asked by director John Whitesell to shoot clumsily and brick several jumpers in a row, Durant repeatedly drained baskets by accident while filming the basketball scenes in Oklahoma City.
"We've got the camera rolling and he misses the first one," Whitesell said, "and then he misses the second one, and then all of a sudden there'd be a swish and he would turn to me and say, 'I'm sorry, I'm sorry. I'll miss next time.'"
The NBA's second-leading scorer and MVP candidate isn't used to missing shots on purpose. And he also wasn't used to acting before filming "Thunderstruck," a family film set to release sometime this year.
It may seem a little out of character for Durant, one of sports' most meek superstars, to be appearing in a Hollywood movie. In fact, when the producers first came to Durant he told them he didn't want to do it. But after thinking it over, he saw the movie as an opportunity to shine some spotlight on the Oklahoma City Thunder, the NBA's smallest-market team.
"I want people to see a different side of me other than just playing basketball, so I changed my mind, and I'm glad I did," Durant said. "I stepped out of my comfort zone, and people are going to see that on film. I'm looking forward to everybody's reaction."
"Thunderstruck" is directed by Whitesell, an experienced director whose recent works include "Malibu's Most Wanted" and "Big Momma's House 2." The movie also features Jim Belushi, the star of mid-2000s sitcom "According to Jim," and Brandon T. Jackson, best known for his role in "Tropic Thunder."
Durant's acting impressed the film crew -- so much so that Whitesell added a couple scenes for Durant not originally in the script.
"There's a lot of improv stuff," said Whitesell, who kept Durant for about 12 hours on their biggest shooting day. "There's a whole conversation with Brandon that they just created on set, and a whole scene with Jim Belushi where they improved the dialogue, going back and forth, and Kevin really held his own with Jim. So he was quite impressive."