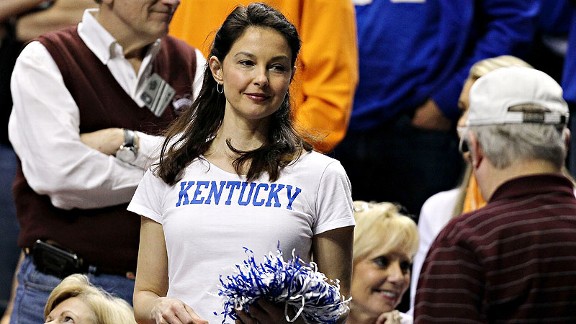 Andy Lyons/Getty ImagesActress Ashley Judd said she thinks her Kentucky Wildcats have enough talent to win it all.
Wonder which show she'll DVR?
On Thursday, it's her University of Kentucky Wildcats playing the Western Kentucky University Hilltoppers in the NCAA tournament at 6:50 p.m. ET on CBS.
And, on Thursday, it's her new show "Missing" at 8 p.m. on ABC.
It's more likely Ashley Judd will be watching both.
"I know I get a lot of attention for being the so-called No. 1 Kentucky fan, but I'm just a regular fan," said Judd, who was born in California but grew up in Ashland, Ky., before graduating from Kentucky with a degree in French. "I just happen to be a basketball nut."
Judd, who splits time between Tennessee and Europe with her racing driver husband Dario Franchitti, isn't sure she'll make any tournament games this year.
She's out promoting "Missing," the midseason replacement show about a worried mother/retired CIA agent who takes it upon herself to travel to Europe to track down her son, who disappears while on a summer internship in Italy.
"Filming in Europe was spectacular and the cast is excellent, but it's exhausting being that far away from home," said Judd, who has been married since 2001. "I was ready to come home and put on my blue pants and T-shirt to watch some hoops!"
And now she's ready to root on her Wildcats. This is what her bio says on Twitter: "Author. Advocate. Actor. Star of Missing, which premieres 15 March on ABC, 8 pm EST. 'Cats win it all, 2 April!"
"We're capable of going all the way, no doubt about that," Judd said. "If I can't make it to a game, we'll invite some friends over, and you must be knowledgeable. I don't want any 'Johnny-and-Jane-Come-Latelies' coming to the party. You must be there to lift up all things Kentucky!"