In 2004, the Red Sox won the World Series and finally exorcised nearly a century's worth of demons and bad karma. When they received their rings the following spring, they pulled out all the stops, staging an elaborate celebration ceremony that included gold trimmed jerseys.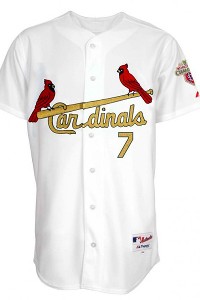 St. Louis CardinalsThe St. Louis Cardinals will wear these gold-trimmed jerseys to celebrate winning the World Series.
The consensus throughout the baseball world was that the gold trim was fine. After suffering immeasurable pain inflicted by friend and foe alike (Bill Buckner, Aaron Boone), the Sox had earned the right to strut a little.
Two years later, however, the Cardinals celebrated their 2006 World Series title by wearing their own gold-trimmed jerseys for their home opener. Two years after that, the Phillies did likewise. And two years after that, the Giants upped the ante. What began as a special gesture by a star-crossed franchise had become a routine statement of "Look at us!" hubris.
So it wasn't all that surprising when the Cardinals announced yesterday that they'll be wearing gold-trimmed jerseys and caps for their home opener on April 13. And for good measure, they'll also wear the blinged-up uniform on April 14, when they receive their World Series rings.
It's almost enough to make you hope the Yankees win the Series this year, because you know they'd never pull a stunt like this. The key word there, though, is "almost."
Chat with Uni Watch's Paul Lukas!
Got questions about this jersey? What about concerns on sleeve lengths or sock stripes? What's your stance on baseball cap squatchees? Chat with the Uni Watch maestro himself, Paul Lukas, by sending your questions now and joining Paul at 3 p.m. EST on Friday.