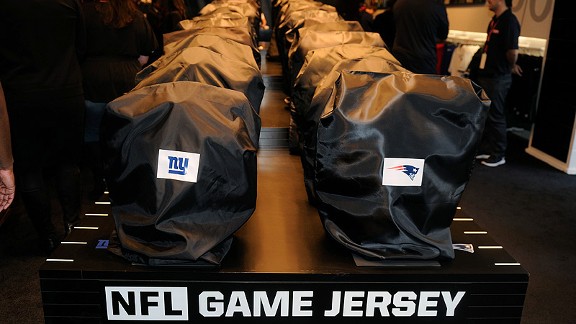 AP Photo/David DrapkinNewly designed NFL Nike team uniforms are ready for their unveiling at the NFL Shop in New York.
If you've been dying to buy a new NFL jersey with a swoosh on it ... if you've been worrying about whether your favorite NFL team will end up looking like the Oregon Ducks ... if you've been eager to see what the long-rumored Seahawks redesign will look like ... or if you're sick of all the uniform hype and just want to get on with it already ...
Then today is the day you've been waiting for.
Because today, finally, is when Nike's new NFL uniforms will be unveiled. Speculation has been swirling around the new designs ever since Nike's contract with the league was announced in 2010. Would the new designs be a bit out there? Would they be really out there? (Don't worry, those are just a fan's Photoshop concepts.) We'll find out soon, because the unveiling event, which is taking place in Brooklyn, is set to begin at 11 a.m. ET.
For up-to-the-second updates on the unveiling, follow the Uni Watch Twitter feed (or just keep this page open and follow my Tweets in the widget shown below). I'll be sharing my thoughts and photos as fast as I can post them. After the event is over, I'll summarize my thoughts in a full-blown Uni Watch column that'll be posted at some point this afternoon.
At the risk of providing a buzzkill, it's worth noting that Nike can't unilaterally force a team to change its look. It's ultimately the team's call, and it's hard to imagine time-honored franchises like the Packers, Bears, Steelers, or Giants making significant changes. There are also several teams that can't make major design revisions because the NFL doesn't permit uniform redesigns more often than once every five years. So the reality -- for better or worse, depending on your point of view -- is that most of the league may end up looking exactly the same as last year.
The biggest changes may end up being in the uniforms' physical design. For example, many of Nike's college jerseys feature elements like a breathable mesh panel on the belly area and the so-called Flywire collar. So even if a given NFL team doesn't make any changes to its stripes or graphics, it could still end up looking more like a charter member of Team Nike.
Then again, Nike has a history of turning expectations on their heads, and I wouldn't be surprised if they've developed some new features for the NFL that have never appeared on a football jersey before. That's part of the fun of an unveiling like this -- you never know what you'll see, but you can be pretty sure it'll be interesting, even if it isn't necessarily outrageous.
OK, enough speculation. Follow me on Twitter throughout the day, and I'll be back here on ESPN.com with a full recap of the unveiling.