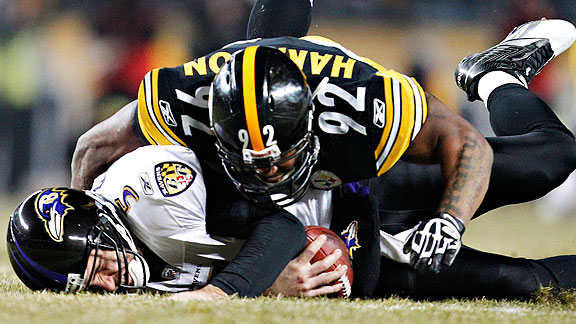 AP Photo/Gene J. PuskarAs soon as he gets up from this bone-crunching hit, Joe Flacco will be happy to tell you how good he is.
Quick. Name the top five quarterbacks in the NFL.
Now name the best quarterback.
Bad news. You failed both questions. Because the best quarterback in the NFL is Joe Flacco. The Ravens quarterback has been trying to tell you about his greatness for eight months. You need to start paying attention.
Joe Flacco, July 27, 2011: "I think I'm pretty damn good. I don't need to go out and tell everybody that and show it on every given Sunday."
Joe Flacco, Dec. 15, 2011: "Last year we were a 12-4 football team. I mean we didn't win the division because Pittsburgh had a tiebreaker and we won a playoff game. Yeah it's not what everybody wants to hear and we didn't win the Super Bowl but it was a pretty good year by our football team and I had a pretty good football season myself."
Joe Flacco, Jan. 11, 2012: "If you look at the teams that won, yeah you can look at the quarterbacks, but that's just because you guys, ESPN, everybody wants to pump them up as being the best quarterback that year. ... You guys want everybody to be Aaron Rodgers and be Tom Brady, but you guys do realize, those guys' [teams] don't run the ball? If we try to do that, the criticism that we'd take around here would be ridiculous. ... You guys want an elite quarterback. You have to stop complaining when we go out there and throw the ball 60 times a game."
Joe Flacco, Jan. 14, 2012, on the perception that he played poorly in Baltimore's 2011 playoff loss to Pittsburgh (Flacco was 16-for-30 for 125 yards with a touchdown and two turnovers): "I played well all year, I played well in the playoffs and I played well in that game, I thought."
Joe Flacco, Jan. 18, 2012: "I'll be wearing a ring and holding the trophy and the perception [of me] won't change. I really don't care."
Joe Flacco, April 3, 2012, asked if he is a top-five quarterback, as his agent stated in February: "Without a doubt. What do you expect me to say? ... I assume everybody thinks they're a top-five quarterback. I mean, I think I'm the best. I don't think I'm top five; I think I'm the best. I don't think I'd be very successful at my job if I didn't feel that way. I mean, c'mon? That's not really too tough of a question. But that doesn't mean that things are gonna work out that way. It just means that that's the way it is, that's the way I feel it is, and that's the way I feel it should be."
So remember, don't use your eyes or even look at stats when considering who the best quarterback in the world is. Just ask Joe Flacco. Oh, I forgot. Also don't ask his teammates.