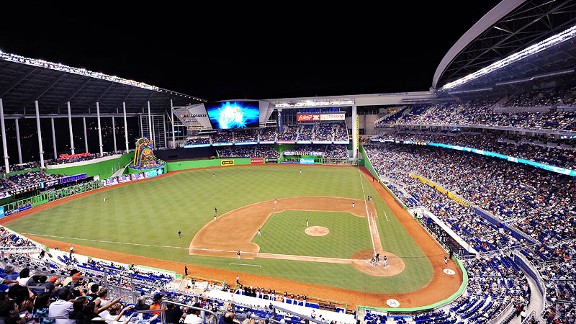 Steve Mitchell/US PresswireMarlins Park seats 37,000 and offers a retractable roof, fish tanks and one bizarre piece of art.
MIAMI -- Call me crazy, but doesn't it defeat the purpose of a retractable roof if you keep it closed?
Or maybe that's just me. I live in Seattle, where sunshine is cause for stripping naked, painting your body with psychedelic colors, dancing in fountains and erecting stone monoliths to the solar goddess. After the gray, wet gloom of winter and spring, we want the retractable roof open as often as possible in our 78-degree, zero-humidity summers so that we can see all the surrounding mountains, water and Starbucks.
Miami is different. Temperatures average 90 degrees with suffocating humidity during much of the season so folks here prefer a cool, comfortable seat over Elysian field esthetics. When I asked one fan what she liked most about the Marlins' new stadium, her answer was succinct: "The air conditioning."
The players appreciate that aspect of Marlins Park as well. "It's wonderful not to have to come in and change my jersey every three innings," Marlins first baseman Gaby Sanchez said. "It's nice not having to change my jersey and undershirt three times a game and losing fluid and getting tired."
"Even my underwear feels cool," Marlins catcher John Buck said after a long day game. "That's a foreign feeling."
Due to the heat and the frequent threat of rain -- Miami averages more rain in three months from June to August than Seattle does in four months from November to February -- the roof will be closed the vast majority of games. (It will be opened at other times to allow for natural grass rather than artificial turf.) That might be a sensible approach, but it hurts the look of the new stadium. I thought we learned in the 1980s that baseball is not meant to be played under a roof, or in polyester pullovers. It's meant to be played outdoors, preferably in a cornfield.