Last September I wrote an article about a collector named Dan Scheinman, who claimed to have the jersey that Bobby Thomson wore while hitting his famous "Shot Heard 'Round the World."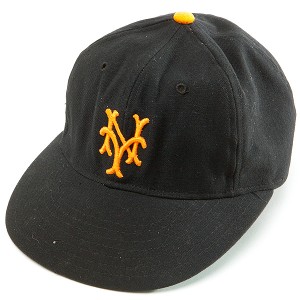 Courtesy of SCP AuctionsThe hat Bobby Thomson wore when he hit the "Shot Heard 'Round the World" is up for auction.
Now another artifact from that historic home run has surfaced: the cap that Thomson was wearing. It will be auctioned off by SCP Auctions, beginning on April 30.
There's a good story behind the cap, too. After Thomson hit the Shot, fans poured out onto the field at the Polo Grounds. One of those fans, a guy named Bernard Davies, got close to Thomson and literally took the cap right off of his head. The cap has belonged to the Davis family ever since, although it's been on loan to the Hall of Fame since 1984.
So does Dan Scheinman, who already has Thomson's jersey, plan to bid on the cap? "Let's say I'm interested in it," he says. "But I need to see how much it will go for." Here's hoping Scheinman's the high bidder, if only because it would be so cool to reunite these two long-lost uniform components.
Meanwhile, if you're wondering why Thomson was wearing a cap hitting, the answer is simple: The Shot was hit in 1951, and batting helmets didn't come into common use until the Pirates started wearing them in 1953.