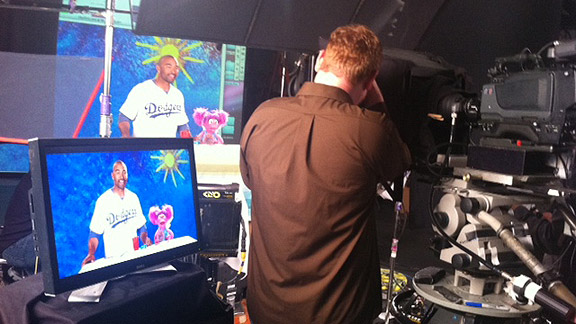 Ken Field/ESPNDodgers center fielder Matt Kemp tapes an appearance on "Sesame Street" with Abby.
LOS ANGELES -- Los Angeles Dodgers center fielder Matt Kemp's pregame routine doesn't normally involve talking to puppets and playing with sippy cups, but that is exactly what he found himself doing Tuesday before the Dodgers played the Angels.
Kemp filmed a segment for "Sesame Street" on the word "attached" which will air in September. He spent a good portion of his morning recording segments with Muppets Abby, Elmo and Murray Monster.
As Kemp sat in a green room, preparing to go on set, many of the cast and crew wanted to ask Kemp about the Dodgers' newest owner, Magic Johnson, and Kemp smiled as if he didn't know what they were talking about before saying, "I believe in Magic. Who doesn't believe in Magic?
"Having him take over the team is unbelievable," Kemp said. "He runs L.A. and he's going to improve our chances of winning. He's going to help bring more fans back to the stadium."
Playing for Magic, however, wasn't as much of a childhood dream as being on the set of "Sesame Street" and being interviewed by Elmo and other Muppets.
"This is a show I grew up watching as a kid. I always wanted to be on 'Sesame Street,'" Kemp said. "To be a part of it now will be something I'll remember for a long, long, long time. I was a big Elmo fan so doing interviews with Elmo was really fun."