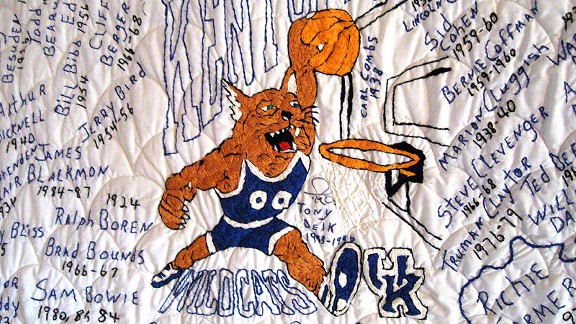 Darleene WimsettDarleene Wimsett, 61, says her Kentucky basketball quilt took her 18 years to create.
You can go a long way with $150,000 in the state of Kentucky.
A three-bedroom starter home in a quiet Lexington suburb. A couple of college degrees -- lodging included -- at the University of Kentucky. A Ford F-150 for you and five of your friends.
Or, if you're really into the Kentucky Wildcats and keeping warm during basketball season, you can use that money on a quilt -- more specifically, a Wildcat-themed quilt with the name of every player in Kentucky history embroidered into the fabric.
That's what Darleene Wimsett, a 61-year-old from Bardstown, Ky., is selling on eBay at a starting bid of $150,000, although she hopes to get more for it.
Wimsett began working on the quilt in 1994 with the goal of including every player and coach since the program began fielding a men's varsity basketball team in 1903. She would come home from work and spend several hours each night quilting. Most of her Sundays were spent etching names onto the fabric.
By 2006, she was done with all of the names. She also added several 3-D logos and images plus dedications to the team's seven pre-2012 championships. She had the quilt signed by a handful of big Kentucky names, including John Calipari, Tony Delk and DeAndre Liggins.
But still, $150,000?
Wimsett explains how she arrived at that price point.
"I sat down and tried to figure out what someone would pay me if I was sewing for them," she told Page 2. "The hours I put into it, I tried to figure out the middle pay, and that's how I came up with that price. For 18 years straight I worked on it. It wasn't 40 hours per week, so I probably had six or seven years of full-time hours tied up in this. I'm just trying to figure out an honest price for it."
$150,000 is the least she'd sell the quilt for, but she is hoping to surpass $200,000. The "buy it now" price is $275,000.
There were zero bids as of Friday afternoon, with three days left to bid.
Wimsett said this isn't a case of trying to strike while the quilting iron is hot, with the Wildcats recently winning the NCAA title. No, she planned to sell the quilt this year simply because she's getting older and can't stitch the way she used to.
"If no one bids, I'll just hold onto it," she said. "People say $150,000 is a lot, but you get to thinking about it and it equals out to about minimum wage over seven years.
I don't know how else to express it. It's a lot of painstaking and heart-loving work put into it."