Lionel Messi's Speed and Agility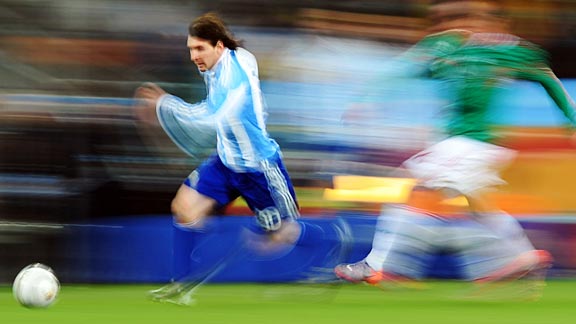 Fast As The Flea
By John Dorsey

In a game built on speed and agility, there are few soccer players faster or more agile than Argentina's Lionel Messi. Whether representing his country at the World Cup or playing for FC Barcelona, The Flea's extraordinary quickness on the pitch, amazing ball handling skills and lethal left foot make him one of the most exciting and explosive players in soccer today and arguably the game's best athlete.
"The best in the world right now is Lionel Messi," says Craig Friedman, performance innovation team director at Athletes' Performance, a company specializing in the enhancement of athletic performance. "He's faster with the ball at his feet than the defenders are without the ball."
But where does this extraordinary quickness come from? According to Friedman, who designs and implements performance training systems for pro and elite athletes and served as a performance specialist for the German National Soccer Team during their third-place finish at the 2006 World Cup, speed and agility on the field relies on three basic elements.
"First you have to be explosive and powerful," Friedman says. "Then, you have to be stable enough through your ankles, hips and torso to be able to deliver that power efficiently into the ground. And finally, you have to deliver the power into the ground in the right direction, and that's where technique comes in." Needless to say, the 5-foot-6 Messi excels in all three areas.
"He's a small guy," Friedman says, "but his rate of force development is very high and his power-to-weight ratio is just ridiculous."
So, what does this all mean for us mortal, local league warriors who dream of possessing Messi-like speed and agility? Well, the bad news is that we'll never be as fast as The Flea. The good news is that, for most of us, there is plenty of room for improvement. Friedman has developed a program for ESPN.com that will help you improve your quickness on the pitch.
The Workouts
Friedman's program consists of two separate workouts, one focusing on linear speed and one on multidirectional speed. Each workout is divided into three sections: movement preparation, plyometrics and movement skills. Friedman suggests alternating between Workout 1 and Workout 2, doing each on different days.