MUST LISTEN
Inside the NHL's Alleged Head Coaching Abuses
After an NHL head coach got fired, an unexpected outpouring began - with players speaking out on alleged psychological and physical abuses, and also racist remarks from coaches. Given all that's been aired, what's next for the league? ESPN hockey writer Emily Kaplan joins Mina Kimes to break down the culture around the allegations, and what it all means for a sport trying to grow its fan base.
Play | Download | Apple Podcasts | RSS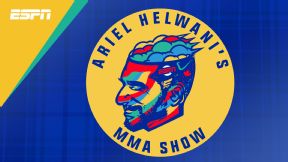 McGregor/Cerrone Reaction; Rich Eisen Remembers Stuart Scott
It's Stuart Scott Day at ESPN, so Ariel welcomes Scott's most well-known SportsCenter partner-in-crime, Rich Eisen, to reminisce about the beloved anchor, who succumbed to cancer in 2015. Then, Ariel and ESPN's Marc Raimondi discuss if Cowboy Cerrone is the right matchup for Conor McGregor, if McGregor's decision to fight at 170 is the correct one, whether Jorge Masvidal could be McGregor's next opponent, McGregor's reputation, the excitement surrounding the Khabib Nurmagomedov/Tony Ferguson fight and more (35:21). And before "TST's Minimalist Tip of the Week" (1:14:58), Ariel reveals the four UFC fighter contestants who will take part in next week's Nose World Order Trivia Championship in Las Vegas (1:07:49).
Play | Download | Apple Podcasts | RSS
MOST POPULAR
Tony Kornheiser and Frank Isola react to the Knicks getting blown out, the Cowboys loss and Tua saying his hip will never be the same.

Stephen A. & Max talk to Damien Woody about the struggling Cowboys, talk to Tim Tebow about this weekend's college football games and more.

The Dallas Cowboys might be limping their way into the playoffs despite playing poorly down a recent stretch. Golic & Wingo break down what's wrong with the Cowboys.
In a collaboration between Banner Society and The Right Time, Bomani is joined by Spencer Hall of Banner Society (5:38), Marcus Spears of ESPN (29:21), Steven Godfrey also of Banner Society (52:25) and Joel Anderson of Slate (1:23:25) for the first edition of the new series "Sideline: Boosters in CFB". They discuss who boosters are and how they exercise their power, the dark side of recruiting and what you are "agreeing to" when you take money from "bag men", who "bag men" are and what their impact is on the sport's economy at-large as well as how boosters factor into the hiring/firing of coaches.

ESPN's Zach Lowe joins The Woj Pod to discuss the framework of the NBA's negotiations with the NBPA on dramatic changes in the NBA schedule and calendar - including a 78 game schedule, a 30-team in season-tournament (7:57), a play-in round for the 7th and 8th seeds in the conference playoffs (19:36) and a reseeding of the conference finals (1:29).
FIND YOUR FAVORITE PODCAST
FOLLOW US ON TWITTER

Get the latest updates on Twitter. Follow us.