MUST LISTEN
Bill Barnwell on NFL Undefeated Teams + Monday Preview
Through three NFL Sundays only a handful of teams remain undefeated. Russell Wilson led the 3-0 Seahawks to a thrilling win over Dak and the Cowboys. The 3-0 Bills blew a 28-3 lead, but Josh Allens 4th quarter heroics secured the victory for Buffalo. Meanwhile, the 3-0 Bears scored three touchdowns in the 4th, coming from behind to beat the Falcons. Bill Barnwell compares the leagues leaders, and previews tonights Chiefs-Ravens game. Plus, a few words show the power of LeBron James.
Play | Download | Apple Podcasts | RSS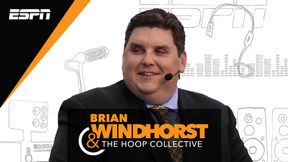 No Confetti: NBA Finals Preview
Can the Heat (12-3 in the playoffs) take down the Lakers in the NBA Finals? Brian Windhorst, Ramona Shelburne and Kirk Goldsberry weigh the factors. Plus, the Eastern Conference Finals regrets the Celtics will have and the rocky history between LeBron James and Pat Riley.
Play | Download | Apple Podcasts | RSS
MOST POPULAR
Zach talks to Howard Beck of Bleacher Report about Anthony Davis' moment, both conference finals series, and his TV essay on TNT about social justice.

Mina talks to Danny Kelly of The Ringer about the Monday Night match up between the Ravens and Chiefs, the rash of injuries across the league, early MVP candidates, why scoring is up, and the teams that look like they'll have the best chance at drafting Trevor Lawrence.

Colby Covington dominated Tyron Woodley, then called out both Jorge Masvidal and Kamaru Usman after the fight. DC & Helwani discuss if Covington should be next for Gamebred," instead of the BMF rematch, and if Woodley should call it a career after suffering his third straight loss. And, after another spectacular win on Saturday for Khamzat Chimaev, DC declares himself the conductor of the hype train. Plus, what to expect from former Bellator lightweight champion Michael Chandlers highly anticipated debut at UFC 254, and how the outcome of that main event could lead to fun stuff for Conor McGregor. Then, DC opens up about his first fight with Ariel.
Legendary broadcaster Ahmad Rashad talks about how he got into broadcasting and why he wanted to cover more than just football. Plus, how he first met Michael Jordan and what it was like being around him at the height of his career. Ahmad also discusses how Kobe was always challenging MJ to play after he retired and more.

Spend your afternoon with Jalen & Jacoby as the guys discuss AD's game-winning 3-pointer, the Cowboys' miraculous comeback, the Seahawks letting Russ cook again and Kyler Murray and D-Hop letting the Cardinals flying high. Plus, Brady's Bucs bounce back in Week 2.
FIND YOUR FAVORITE PODCAST
FOLLOW US ON TWITTER

Get the latest updates on Twitter. Follow us.