June, 10, 2014
06/10/14
1:43
PM ET
Upon the passing of Junie Donlavey, one memory towers over all the rest. One says it all about the way he was and the way he raced.
[+] Enlarge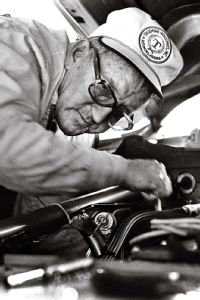 Bob Harmeyer/Getty ImagesJunie Donlavey works on his Ford driven by Dick Brooks in the 1976 Rebel 500 at Darlington Raceway.
In the 1970s, owners such as Junior Johnson and the Wood Brothers were running top teams on little more than $100,000 a season. Donlavey's team ran on a fraction of that.
So one day a corporate marketing type phones Jim Foster, a sort of one-man band of marketing and communications for NASCAR at the time. The caller wants to sponsor a car, and is willing to spend $100,000 a year.
"I immediately thought of Junie," Foster said, a lot of years ago. "Such a great guy, such a hard worker, nobody deserved a break more.
"So I called him and offered him the deal.
"He said, 'Well, Mistah Jim ... me and my boys have a mighty good time racin'. We don't worry about too much.
"'But now if I was to take $100,000 of a man's money, I'm afraid I'd have to be on the phone with him every Monday mawnin', explaining what me and my boys had done in that race on Sunday.
"'I b'lieve that would make me nervous. I'm 'fraid me and my boys wouldn't have as good a time.
"So Mistah Jim, if you don't mind, I b'lieve I'll pass on that hunnerd thousand.'"
The No. 90 team went on its happy way. Junie died on Monday, at 90.
May, 22, 2014
05/22/14
12:06
PM ET
INDIANAPOLIS -- Back home again in Indiana, and it seems that ...
The older Indianapolis Motor Speedway gets, the nicer it gets. Improvements and changes never stop around here. I can still navigate the place, but have to focus. You can't drive through gate 9-A and just go on autopilot anymore.
Bottom line, America's oldest speedway is somehow its most youthful, in a lot of ways. Just the best-kept track in the country.
No doubt I'll get an email or text from Texas Motor Speedway president Eddie Gossage taking issue with my assertions. Confidential to Eddie: When your teenaged track turns 105 years old, we'll talk.
The Yellow Shirts, as we've always called them -- officially the Safety Patrol -- are getting younger. Or is it that I'm getting older?
By younger, I mean a lot of 50-somethings. I even saw one this morning who couldn't have been older than 30. Back in the day we used to joke that to don the iconic yellow shirt and direct traffic and pedestrians, no one under 80 need apply.
Misery loves company to a point, so it's comforting that Jacques Villeneuve is back with considerably less hair, grayer, than when he won the Indy 500 in 1995 as a Canadian youth raised in Europe who really didn't know enough about this race to feel any pressure.
But again, only to a point. This I hate to see and say: Every year I get less and less afraid of A.J. Foyt, because annually I'm more confident I could outrun him if he took a notion to punch me out.
With every pole he wins, and this makes two straight, Ed Carpenter somehow is getting to be more and more of a Mark Donohue look-alike.
The only way to really appreciate the speed of these cars, in the month of May, is to come regularly to NASCAR's Brickyard 400 here each summer.
Only that way do you get the blatant contrast, through the turns alone.
These cars dart, streak through the corners, far more nimbly than the plodding stock cars that lumber through the turns, their weight and clumsiness pushing them up the racetrack.
I just can't, and never will, get over the fact Indy cars run 230 mph-plus here, on a track that was built in 1909 for cars that averaged about 70 mph.
My old friend and colleague Robin Miller was about 25 when I first met him here in 1975, and I'm not at all sure he's turned 30 yet.
You certainly couldn't tell by the way he still writes and talks on TV. He's the youngest guy in the media center -- and unchallenged as the funniest, with his one-liners and his unrivaled impressions of Foyt and Mario Andretti.
Every time I think I've caught a little static from the masses over my coverage of Indy the past couple of decades, I think of all the grief Miller has caught, and weathered. He's got the thickest skin at Indy, that's for sure.
OK, on now to media day, where all the drivers will be present, in a "Chalet," one of those nice, air-conditioned rooms that were built early in this millennium to accommodate the Formula One elite.
Beats the heck out of race week of yore, when the general message to the media was synopsized by the signs on Foyt's garage doors: "Keep Out."
F1 is long gone from here, but the construction for it still helps keep this the No. 1 track in the country in creature comforts.
April, 12, 2014
04/12/14
12:38
PM ET
DARLINGTON, S.C. -- This makes the 40th year I have come here covering races. Never have I seen anyone drive old Darlington Raceway better than Chase Elliott did Friday night.
Not David Pearson, the all-time winner here with 10 victories; not Dale Earnhardt with nine; not Jeff Gordon with seven; not Bobby Allison nor Bill Elliott (Chase's father) nor Darrell Waltrip nor Cale Yarborough, the five-time winners here.
Electrifying. Breathtaking. Dumbfounding. All those words are inadequate for the sight of the 18-year-old from Dawsonville, Ga., putting a race car breezily, easily into places you're not supposed to be able to go on this track, and not just getting away with it but making it look effortless.
There are two kinds of NASCAR ovals: Darlington and all the rest. This by consensus is the toughest place the drivers go all year. Every yard of the 1.366 miles is an adventure. The two sets of corners might as well be two different tracks. The small end is a sudden turnaround at high speed, and the large end is deceptively sweeping with a wall that juts out to bite you for the slightest bobble.
The laps I've seen here number somewhere north of 25,000. And I'm not sure I've seen any driven as well as Chase Elliott's last lap to win the Nationwide race Friday night.
He passed Elliott Sadler on the high side, where there isn't room, yet somehow made that Camaro slither unscathed between Sadler's car and the jutting wall with which the Lady in Black, so typically, tried to snatch him.
He deftly danced right through, and took the checkered flag, and in the aftermath the Lady herself seemed somehow smitten, awed, empty, swooning, star-struck at the dark-haired youth who'd swirled and twirled her around so, on an April night when he was missing his senior prom in the Atlanta suburbs.
But the last lap was just the capper, after he'd driven from fifth to second in the first of the final two laps after the final restart. Throughout the race he sometimes made easy work of Kyle Busch and Kevin Harvick and Joey Logano.
At one point late, he got into a fender-banging duel with the driver who until just the other day had been NASCAR's prodigy of prodigies, bright hope of bright hopes, Kyle Larson. They slammed and banged and got each other sideways, but Elliott, cool as his father ever was, let Larson go and waited for another time. Larson continued to get near or into trouble with others. Elliott just sailed on.
Only three weeks ago, when Larson won spectacularly over Harvick, Busch, et al. in California, he shot to the fore of the future of NASCAR.
Already Larson has been passed, now that Elliott has scored a dramatic first career Nationwide win at Texas a week ago, and a vastly more dramatic second straight here.
And here's the kicker: Elliott had never driven a lap here before Thursday -- didn't even remember the last time he'd been here, as a little boy, with his father.
Just last week I'd sat with him over in Dawsonville, working on a feature story that will run next week, and asked how he might prepare for this place. Maybe watch some video of Kyle Busch running here, he said, because Rowdy of all people seemed to have this place figured out best.
It was Rowdy he was running down when the final caution came out Friday night. It was Rowdy he passed easily on the way to the white flag, after Chase's crew had given him a lousy pit stop that got him out sixth.
As Chase exited the pits, his crew chief, Greg Ives, grasped his head with both hands in dismay at how they'd let the youth down.
Oh, well. Nobody could come here the first time and master this place. Surely, now, nobody could drive right through the pack after a terrible pit stop to win, let alone make it look effortless.
Nobody. Until Chase Elliott.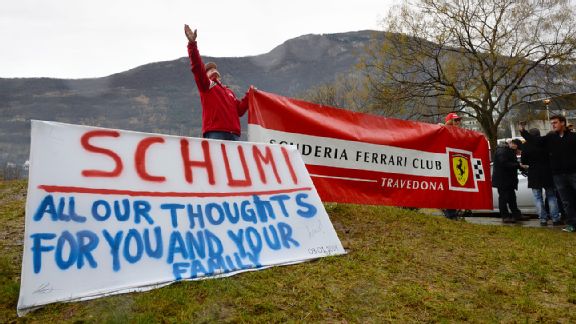 Philippe Desmazes/AFP/Getty ImagesMichael Schumacher fans wish him well soon after the skiing accident that put him in a coma Dec. 29.
I stand reminded once again that there is a fate worse than death. I have seen people suffer it too often. The memory is a gloom unlike any other.
John F. Burns, London bureau chief of The New York Times, has in my mind produced the most profound body of work on the tragedy of Michael Schumacher.
This week, Burns went to Grenoble, France, where Schumacher has lain in coma since his injury in a skiing accident Dec. 29.
The indication was that Burns was the only journalist, or one of a handful at most, still there.
"The hubbub of jostling reporters and television crews," he wrote, "is a memory now …"
This in an Alpine city that was mobbed by media for weeks after the winningest driver in Formula One history -- 91 Grand Prix wins and seven world championships -- was brought there.
The theme I gleaned from the Times story is that Schumacher is slipping from the mind of the world, slipping toward the ranks of the forgotten comatose.
I've been there. Not to Grenoble, but there.
I went to Madison, Fla., while an obscure driver named Don Williams was setting the terrible record for living in coma after a NASCAR crash -- 10 years and three months. I went to his funeral in 1989.
I went to San Antonio while another NASCAR driver, Rick Baldwin, surpassed Williams' awful milestone, surviving in coma for two days short of 11 years, until 1997. I saw his two daughters grow up, from little girls into lovely women, during the time their father was "going for the Guinness Book of World Records for taking a nap -- for sleeping," as one of them put it, bravely but tearfully, to her friends at school.
Another NASCAR driver, Bruce Jacobi, lay in coma for nearly four years after a crash at Daytona in 1983. Butch Lindley, champion of NASCAR's National Sportsman Series, now the Nationwide Series, in 1977-78, lived comatose for five years after a crash in a non-NASCAR race in 1985.
Pattie Petty, Richard's daughter-in-law, accepts comatose kids at her and husband Kyle's Victory Junction camp in North Carolina. Seeing them, Pattie once told me, reminds her to be thankful that their son, Adam Petty, killed at New Hampshire Motor Speedway in 2000, was taken from them immediately rather than lingering in what neurosurgeons call persistent vegetative state for months or years or decades.
[+] Enlarge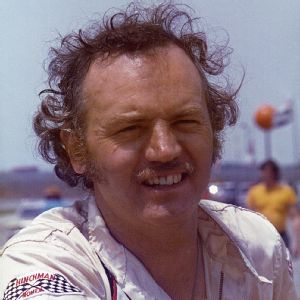 ISC Images & Archives/Getty ImagesBruce Jacobi, who raced in NASCAR, USAC Sprint Cars and Indy car, lay in a coma for nearly four years after suffering extensive injuries in one of the qualifying races for the 1983 Daytona 500.
If not for Victory Junction, these kids would be forgotten by all but their mothers -- some fathers, unable to deal with the burden, just up and walk out on the families.
Another friend, Dr. Jerry Punch, the ESPN reporter, once told me of the terrible conflict of intellect and emotions all good trauma docs face often.
To paraphrase Jerry, when a patient is brought in, critical from a highway accident or other trauma, every bit of a doctor's training compels him to save this person whatever it takes -- this, even though you know that, if the person survives, he or she will be comatose, an awful burden on a family, perhaps for years.
But you save the person. Period.
"There's just too much we can do to keep you alive once you get in here," the neurosurgeon who initially treated Don Williams at Halifax Medical Center in Daytona Beach once told me.
Doctors at University Hospital Center in Grenoble could do vastly -- perhaps exponentially -- more for Schumacher than the docs at Halifax could do for Williams in 1979. Schumacher was put into a medically induced coma, a technique I first learned of in 1994 when Karl Wendlinger, a former teammate of Schumacher's on the Mercedes Junior team when they were rising through the ranks, was placed in an artificial coma after a crash in Monaco.
When the heavy sedation was removed, Wendlinger woke up. Schumacher hasn't, as far as we know, with his family and manager remaining silent about his condition and asking to be let alone. Burns quotes one neuroscientist as saying "it's too early to say somebody is in a persistent vegetative state."
Burns' movement around Grenoble was respectful and unobtrusive, and his phrasing was delicate, sensitive -- "what is known seems increasingly dispiriting …"
The irony of Schumacher's injury is not lost on anyone who knew him, or even of him -- those countless risks taken in racing cars, only to be felled while on vacation in a skiing accident, apparently at moderate speed.
So what I write here is not an indictment of motor racing. It is a lament over one of the worst words in the English language, and the worst and longest nightmare in all the human condition: coma.
February, 20, 2014
02/20/14
5:41
PM ET
DAYTONA BEACH, Fla. -- We're still concerned about Tony Stewart's mending leg, but clearly his mouth is back to 100 percent -- running wide open, set up real loose, so that the rear end is hanging out.
So Smoke wants to set up a match race between Richard Petty and Danica Patrick, does he? And let me get this straight: Should Danica win, "If I were her, I'd take [the checkered flag] over there and cram it up his [you know].
"But that's just me."
Petty is 76 years old, Stewart is 42 and Danica is 31. I have no idea how such a match race, preposterous at face value, would turn out. But as for the aforementioned celebratory gesture, I somehow doubt Stewart would succeed at such an endeavor. (I'm certain Danica has far too much class even to say such a thing, let alone try it.)
[+] Enlarge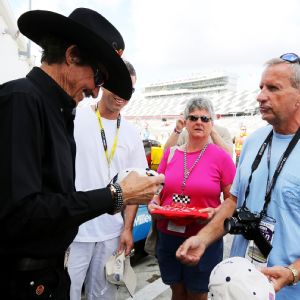 Jerry Markland/Getty ImagesTony Stewart dissed one of NASCAR's hallowed figures: seven-time Cup champion Richard Petty.
But that's beside the point, which is ...
A school of piranhas doing business as the current NASCAR media corps has already picked Richard Petty's carcass clean. They've been all atwitter -- pun absolutely intended -- since, at some trade show in Canada, he was quoted as saying Danica could win a race only if "everybody else stayed home."
Petty went too far. Think of it this way: Even when Danica finishes, say, 30th in a race, she still has outrun 13 drivers. So she would have won if only 29 drivers stayed home.
When she finished eighth in the Daytona 500 last year, she outran 35 drivers, and might have won had only seven drivers stayed home. Hell, she might have won had none of them stayed home, if, while running third going into the last lap, she'd caught the breaks of the aerodynamic pushes and pulls of the draft.
Petty exaggerated. I can't count the number of times I've heard NASCAR drivers, including Stewart -- especially Stewart -- exaggerate things. E.g., his "We're going to kill each other" several years back after he won a preliminary race during Speedweeks and didn't like the way the bump drafting was going.
Stewart paid a price in the media frenzy then, and Petty has paid it lately.
Not even piranhas feed on bones once the carcass is picked. But here comes Stewart to chum the water, and the mania continues, on into the outer reaches of the absurd.
Stewart's mouth has a history of twisting the knife once it's in. He had to get personally professional, or professionally personal, disparaging Petty's career when, yes, at times, it was claimed the King had superior cars.
But don't tell David Pearson or Cale Yarborough or Bobby Allison that. They all beat him, and when he beat them, he had to work at it.
Speaking of feeding, Stewart has fed -- and well -- off a sport Richard Petty made. There are legions of fans because, at the roots of NASCAR popularity, Richard Petty would sit for hours after races, signing autographs and talking with the people.
I was there while Petty was building the foundations of this stuff. He never brushed off the media, young or old, from ABC Sports to small newspapers. He took a lot of time with us. He gave elaborate, respectful answers to our often asinine questions.
Stewart is a very popular driver. But he didn't build this sport. He truly is standing on the shoulders of titans.
One of them, the tallest of them all, is Richard Petty.
I understand fully that Stewart meant to defend his employee, his driver, and by extension, her sponsor.
But one stab would have been enough. To twist the knife, and twist, and twist, was beyond disrespectful to a man highly responsible for where Stewart and his team are today.
Petty went too far. Stewart went far beyond too far.
September, 16, 2013
09/16/13
9:26
PM ET
The richest person in or around NASCAR? It isn't even close, in the Forbes 400 Richest Americans released Monday.
John Menard, 73, father and primary sponsor of driver Paul Menard, is 57th on the list with a net worth estimated at $7.5 billion.
Next came Tony Stewart's fishing buddy and primary sponsor, John Morris, 65, of Bass Pro Shops, 110th wealthiest at $4 billion.
Then, if you count the NASCAR association loosely, Frederick Smith, 69, chairman of FedEx, Denny Hamlin's primary sponsor, comes in 243rd at $2.3 billion.
Not until James C. "Jim" France, 68, chairman of International Speedway Corp. and vice chairman of NASCAR, does the Forbes list get to an everyday player in the NASCAR realm. The silent, background power of NASCAR, uncle of chairman Brian France, is worth an estimated $2 billion, ranking him 273rd.
John Henry, 64, owner of the Boston Red Sox and co-owner of Roush Fenway Racing, is 327th at $1.7 billion.
Only one NASCAR team owner, Roger Penske, made the list, and barely squeaked in at that, in a multiple tie for 386th and last. Penske, 76, is worth an estimated $1.3 billion.
Former 400 club member Bruton Smith, chairman of track conglomerate Speedway Motorsports, didn't make the cut this time.
August, 31, 2013
08/31/13
4:02
PM ET
HAMPTON, Ga. -- Even with his back to the wall, Brad Keselowski loves where he is.
Even here on the precipice of failing to make the Chase to get even a shot at defending his 2012 Cup championship, "I'm confident because I started from nothing and was able to win a championship," he said going into Sunday's AdvoCare 500 at Atlanta Motor Speedway (7:30 p.m. ET, ESPN & WatchESPN). "We were able to climb that mountain, and I'm confident we'll be able to do it again."
[+] Enlarge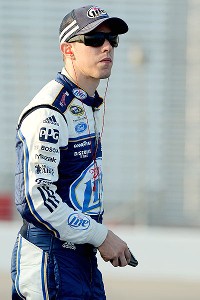 John Harrelson/Getty ImagesBrad Keselowski is excited about his chances Sunday night in Atlanta.
Note the "started from nothing." That is always on his mind, keeping him loving where he is, just with a chance in a sport that "is a bit of a roller coaster and we're at the bottom of it right now. There's no doubt about it."
Winless this season, buffeted by luck as bad as a defending champion could dread, Keselowski draws on the pure racers' bloodlines in him, the genes of a hard-knocks ARCA racing family from Michigan that was never handed anything.
He's down but not devastated in his post-championship plummet, having learned early on that "In this world, it's easy to get kicked in the gut pretty quick."
So now, 11th in points, with two races left to make the Chase, Keselowski looks at his ilk, to one of the handful of pure racers left in the sport, for inspiration.
"I spent some time over the last few weeks looking back at Tony Stewart's season in 2011 because I think there are a lot of parallels between his season that year and where I'm at right now," Keselowski said.
That was when Stewart was winless in the regular season and said publicly near the end of it that his team didn't deserve to make the Chase, wasn't worthy of taking up a spot. That turned out to be the greatest jump start in the history of NASCAR.
Stewart won five of 10 Chase races and the championship, and those five wins were a season high for any Cup driver, all season.
So Keselowski sees that a Chase can amount to a whole season -- if you can make it.
"I think if we can get through these next two weeks, we're in as strong a position as ever," he said.
"We don't have quite the confidence that we had at this time last year, and that's something I will admit," he continued. "But if we come out guns ablaze these next two races, we'll get that confidence real quick, and I think we're positioned to do that.
"Having tested here and at Richmond [next week's venue], I feel like we have great cars for that."
AMS, with its wide, worn, abrasive surface that demands slipping, sliding and even scraping the wall at high speeds, would seem to be the epitome of Keselowski's kind of track. Yet he hasn't won here in four starts.
"I love Atlanta, actually," he said. "This is one of my favorite tracks, and we've had some good runs here. I think we finished third and sixth the last two times here [he's correct]. We haven't been quite good enough to win, but we certainly had very respectable runs."
And then he turned to the old pure racers' adage: "You knock around the top five, and you'll get wins."
Top it off with more grassroots wisdom: "The key to life isn't about falling down. It's about getting back up."
The reigning champion, with all this difficulty defending, is by no means flattened or facedown on the mat.
July, 5, 2013
07/05/13
9:18
PM ET
DAYTONA BEACH, Fla. -- Will Jimmie Johnson do what hasn't been done in 31 years? Or might Danica Patrick do what's never been done?
Probably not.
But those are the two hottest questions going into Saturday night's Coke Zero 400.
Call them too pop-culture in nature, with two mainstream names, not inside enough for hard-core NASCAR fans, if you will. But, hey: This is a pop-culture race, always has been, run in a hurry before an audience comprised more of beachgoers than serious fans.
This is the direct descendent of the Firecracker 400, which many still deem the best name ever for a NASCAR race, before the advent of commercial names.
[+] Enlarge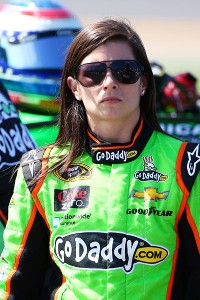 Todd Warshaw/Getty ImagesDanica Patrick was impressive at Daytona in February. Will she be even better on Saturday?
What Johnson could do is become the first driver to sweep both races at Daytona International Speedway in a single season since Bobby Allison did it in 1982.
Patrick, as with every week she fires her engine, can become the first woman to win a major NASCAR race -- but it's much more interesting this weekend than it has been at, say, Michigan or Charlotte this year.
She started on the pole for the Daytona 500 in February, ran in the lead pack throughout the race, was third going into the final lap and wound up eighth because she didn't yet know how to swim with the sharks in a restrictor-plate-racing shuffle at the end.
So this could be her best shot to win since the season opener.
Johnson was quick but subtle to point out the differences in his own task from what Allison accomplished.
"Have plates been on for 31 years too?" JJ deadpanned. Allison's feat came five years before restrictor plates were instituted. In '82 a driver could race and win on his and his car's own merits. Now, of course, a driver is largely along for the wild ride in the shuffling and scrambling of plate racing, depending on others for aerodynamic pushes and pulls.
And this may be the same track Johnson won the Daytona 500 on this year, but conditions are different -- somehow even more intense for the summer race than for NASCAR's showcase event in February.
"When you come back for this event the track has so much less grip, much hotter conditions, and there is just more urgency to lead … just more energy and more opportunities to make mistakes in the July race than in the February race … .
"Also, everybody is just charged up for a night race, Fourth of July weekend and all those things."
Different, yes, but, "I feel like it's not going to be worlds of difference," Patrick said in response to questions as to whether she can deliver a drive as electrifying as hers in February.
"Yeah, I can do the same thing," she said. "I don't get worse as the year goes on."
Her friend and TV commercial colleague, Dale Earnhardt Jr., got a point blank question: Can Danica actually win this race?
"Yes. Of course. Absolutely," he said.
Patrick figures the biggest reason she dropped back from third to eighth in the last-lap shuffle in February was that she failed to take advantage of an opportunity to work with Earnhardt in the waning moments.
Should the two find themselves in position to draft together again Saturday night, does Patrick now have enough experience that Earnhardt could help her win? Or, conversely, enough experience that she could help Earnhardt win?
"The answer is yes for both," Earnhardt said. "With plate racing you just don't know. Mark Martin was pushing me in the [February] race and he has as much experience as anybody, and we didn't get the job done, as good as I think we are at it …
"You just sort of go by your gut in those last moments," Earnhardt continued. "It just comes down to anyone, her or I or anybody, making that gut decision at that moment …
"You don't fall back on years of experience," Earnhardt said. "It comes down to, really, like dodging a bullet as you move left or right and hope you make the right decision."
Where the Daytona 500 is NASCAR's showcase race, the 400 is a sprint with enormous sense of urgency, flying by the gut, dodging bullets.
"Firecracker 400" still says it best about this race.
May, 4, 2013
05/04/13
3:32
PM ET
TALLADEGA, Ala. -- Sunday's -- or Monday's, or Tuesday's, depending on the weather -- Aaron's 499 may not be a replay of the single-file promenade that kept you dozing and grumbling through the Gen-6 car's debut at Daytona in February.
"It looks like it's going to be a pretty crazy race," pole sitter Carl Edwards said Saturday.
Hold on, you say. Edwards, maybe the hardest-luck restrictor-plate racer of his time -- destroying five cars at Daytona alone this year -- is on the pole at Talladega?
How he got to the top starting spot is interesting enough in itself. Same goes for Martin Truex Jr., who will start second, and Marcos Ambrose, third.
Qualifying was rained out Saturday, and the forecasts call for a 60 percent chance of rain Sunday and 50 percent Monday.
[+] Enlarge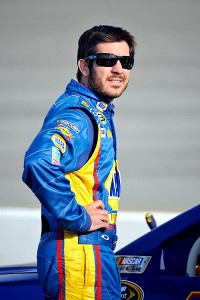 Rainier Ehrhardt/Getty ImagesMartin Truex Jr. says he thinks two racing lines may form at Talladega, unlike earlier this year at Daytona.
Whenever the Gen-6's second plate-race outing happens, the starting order will be determined by speeds in Friday's practice. Because the whole garage area knew the lousy weather was coming, they treated that first practice as "a heat race," Edwards said.
He, Truex and Ambrose managed the quickest runs -- and "runs" is the key word. Runs on one another. That's what may make the difference from Daytona, where drivers just couldn't put together the classic plate-racing scrambles.
"We expected it to be similar to Daytona, but it actually feels quite a bit different, which is interesting," Truex said. "We really don't know what to expect for tomorrow yet. The practicing is never like it is in the race."
There's always a chance drivers will choose to do a ride-around similar to what happened at Daytona -- and which they've chosen to do here in the past, when the rules packages had them baffled.
But in practice this time, "The cars seemed to suck up [to each other in the draft] and get runs a whole lot better," Truex said, "even when we were toward the front of the pack.
"We saw a lot of single-file racing at Daytona," he continued, "but I don't expect the race here tomorrow to be quite that way. It seemed like guys were able to get a lot of runs and make a lot of stuff happen in practice."
"There were definitely more runs than what there was at Daytona, as far as getting more speed to make things happen out there," Ambrose said. "I felt racier than I expected."
How did those three end up quickest?
"It was all about getting in position to get a big run and run a whole lap without having to check up or drag the brake or slow the car down," Truex said. "A lot of guys didn't try to get the big lap. They were just trying to work on their cars for tomorrow."
All in all, "It was like a heat race out there," Edwards said. "We were four wide in practice once -- at least that's what my spotter told me.
"The cars seemed to do a really good job of pulling up and actually passing other cars."
"Actually" passing was what the cars had a hard time doing at Daytona. One could pull alongside another but would seem to stall out in a baffling side-wash of air.
Not enough has changed about the Gen-6 car since Daytona to make a difference -- at least nobody has been caught with any gray-area tweaking of aerodynamics this weekend.
So it has to be the track. Talladega is 2.66 miles to Daytona's 2.5, higher-banked and wider.
"There will be the opportunity to have some bigger packs just because of the style of racetrack and there is more room to maneuver," said Kevin Harvick, who had the dominant car of Daytona Speedweeks, winning both the Sprint Unlimited and his qualifying race before getting wrecked out early in the 500. "What effect, and how big that effect is on this style of racing, is obviously yet to be determined."
"The only thing that is different is this is a wider racetrack," Jeff Gordon said. "You don't have to worry about handling here, where handling was a little bit of an issue at Daytona."
At Daytona, driver skittishness about forming an inside line, at the risk of being shuffled back by the clearly faster outside lane, was the root issue of what amounted to -- hrrmph -- less than a fan-pleaser.
"It certainly could happen," Gordon said of forming an inside line, "and it could have happened at Daytona. It just didn't seem like enough guys really wanted to get organized to do it. They were pretty committed to stay in that outside lane."
Dale Earnhardt Jr., who arguably likes Talladega more than any other driver, noted another possible nuance that could help.
"The asphalt has aged a little bit [since the repaving in 2006], and hopefully, it is getting slicker and slicker," Earnhardt said. "Makes actually racing around each other a lot more challenging than it has been lately at the plate tracks."
April, 14, 2013
04/14/13
4:10
PM ET
As the trucks began their race at Rockingham on Sunday, one remark by Speed TV analyst Michael Waltrip -- that fans were right up by the fence -- triggered a whole, delightful set of memories about one man.
And it added to my list of somewhat forgotten characters who might deserve consideration for NASCAR Hall of Fame nomination.
That would be the late Ray Melton, the longtime track announcer at both Rockingham and Darlington, who had such a deep, gravelly voice and prolonged Southern drawl that he always sounded sort of like he was choking on the smoke rising from a charcoal fire.
[+] Enlarge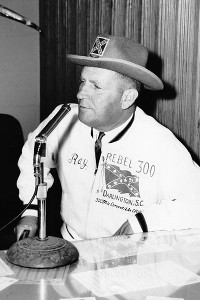 ISC Images & Archives/Getty ImagesThe late Ray Melton was the longtime voice of racing at both Rockingham and Darlington.
Anyway, speaking of fans close to the fence at the Rock: One pole day there in the 1970s, Ray noticed from his booth that some kids were not only close to, but clinging to, the catch fence down in the first turn, during practice.
Politely, deeply, Ray intoned: "You folks standin' down theyah bah thah fence in Toin One: we would remahnd y'all that it's very dayne-ger-ous to be theyah. We ask that you move back."
Indeed, drivers often would dust the wall with the right sides of their cars going into Turn 1. It was part of the quickest line around the track.
The kids didn't move.
"Again," Ray boomed over the public address system, "we ask you young people down by the fence to take a seat, fo' yo' own safety."
Still they stood, oblivious.
Ray asked once more, and then again, and that was enough.
"Will SOMEBODY please get those idiot children away from that fence!" Ray bellowed, in a sheer thunder rising over the Sand Hills region of North Carolina. "We are NOT gonna conduct any moh practice laps until somebody removes those idiot children!"
Still the kids paid no heed, but security guards did, and removed the thrill seekers.
In 1976, presidential candidate Jimmy Carter was on hand to give the command to start engines at Darlington for the Southern 500, which was still run literally on Labor Day.
The future president gave the command, and the cars roared and began to roll off the grid.
Ray then boomed that "EVERYBODY knows that it's MY job to give that command here at the famed Dahlin'ton Raceway, so I'm gonna give it anyway, for you fans:
"Gen-tel-mehhhn, STAHT yo' EN-juns!"
The engines were well into full song by then, but Ray made himself heard above the noise.
So when you talk about the deep traditions at Darlington and Rockingham, just know they'll never be close to the same without the charcoal-smoked voice of the late Ray Melton.