Ole Miss' road to their first baseball national championship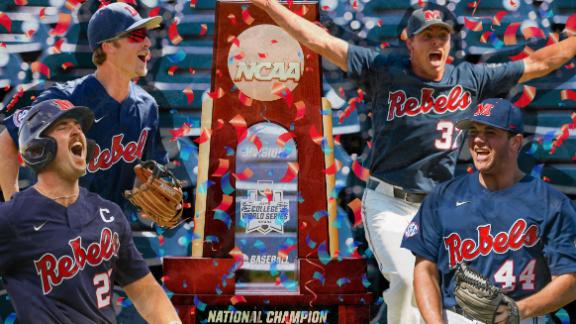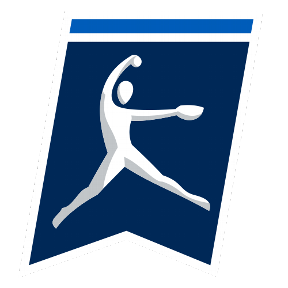 OKLAHOMA DOMINATES AGAIN
SOONERS WIN SECOND STRAIGHT WCWS
Texas A&M's Colvin details game-winner vs. Rice
After a 1-0 win against Rice, Kate Colvin describes her goal in the 78th minute as a "big confidence booster" for the Aggies as they break a four-game losing streak.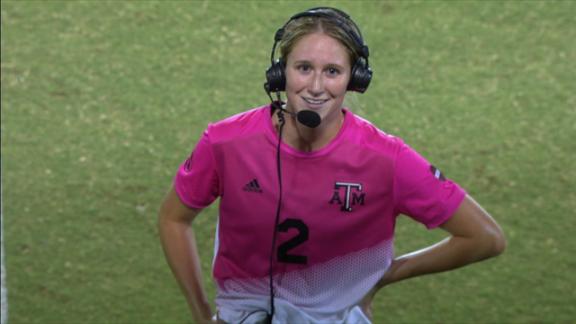 Mendoza says South Carolina sweep fills him with pride
After the Gamecocks complete a tough stretch of five matches in eight days with a sweep of Missouri, Tom Mendoza expresses satisfaction in his team.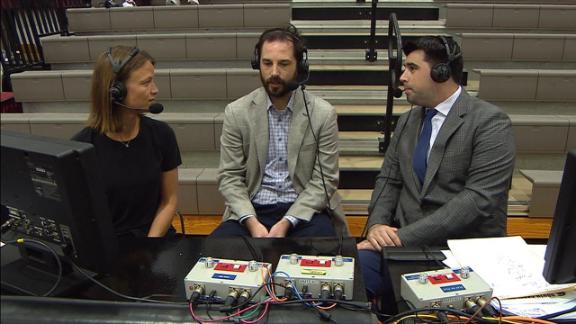 Baker says LSU uses underdog mentality as motivation
After helping the Tigers record a 3-2 win over Kentucky, Mollie Baker says she and her teammates are "coming back always."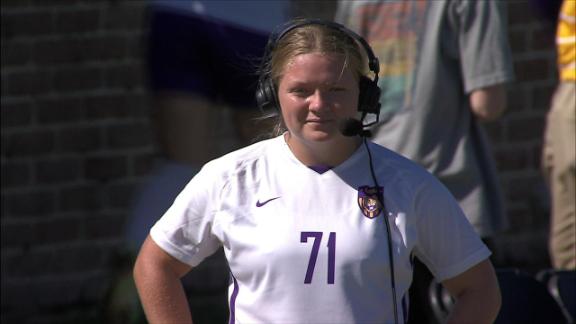 Evans, Stivrins close out strong weekend for UGA
Kacie Evans records a season-high 28 kills and Amber Stivrins adds 13 as Georgia registers its second five-set victory in as many days over Texas A&M.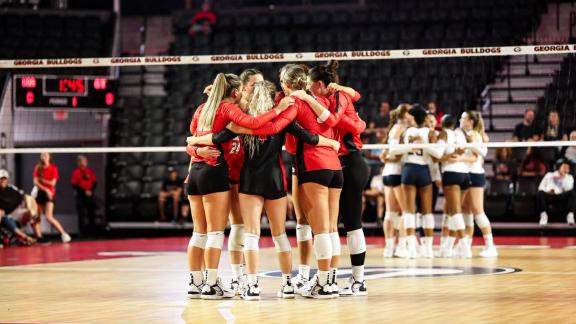 NCAA Men's Baseball
Bianco says Rebels' title win wasn't a Cinderella story
After having time to process and enjoy a national championship win, Ole Miss' Mike Bianco joins Marty & McGee and discusses his takeaways from the season.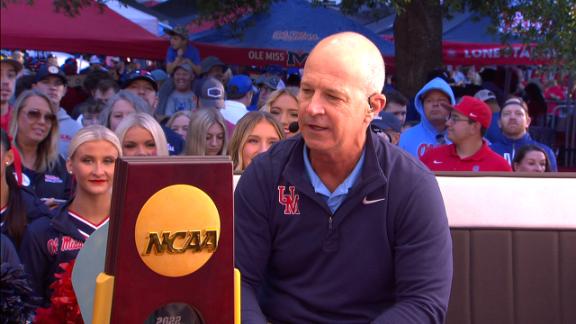 Thomas recaps Lady Vols' perseverance in upset win
Jaida Thomas nets the game-winning goal for Tennessee and explains how the 1-0 win over No. 13 Ole Miss proves that they can compete at a high level this season.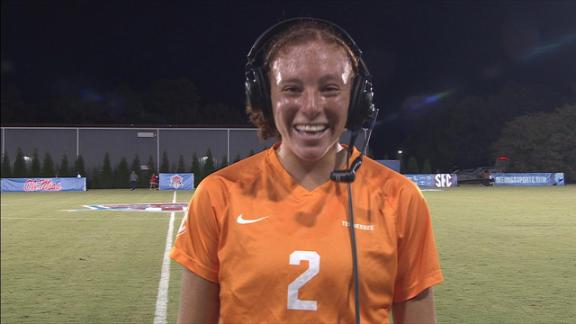 Missouri's Hollenbach says staying calm in goal is key
After her nifty play in the net secures a 0-0 draw for the Tigers vs. No. 21 Mississippi State, goalie Bella Hollenbach says she tries to set the tone for her team.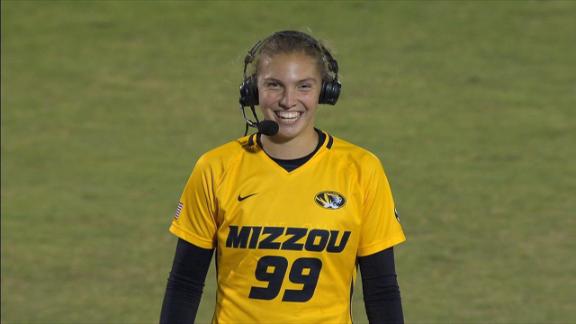 Vandy ties it up against Auburn in the final minute
The Commodores' Ella Shamburger nets the game-tying goal with just 32 seconds remaining after the Tigers' Grace Sklopan scores in the first half of the 1-1 draw.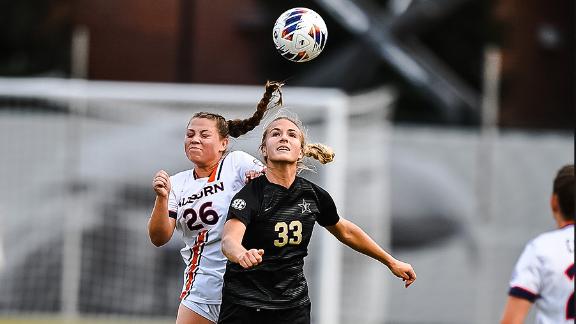 No. 12 Hogs' Podojil comes in clutch against Aggies
Anna Podojil shares Arkansas' game plan and accolades as she scores the only goal of the 1-0 win against Texas A&M.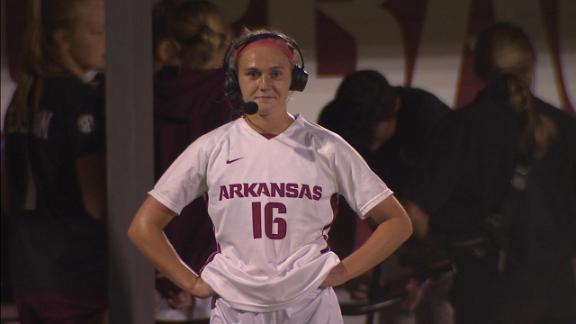 Anderson loves seeing Auburn's growth this season
Following a career-high 26-kill match in a win against MS State, Akasha Anderson explains how special the Tigers are this season as they remain undefeated.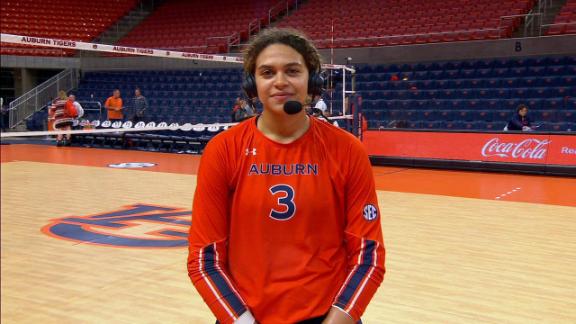 Knox points to Tide's chemistry in six-game win streak
Following her goal and two assists in No. 6 Alabama's 3-0 win over Texas A&M, Felicia Knox explains how team chemistry has kept the Tide rolling.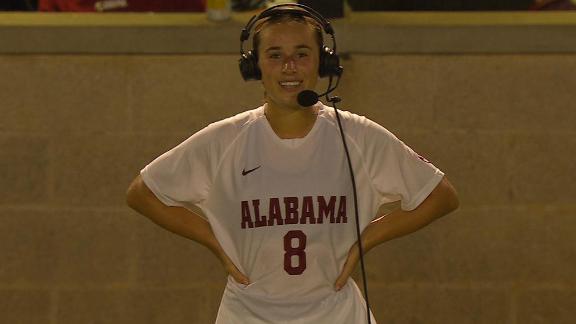 McGuire on Rebels' best SEC start in program history
Marykate McGuire details Ole Miss' 3-0 start in SEC play and its program-best 11-match unbeaten streak after scoring the game-winner to take down Auburn, 1-0.
Lovett keys Lady Vols' aggressive approach in win
Erykah Lovett explains the importance of Tennessee bouncing back with a 3-0 sweep over Texas A&M in order to continue building its confidence.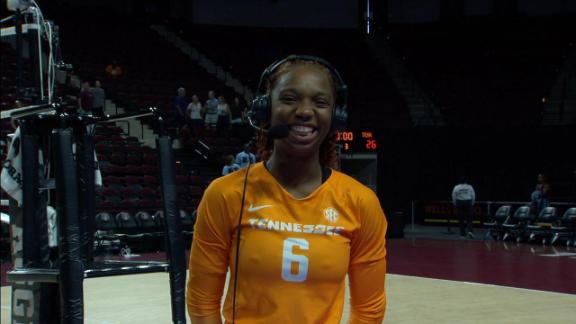 Vandy's Ambrose praises Baker and Kerr for goals in win
Darren Ambrose describes it as the "wackiest three minutes" with late goals coming from Maddy Baker and Alex Kerr to lift Vanderbilt to a 2-0 win over Mizzou.