Oklahoma advances to WCWS on Jennings' 9th-inning HR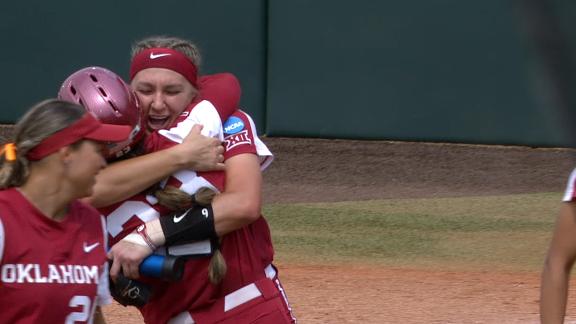 Gottshall says trip to WCWS 'means everything' to UT
Weekly on Lady Vols' trip to WCWS: 'Sheer jubilation"
Julia Jimenez's grand slam gives Utah comfortable lead
Utah's Julia Jimenez crushes this ball out of the park to give the Utes a 7-1 lead over San Diego State.
NCAA MEN'S BASEBALL
NCAA BASEBALL
COLLEGE BASEBALL
GYMNASTICS
Trinity Thomas' journey to tying the Perfect 10 record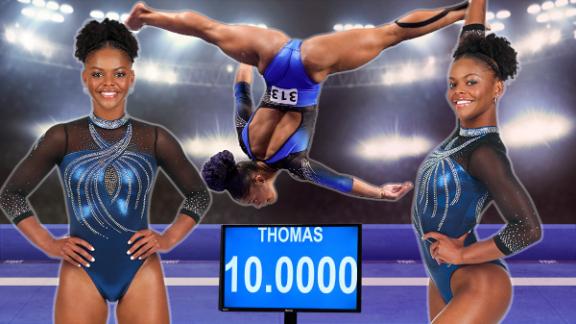 NCAA MEN'S HOCKEY
QUINNIPIAC RALLIES FOR OT WIN

30 YEARS AFTER KARIYA

UTAH
NCAA Men's Baseball
Corbin praises Vandy for rebounding, winning SEC title
On SEC Now, Tim Corbin explains how the Commodores didn't get discouraged after falling to UF while RJ Austin and Troy LaNeve speak on their offensive excellence.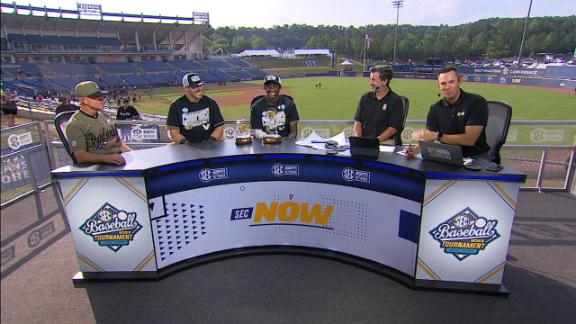 Jenna Johnson launches a HR off of the foul pole for Alabama
Jenna Johnson's solo home run gives the Crimson Tide a 3-1 lead in the bottom of the fifth inning.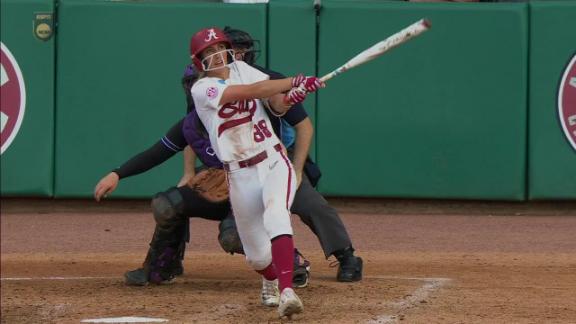 NCAA Men's Baseball
Schreck: Playing for Vandy has been 'absolute pleasure'
Following the SEC tourney win over the Aggies, RJ Schreck discusses playing for the Commodores this year and says he "wouldn't trade it for the world." (edited)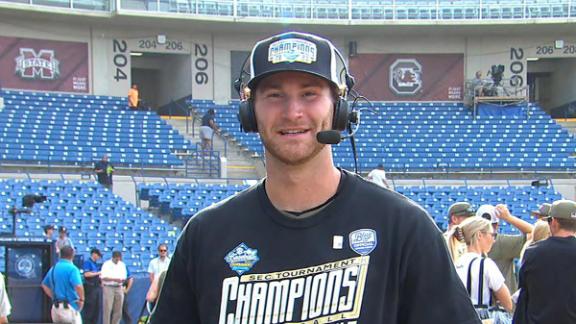 NCAA Men's Baseball
Maldonado: Vandy will ride momentum into NCAA tourney
Following an SEC Tournament win over Texas A&M, Chris Maldonado discusses the Commodores' path thus far and aspirations going forward.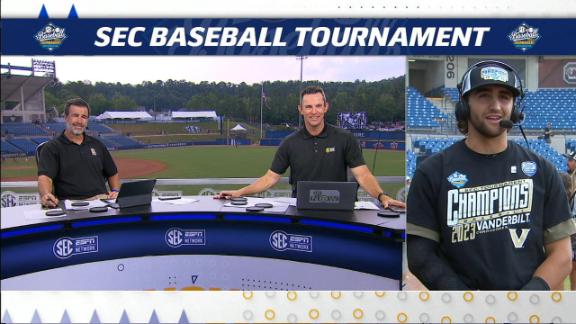 Halle Morris' 2-run single pads the Utes' lead
Halle Morris drives in two runs on a single to center field to give the Utes a 7-2 lead in the bottom of the sixth inning.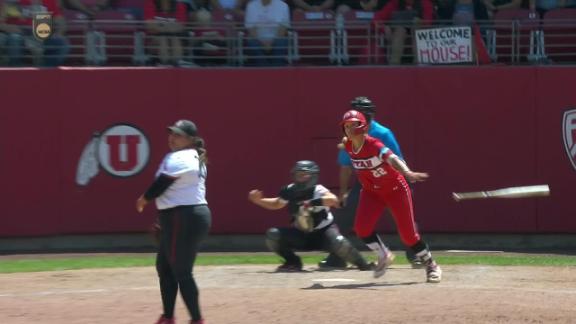 Breaking down Lady Vols' impressive path to WCWS
SEC Now's Alyssa Lang and Tori Vidales look back at Tennessee's dominant path to OKC and discuss their keys to success going forward.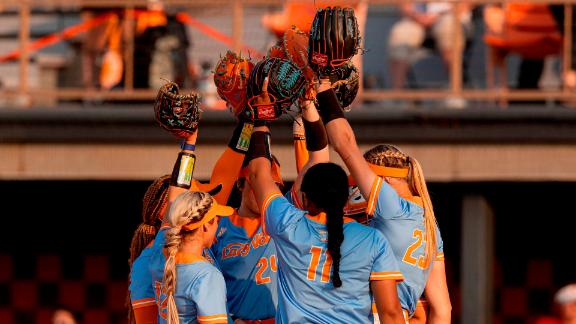 Bama's Fouts closes the door on Northwestern
Montana Fouts comes out of the bullpen to finish off the night by retiring all eight batters she faces in Alabama's thrilling 2-1 victory over Northwestern.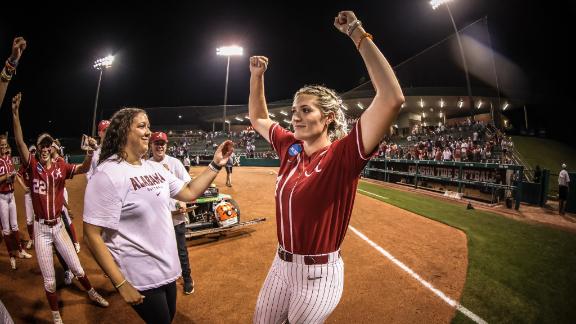 Fouts spreads gratitude after closing out Northwestern
After taking down No. 16 Northwestern to force a Game 3 for No. 11 Bama, Montana Fouts shares praise to her team, trainers and supporters.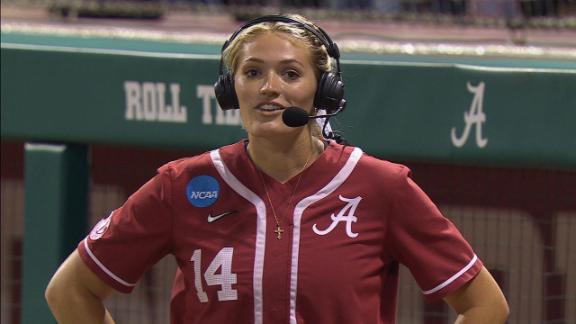 Gottshall tosses No. 4 Lady Vols into WCWS trip
Payton Gottshall nearly throws a no-hitter in a 9-0 series-clinching win to send Tennessee to Oklahoma City for the eighth time in program history.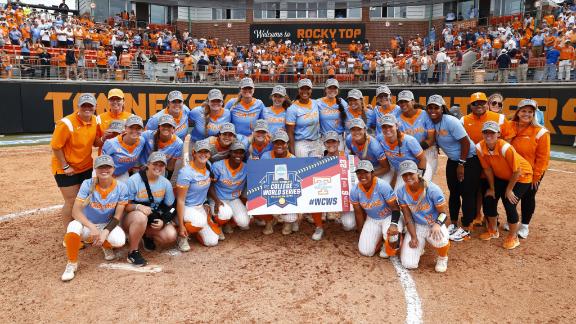 Alabama takes a lead on Ashley Prange's single
Ashley Prange drives in a run on a single to center field to give the Crimson Tide a 2-1 lead in the top of the seventh inning.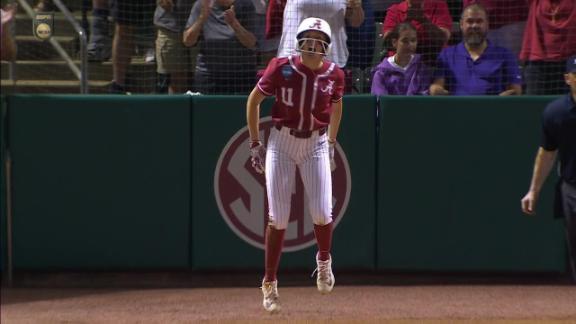 NCAA Men's Baseball
Can Vandy's hot pitching slow down Aggies' fiery bats?
The SEC Now crew discuss the strengths for 4-seed Vanderbilt and 10-seed Texas A&M, but say the Dores' hitting could have the edge in the title game.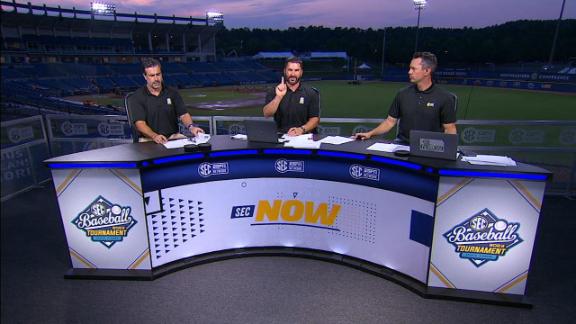 NCAA Men's Baseball
Chris Maldonado, Espinal say Dores are on mission
Chris Maldonado and Alan Espinal visit SEC Now and say Vanderbilt flushed past difficulties vs. Florida from their minds before 11-6 SEC semifinal win.