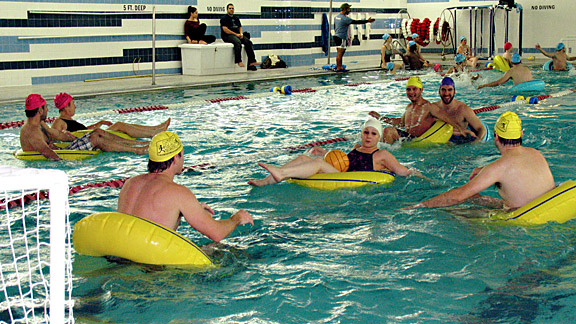 Ken Derry for ESPN.com Page 2 documents the budding sport of inner tube water polo from a poolside seat in New York.
NEW YORK -- On a recent night in the steamy basement pool of the Chinatown YMCA, the spirit of competition was splashed in the face, flipped on its head and dunked under water.
Men and women in their 20s, 30s and 40s gathered in this subterranean space off the Bowery. They were teachers and students, forensic specialists and bankers, but they shed their skin along with their clothing in favor of Speedos, board shorts, one-pieces and bikinis.
Despite their differences in style and background, they were unified by two unmistakable pieces: swim caps and inner tubes. After all, nothing captures the expression of a determined seafarer like a hot pink swim cap. But there is strength in numbers, so awkwardness went the way of the rippling tide once the first athlete jackknifed into the pool and undertook the graceless act of climbing into a floating inner tube.
It was the Inner Tube Water Polo Championships, the marquee event for a popular recreational league contested under the umbrella of the Manhattan-based NYC Social Sports Club.
The club organizes a variety of sports, including kickball, ultimate Frisbee and volleyball. But other leagues such as inner tube water polo have developed a following.
NYC Social Sports Club was founded in 2004 by Amy Short, who began recruiting members by circulating flyers outside movie theaters playing "Dodgeball: A True Underdog Story."