Don McPeak/US Presswire
JOHN CLAYTON QB RANKING (11)
: Matt Schaub was having an excellent 2011 season (15-6 TD-Int ratio) before being sidelined with a foot injury after the Texans' 10th game.
Expert Picks (Consensus: first)
The Texans finished first in the AFC South last season with a 10-6 record. For more coverage, visit: ESPN.com's AFC South blog … on Twitter | Clubhouse | More predictions
ANALYST
PREDICTION
Paul
Kuharsky
ESPN.com

DIVISION FINISH: 1 The Texans have better talent and better depth than anyone in the division. Every year, a team that's the consensus choice to win a division falls flat. But it would take a lot for Houston to be that team this year.
John
Clayton
ESPN.com

DIVISION FINISH: 1 How times have changed. The Texans couldn't sniff the AFC South lead in a Peyton Manning-led division. Now, Matt Schaub is the most established quarterback, and Houston should win the AFC South by a couple of games.

Adam
Schefter
ESPN.com

DIVISION FINISH: 1 Only a team as talented as Houston could lose Mario Williams and actually be better the following season.
Jeffri
Chadiha
ESPN.com

DIVISION FINISH: 1 They've got a veteran quarterback, a Pro Bowl receiver, a strong running game and a dominant defense. That's more than enough for a Super Bowl run.
Ashley
Fox
ESPN.com

DIVISION FINISH: 1 The Texans broke through in 2011, winning their first division title and first playoff game. Now, they want more: a Super Bowl appearance.
Intelligence Report
Five things you need to know about the Texans:
1. Matt Schaub is just fine: The Texans will wait until after the season to talk contract with their quarterback. The expectation is he's the guy for the long term no matter how this season unfolds. He is very much Gary Kubiak's guy, and this is very much Kubiak's team. The Texans want to see how Schaub does healthwise. But it's not at all about last season's foot injury, which is completely healed and required no special rehabilitation. It's about if he can get through the season without something new cropping up. His performance, his health and the team's overall success will go a long way in determining what his next contract will look like.
2. The pass rush looks great: J.J. Watt hasn't been in the lineup after suffering an elbow injury in practice. Yet even without a key piece to the defensive front, the group continues to produce a consistent pass rush. It seems like on virtually every pass play, somebody causes a disruption -- and there is a big cast of characters to choose from with Watt, Antonio Smith, Connor Barwin, Brooks Reed and Brian Cushing. Defensive backs can blitz when coordinator Wade Phillips wants to mix it up. Opposing quarterbacks are going to get rid of the ball quickly. The Texans do face a lot of high-quality signal-callers this season who should be better equipped than most to handle their rush. But they'll also likely have six games in the division against first- or second-year quarterbacks.
3. Johnathan Joseph is primed to be even better: The cornerback is just what the Texans hoped for when they brought him in as a free agent last year. Now, in his second year, he's far more comfortable with what the team does defensively and with his environment. He's mentoring the other starter, Kareem Jackson, and helping make young receivers better more quickly. Joseph will continue to track the other team's best receiver, and that challenge will be giant considering some of the talented wideouts the Texans will encounter this year.
4. They will be OK at receiver: The Texans are counting on three inexperienced players to round out their receiver group. Keshawn Martin and Lestar Jean have provided encouraging preseason results, and the team remains high on DeVier Posey. So long as Andre Johnson stays healthy, the Texans can be fine in terms of targets. Remember, running back Arian Foster and tight end Owen Daniels will catch a lot of passes, too. The receiver who plays the most after Johnson and Kevin Walter will rate as the fourth option for Schaub at best.
5. They are deep: Last year the Texans had players step up all across the depth chart, filling in for injured stars and playing productive, winning football that got the team to the playoffs for the first time in franchise history. A good-looking draft has helped the Texans maintain depth. First-rounder Whitney Mercilus gives them a third outside linebacker and means Barwin and Reed won't have to overextend. They've got three quality running backs in Arian Foster, Ben Tate and Justin Forsett. They've got some young, talented backup offensive linemen. They've got a group of defensive backs behind the starters who can step in if and when needed.
-- Paul Kuharsky, ESPN.com
Inside The Numbers
The Texans battled through injury after injury to star players on their way to the franchise's first playoff berth (and playoff win) last season. One of the biggest losses was outside linebacker Mario Williams in Week 5.
Although Houston lost one of its star pass-rushers, the drop-off from Williams to his replacements did not show up in the statistics. The Texans' defense averaged a sack every 12.7 dropbacks from Weeks 1 through 5 and a sack every 12.8 dropbacks from Week 6 through the divisional round of the playoffs.
Connor Barwin moved from the left side to the right and more than matched Williams' sack-per-game pace with 9.5 in Houston's final nine regular-season games. OLB Brooks Reed stepped into a much larger role on the left side and posted 9.5 sacks in nine games from Week 7 through the divisional round of the postseason as a rookie.
The rest of the Texans' defense continued the strong play, allowing fewer yards per attempt and a lower Total QBR over the final nine weeks.
• Houston running backs Arian Foster and Ben Tate both ranked in the top 10 in rushing yards against base 3-4 and 4-3 defenses. Tate's 5.6 yards per rush and 3.0 yards after contact per rush against base defenses both ranked second among qualified running backs during the regular season.
• Quarterback Matt Schaub had the eighth-highest Total QBR through Week 10 at 66.7 (0-100 scale, 50 is average). After his Week 10 injury, Schaub was missed the most in the play-action passing game. Despite missing the last six games of the season, he finished first in yards per attempt, tied for seventh in TDs (8) and third in completion percentage (70.1 pct) on play-action passes.
-- ESPN Stats & Information
ESPN The Mag: Insider's View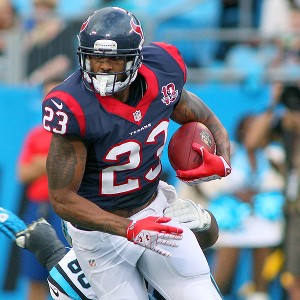 (Photo by Jeremy Brevard/US Presswire )
Arian Foster: Explosive and patient.
Best Unit: Running backs
This is a terrific one-two punch. Arian Foster and backup Ben Tate are big-play backs, and the Texans have a well-designed attack, featuring good zone-blocking principles. Foster and Tate are one-cut runners, but they have the patience to let blocks form; they know how to break it to the weak side as well. To further strengthen this unit, Houston will use James Casey as a lead fullback.
Worst Unit: Offensive line
The left side is solid. The problem is that the run game is right-leaning. The Texans will have new starters at right guard (Antoine Caldwell) and right tackle (Derek Newton). They must pick up a difficult scheme quickly, as inconsistent run blocking can also affect Houston's play-action.
-- Gary Horton
• AccuScore projects every team, every game