Troy Taormina/USA TODAY Sports
Matt Schaub has thrown a pick-six in an NFL-record four straight games.After a 2-0 start the Texans found themselves ranked fourth in Week 3's ESPN.com NFL Power Rankings.
Since then the Texans have lost three in a row and now find themselves ranked 17 in this week's poll.
Matt Schaub has taken the brunt of the blame for the Texans' struggles this season. With nine interceptions and an NFL-record four straight games with an interception returned for a touchdown, some of the blame seems to be deserved.
But is Schaub the real root of the Texans' offensive problems, or do the issues run deeper?
No big plays off play action
Play action has been a staple of the Texans' offense under Gary Kubiak. Since taking over as head coach, the Texans have used play action on 24 percent of their pass attempts, tied for the third-highest rate in the NFL.
This season the Texans are not only using play action less frequently (17 percent of pass attempts), they are using it differently.
A look at the image below shows the pass distribution for Schaub using play action from 2011 to 2012, when the Texans went 22-10.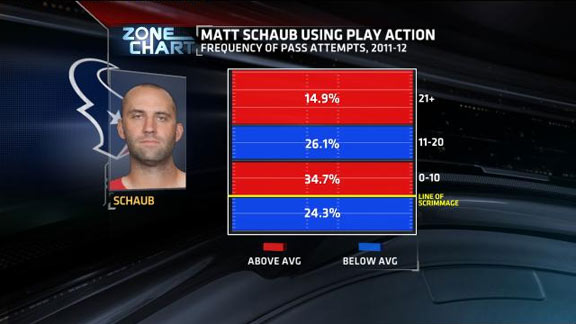 During that time frame, Schaub had 36 pass plays of 30-plus yards, which ranked 13th in the NFL, 20 short of the leader (Drew Brees). Of those 36, however, an NFL-high 23 were set-up by play action, five more than the next-highest quarterback.
A look at the second image below shows Schaub's pass distribution when using play action this season.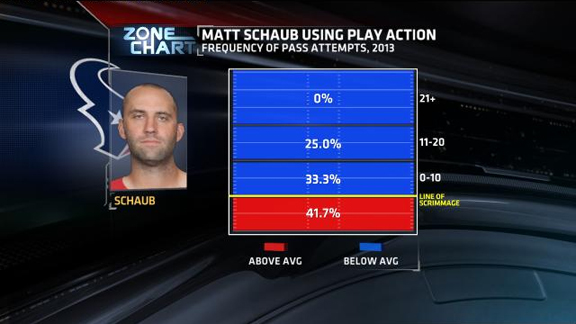 None of Schaub's play action passes this season have been thrown more than 20 yards downfield, a stark contrast to the previous two seasons.
In fact, Schaub's average play action pass has been thrown 3.8 yards downfield this season (9.7 yards the previous two seasons), a deeper average than only Blaine Gabbert.
As a result, the Texans have only four 30-plus yard pass plays, tied for 26th in the NFL. None of those pass plays for Texans have come via play action.
Too much Foster?
Despite double-digit touchdowns in each of the previous three seasons, Arian Foster's ground efficiency has dipped every year since his breakout 2010 season.
Arian Foster Yards per Rush
Last 4 Seasons
The reason for Foster's dip in production may just be overuse. Foster has a combined 1,230 rushes and receptions since the start of the 2010 season, 101 more than the next highest player.
The Texans already have a capable backup on the roster in Ben Tate.
Tate has averaged 2.2 more yards per rush than Foster this season on 56 fewer rushes and has shown an ability to break through tacklers in his career.
This season, Tate has averaged 3.6 yards per rush after first contact, best of any player with 20 rushes. Tate also led the NFL in 2011 in average yards after contact.
No TD for Andre Johnson
Whether it's Schaub's decision-making, the play calling or a defensive mindset, Andre Johnson just can't find the end zone.
Most Targets Without a TD
This Season
Johnson has the third most targets this season (56) and no touchdowns.
When the Texans do get in scoring range, Johnson hasn't been the go-to guy. Johnson is the fourth-most targeted Texan in the red zone this season, and of the Texans' eight throws into the end zone, Johnson was the target on only one.