Luke Travers drains the trey over Mitch Creek
Tanner Krebs with the sweet dish to Rob Loe
After a slow start, Melbourne United are moving the ball with speed as Tanner Krebs gives the sweet dish to Rob Loe for the two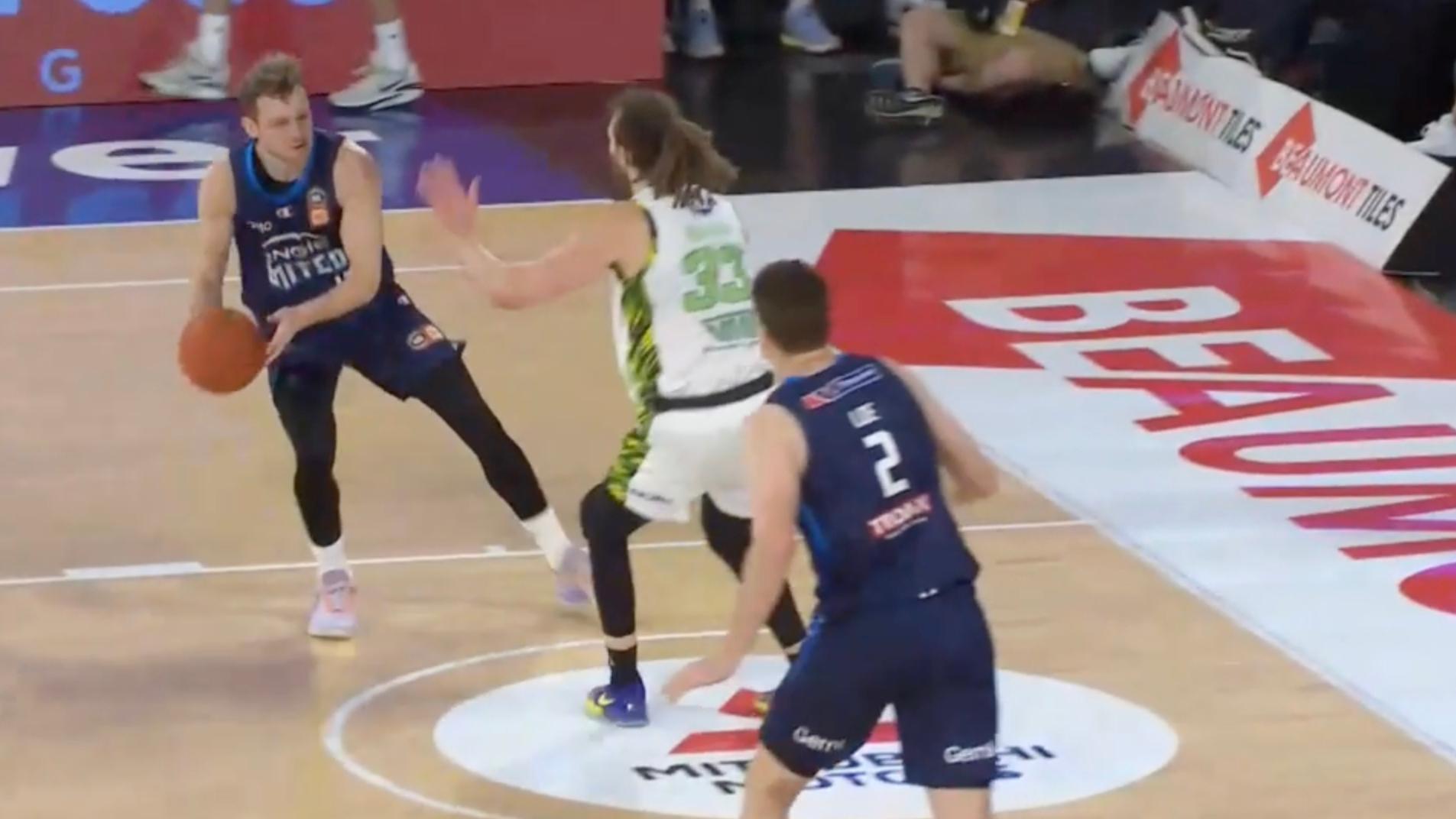 Delly's 'Best Basketball Ahead' of him
Matthew Dellavedova is primed for a big season for Melbourne United as he looks to reestablish himself in the Boomers squad ahead of the Paris 2024 Olympics.
FIBA
FIBA
Germany defeat Serbia in FIBA World Cup Final
Germany have defeated Serbia 83-77 claiming their maiden gold medal at the FIBA World Cup after going undefeated at the tournament.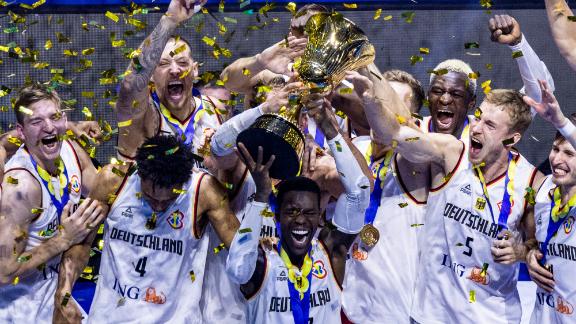 FIBA
Germany hang on to win first-ever FIBA World Cup
Germany fends off a late Serbia rally to claim its first FIBA World Cup title.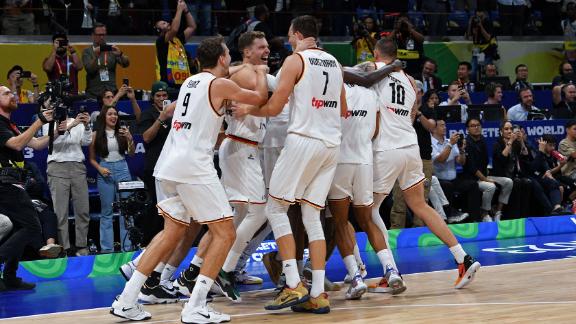 FIBA
Germany's passing is too much for Serbia
Germany takes a double-digit lead over Serbia in the FIBA final after this free-flowing move.
Canada beats U.S. to win bronze at FIBA World Cup
Dillon Brooks' 39 points leads Canada to a 127-118 OT win against Team USA, giving the Canadians their first major international medal in 87 years.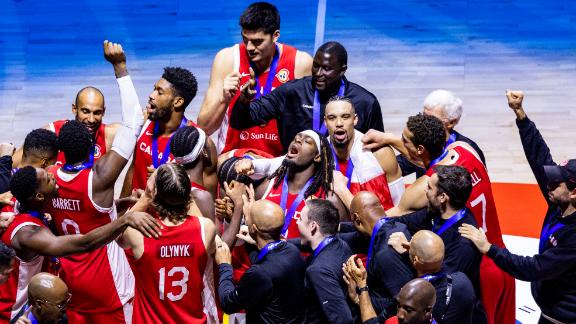 Bogdan Bogdanovic makes the step-back 3 look effortless
Bogdanovic is tearing Germany up with his lights out shooting from beyond the arc.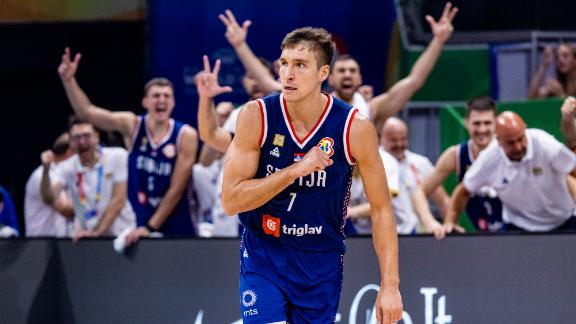 Nikola Jovic with the emphatic slam
Nikola Jovic puts Serbia up early in the FIBA World Cup Gold Medal match with the solo run and flush at the rim.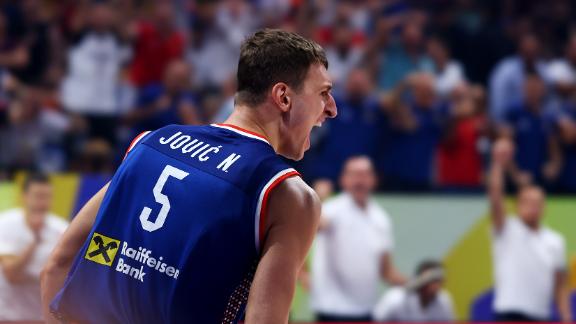 NBA
FIBA
FIBA
Andrejs Grazulis knocks down 1st quarter buzzer-beater for Latvia
Andrejs Grazulis gets the jump shot to fall at the buzzer as Latvia pads their lead vs. Lithuania.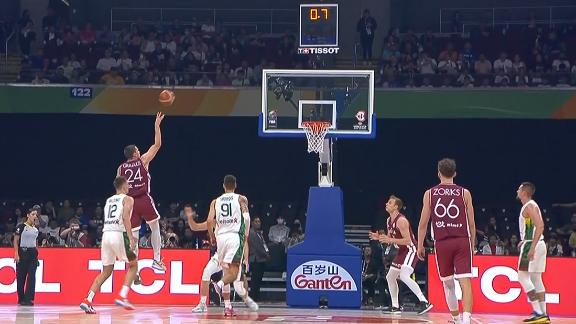 Luka Doncic inspires Slovenia in 89-85 win over Italy
Dallas Mavericks' star Luka Doncic scores 29 points and helps Slovenia beat Italy in the 7-8 classification game at the FIBA World Cup.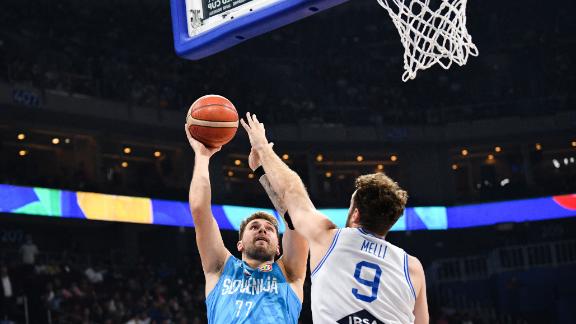 FIBA
Did Team USA's lineup construction let it down?
Ramona Shelburne discusses how Team USA choosing to play small was ultimately its downfall against Germany.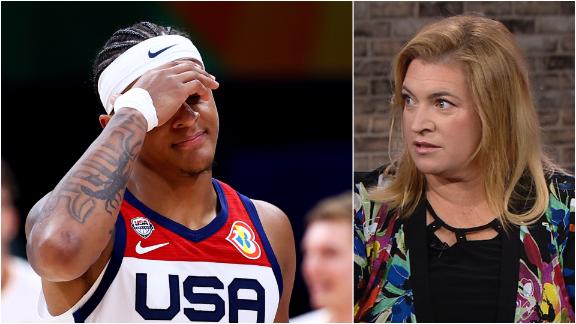 FIBA
Stephen A.: USA's lack of depth exposed in FIBA
Stephen A. Smith and Ryan Clark break down Team USA's elimination by Germany in the FIBA World Cup semis.