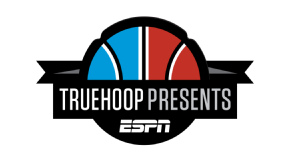 POOR ANDRE ROBERSON. Through furious hard work, the 24-year-old had become the Thunder's best wing defender, nightly hustling after a who's who of high-scoring All-Stars all over the court. Typically he ends up looking good.
Until Saturday, Feb. 27, when Roberson played defense the way it has always been coached, and somehow became the crash-test dummy in Steph Curry's Electric Highlight of the Year. Roberson's crime: He didn't see it coming. And by "it" we mean something that had never happened before.
With the clock running down in overtime and the game tied, Roberson was marking the Warriors' MVP guard -- the man who had already made 11 3-pointers that night alone, one off the NBA record. The man who earlier in the game had broken his own single-season record for 3s. The man who was casually bringing the ball up as the clock ticked off the game's final six seconds.
Then, with almost three seconds left, before Curry had arrived at what would normally be considered a place to play offense, he rose and fired -- precisely one dribble past half court, in line with the edge of the Thunder's center-court logo. The NBA would later measure it as 37 feet from the hoop. That's 13-plus feet behind the 23-foot, 9-inch 3-point line, which itself was once considered a difficult shot.
The sport of basketball was 1,490 months old as the ball sailed through the air. For 1,489 months, 29 days, 23 hours, 59 minutes, 54 seconds of that history, smart defenders let 'em have that dumb shot. But over these YouTube-melting six seconds, in this brave new NBA, there was no one to blame except the gods of basketball -- or Roberson. Most chose Roberson. Coaches flapped their arms on the sidelines, Jeff Van Gundy tut-tutted on the telecast. How dare he set up in a defensive position a mere yard outside the 3-point line?
The Warriors are knocking on the door of 73 wins with a team loaded with everything: top-to-bottom organizational embrace of 3-pointers, the valuing of open shots, the most effective pick-and-rolls in the game, Draymond Green's epic defense and sneaky punishing offense, and all the applied lessons of stat geekery. Must they also be cash-money from 37? As the epic game-winner splashed through the net, Steph skipped, grinning to the far end of the court, and -- before an audience of stunned Thunder fans -- danced on what little was left of basketball conventional wisdom.