MIAMI -- Call me crazy, but doesn't it defeat the purpose of a retractable roof if you keep it closed?
Or maybe that's just me. I live in Seattle, where sunshine is cause for stripping naked, painting your body with psychedelic colors, dancing in fountains and erecting stone monoliths to the solar goddess. After the gray, wet gloom of winter and spring, we want the retractable roof open as often as possible in our 78-degree, zero-humidity summers so that we can see all the surrounding mountains, water and Starbucks.
Miami is different. Temperatures average 90 degrees with suffocating humidity during much of the season so folks here prefer a cool, comfortable seat over Elysian field esthetics. When I asked one fan what she liked most about the Marlins' new stadium, her answer was succinct: "The air conditioning."
The players appreciate that aspect of Marlins Park as well. "It's wonderful not to have to come in and change my jersey every three innings," Marlins first baseman Gaby Sanchez said. "It's nice not having to change my jersey and undershirt three times a game and losing fluid and getting tired."
"Even my underwear feels cool," Marlins catcher John Buck said after a long day game. "That's a foreign feeling."
Due to the heat and the frequent threat of rain -- Miami averages more rain in three months from June to August than Seattle does in four months from November to February -- the roof will be closed the vast majority of games. (It will be opened at other times to allow for natural grass rather than artificial turf.) The heat and rain really hurt attendance at the old stadium, so that might be a sensible approach, but it hurts the look of the new stadium. I thought we learned in the 1980s that baseball is not meant to be played under a roof, or in polyester pullovers. It's meant to be played outdoors, preferably in a cornfield.
The Miami stadium's garish home run "sculpture" in center field is another issue. With painted pink flamingoes, palm trees, blue marlins and flowing waves, it's supposed to be some sort of boisterous celebration of South Florida, but it looks more like a cheap design for a miniature golf course. Just hit the ball between the flamingo's legs, off the marlin's beak and into Jimmy Buffett's margarita cup. This home run "sculpture" might be baseball's greatest embarrassment outside of Derek Holland's 2011 mustache.
"That thing's a joke. You can write that down. A joke," said fan Troy Parra Sr. "That's gotta go."
I'm not sure how I feel about the electric lime outfield walls, either. On the one hand, the color is as loud as Don Cherry's sportscoats. On the other hand, the walls reflect the distinctive Miami palette. Local color is always good, and overall, the stadium is as colorful as Ozzie Guillen's language.
"I think it incorporates the colors of Miami," said Sanchez, who is a city native. "There are a lot of bright colors, and that's what Miami is. The blues, the greens, the fish tanks behind home plate."
Ah, yes. The fish tanks. Two 450-gallon saltwater tanks with 50 tropical fish apiece -- look, there's Nemo! -- line the lower backstop. They form an interesting accessory but are hard to see unless you're right in front of them, either as a major league hitter in the on-deck circle or among the 1 percent who can afford $250 seats behind home plate. I was assured the bullet-proof acrylic was test-proven by firing fastballs against it without so much as a hairline crack. That sounds good as long as the pitcher firing those fastballs was not Jamie Moyer.
I'm not sure how the next stadium can top aquariums behind home plate. I would say caged animals, but Yankee Stadium and Fenway Park already have that in their outfield bleachers (and unfortunately, minus the cages).
What do I like best about the new stadium? Begin with the cozy seating. With 37,000 seats and change, Marlins Park has the smallest capacity in the majors, compared to what had been a major league-high 72,000 seats in the stadium the Marlins shared with the Dolphins. Considering the Marlins are usually near the bottom of the league in attendance, that's probably more than enough room, though.
"When you're looking at 25,000 people in a 37,000-seat park, it looks packed," Sanchez said. "When you're looking at 25,000 people in a 70,000-seat stadium, it still looks like it's empty."
The seats are wide enough for even sportswriters to sit comfortably and they are angled toward home plate so you can comfortably see the action. "You can actually watch a game without bending your neck," Troy Parra Jr. said.
The main concourse also follows what should be required for all modern stadiums by allowing fans to watch the game from any point while walking completely around the ballpark. The concession stands along the concourse also provide a wide array of good regional food: Cuban sandwiches ($9), shrimp burgers ($13), tuna fish sandwiches ($10), soy cheeseburgers ($11), mahi mahi tacos ($12), veggie cups with hummus ($6), knishes ($5) and, of course, the requisite hot dogs ($6).
Beer, meanwhile, costs $8 to $12. And people complain about the price of gas?
If you're looking for something a little more than beer, there's the Clevelander in left field, a hopping night club with a pool so crowded with bikini-clad young women, dancing cheerleaders and beautiful people that if I didn't have a press pass, I would never have been allowed within a fly ball of the velvet rope. (This is such a happening place there were even people doing body shots at the pool.)
Monday night's exhibition game against the Yankees was played on an exquisite evening with the game-time temperature around 80, low humidity and the concourses filled with so many happy fans wearing new Marlins jerseys, T-shirts and caps that even the Miami logo was beginning to look good to me. My underwear felt nice and cool. It was a perfect Miami evening. Not even all the Yankees fans in attendance could ruin it.
Best of all, the roof and the outfield windows were open. Cross fingers the Marlins keep it that way as much as possible.
CSI: Box Score
You know the drill. Each week I provide a fragment from an old box score and challenge you to determine what game it is from and why it's significant. I give this one a difficulty rating of 7. (Hint: This month's boxes will have some season-opening link.) Answer below.
Baseball Card of the Week
Some people say using steroids was the worst decision of Jose Canseco's career. I disagree. I say his worst decision was posing for a photo with this mustache (1986 Fleer, No. 649). Not that Eric Plunk's was any better. What was the deal with those Oakland rookies that year?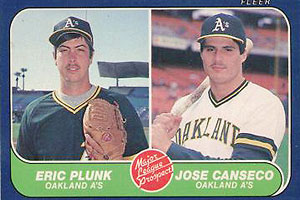 Box Score Line of the Week
Darvish
At age 49, Jamie Moyer cracked the Rockies' rotation, giving him a chance to become the oldest person to ever win a game, though he'll have to pitch better than his last spring outing (5 IP, 9 H, 4 R, 1 ER, 1 BB, 5 K). Felix Hernandez pitched eight excellent innings in the season opener in Japan, then came back and threw four innings in the Cactus League (4 IP, 2 H, 0 R, 0 ER, 0 BB, 6 K). But this week's award goes to Yu Darvish, who struck out 11 batters in his final start. His line:
6 IP, 6 H, 3 R, 3 ER, 1 BB, 11 K
How will Darvish fare this season? One key will be how he adjusts to pitching every fifth day rather than once a week as he did in Japan. Another is how he handles the 100-degree heat in Texas all summer after pitching most of his career in climate-controlled domed stadiums. Let's just say he's going to sweat a little this year, regardless of how relaxed he is on the mound.
Yeah, Well, That's Just Like Your Opinion, Man
The World's Game: When baseball officially opened its 2012 season in Japan last week, there were players from five continents on the field: South America (Felix Hernandez and Jesus Montero), Europe (Alex Liddi), Australia (Grant Balfour), Asia (Ichiro, Munenori Kawasaki and Hisashi Iwakuma) and North America (too many to mention). The World Baseball Classic, meanwhile, will expand from 16 to 28 teams next year, with qualifying rounds this fall in Germany, Taiwan and Panama and including teams from Israel, France, Thailand, Brazil and South Africa. And baseball is considering opening the 2014 season in Australia. But the IOC, for some reason, has determined that baseball is not popular enough internationally to be in the Olympics anymore. Or at least not as universally popular a spectator sport as trampoline.
Opening overseas is a good way for baseball to continue growing the game internationally, but the timing could be better. To draw more attention in the states and better fit the participating team schedules, the games should be played much closer to the other season openers. People make way, way, way too much out of the effects of flying to and from Japan. Japan is not that far away -- it is a nine-hour flight from the West Coast, or less than it takes to fly from Seattle to Miami with a connection -- and remember that the players are pampered with first-class luxury on a charter flight. They do not sit in middle seats with no leg room, a bawling infant on each side and an unthinking guy ahead of them reclining his seat so quickly that he smashes their laptops and spills their drinks. The players do NOT need a week to readjust. In fact, the quicker they are forced to get back to their routine, the easier it is. I flew home to Seattle from Japan on Friday and flew to Miami the next day and felt fine. Airline crews fly to and from Japan all the time. Experienced travelers understand that jet lag is 80-90 percent mental and the sooner you accept that, the easier travel is.
On the other hand, the Mariners will have reported to spring training Feb. 11 and not return to Seattle until their home opener April 13, nine weeks later. Being on the road that long is what taxes the body, not flying to Japan.

I Can't Believe I'm Saying This: Frank McCourt is usually vilified as a terrible owner, but was he really? In the eight seasons he owned the Dodgers, Los Angeles played in the NLCS two times, won the NL West three times and reached the postseason four times. The Dodgers also got their first postseason series win since the 1988 World Series. Even in his final year with bankruptcy hovering over the team, the Dodgers had a winning record. Magic Johnson may be a far more appealing person, but after investing $2 billion in a team many analysts believed was barely worth half that, his ownership group will be fortunate to win as often as McCourt did.
CSI: Box Score Answer
This definitely was not an easy one, but there were a couple clues. First off, the records for the pitchers on both teams (W, 1-0; L, 0-1; S, 1) were an indication that this game took place very early in the season. The other big clue was the home run total for Mays (4). Astute Willie Mays and Giants fans might have been able to put those clues together to guess that this box score fragment is from April 1971 when Mays set a major leaguer record by homering in each of the season's first four games, an achievement matched by Mark McGwire in 1998.