News item: A photo of a New York City policeman giving a shoeless man a pair of boots caused an Internet fuss recently. The man later complained to the New York Times that he was aware of the attention and wanted a "piece of the pie" …
FIELD OF DREAMS: THE SEQUEL
SCENE ONE
[The movie opens with a montage from the original film, showing RAY KINSELLA in the cornfield, building the baseball diamond, kidnapping TERENCE MANN, meeting MOONLIGHT GRAHAM and playing catch with his father.
[KINSELLA's voice speaks over the images.]
KINSELLA: Hi, it's me again. As you'll recall from "Field of Dreams," I never did a crazy thing in my life until I heard The Voice tell me to convert my Iowa cornfield into a baseball diamond. But contrary to what the movie led you to believe, the story did not have a happy ending.
You see, those old White Sox players never returned from the cornfield. And after the 1994 strike, fans stopped coming to the field and I lost the farm. Then I lost my wife and daughter. And then worst of all, I lost my hair. I tried a number of jobs -- postman, bodyguard, golf pro, district attorney/conspiracy nut -- but nothing lasted. Eventually, I became a police officer. And so, here I am, walking a beat in Times Square.
[The scene dissolves to show KINSELLA walking the beat late one cold, December night. Among the holiday shoppers and theater-goers, he notices a homeless, barefoot man. KINSELLA shakes his head with pity, but continues walking until he hears THE VOICE speaking to him from somewhere on high.]
THE VOICE: Ease his pain.
KINSELLA: Oh, God. No. Not you again! Please, please, don't let it be you again.
THE VOICE: Ease his pain.
KINSELLA: Why should I listen to you? The first time, you had me plow up my cornfield and I lost my farm. And the next time was even worse. You told me to make "Waterworld."
THE VOICE: OK, OK, I'm sorry about that. But we're not talking about going over-budget to the tune of $175 million this time. All you've got to do is buy him a pair of boots. It will cost you $60 and I promise this one will work out in the end. So ease his pain already!
KINSELLA: All right, all right! But there is no way I'm remaking "Dragonfly."
SCENE TWO
[KINSELLA tracks down the barefoot man. He taps the barefoot man on the back to give him the boots. When the homeless man turns around, KINSELLA gets a good look at his face.]
KINSELLA: Oh my Lord! Shoeless Joe Jackson! What are you doing here? Where have you been? And why didn't you guys come back after you invited Terence Mann into the cornfield?
SHOELESS JOE: It's a long story. First, Terence wanted to know why there weren't any black players at Field of Dreams. I said it was because all the players were from before 1947. He pointed out that Gil Hodges was there but Jackie Robinson wasn't. I didn't know how to respond to that, but Chick Gandil and Swede Risberg got pretty angry. Then Charlie Sheen appeared and said he was the real Happy Felsch because he is a warlock and has tiger blood. And that's when things got out of hand.
KINSELLA: What happened?
SHOELESS JOE: We ran into the Children of the Corn and some of those aliens who make the crop circles and they killed us all. And we've been in limbo ever since, waiting for you to set us free. But where's the field for us to play on?
KINSELLA: I don't know. I don't see how I can possibly turn Times Square into a baseball field, not with real estate prices these days. Besides, I don't have any farm equipment. I would have to get Roger Clemens to pull the tractor with his teeth.
SCENE THREE
[The interior of a Times Square restaurant. KINSELLA and SHOELESS JOE are chatting at a table.]
SHOELESS JOE: I tell you, Ray. I get depressed every year during this season.
KINSELLA: I know, the Christmas blues. This season can be depressing, especially when you don't have a family.
SHOELESS JOE: No, I mean this is when they release the Hall of Fame ballots. Every year, they elect more players and every year I'm not one of them.
KINSELLA: Not only that, the veterans committee just elected former Yankees owner Jacob Ruppert.
SHOELESS JOE: Yes, it's good to know that a man who helped perpetuate baseball's color barrier will be enshrined in Cooperstown. Jackie Robinson will be thrilled to share wall space with the guy. As will Babe Ruth. Ruppert was so tight he cut the Babe's salary by a third after he hit .301 with 34 home runs and 114 RBIs in 1933.
KINSELLA: Plus, the man charged fans a lot for beer.
SHOELESS JOE: Meanwhile, I can't get in despite my .356 career average. Commissioner Landis banned me for life, but I guess he also banned me for the after-life, because I've been dead 61 years and I'm still not eligible. For crying out loud -- Jose Mesa is on the ballot this year! Jose Mesa can get in but not me?
KINSELLA: Mesa should be banned just for coughing up the lead in Game 7 of the 1997 World Series.
SHOELESS JOE: It's all because I supposedly threw the World Series. I batted .375 with a home run and six RBIs that series! Yeah, I took money from gamblers. We had to because that rat-bastard Comiskey paid us so little while he kept all the money for himself. And yet, he's in the Hall. And Walter O'Malley, who moved the Dodgers from Brooklyn. But not me. Oh, no. That would damage the Hall's integrity.
And the steroid-era players think they're getting hosed because they won't be elected this year again? Please. Ask them how they feel if they're still not in the Hall of Fame after more than 70 years.
Plus, where is my slice of the pie from that photo of you giving me these boots? And where the hell is that baseball field for us to play? Why have I been brought to New York if there isn't a field for us?
[KINSELLA suddenly jolts up. He is hearing THE VOICE again.]
THE VOICE: Go the distance.
KINSELLA: Oh, no. Not again.
SHOELESS JOE: What's the matter?
KINSELLA: It's The Voice. The one who told me to turn my cornfield into a ballfield. He's telling me to "Go the distance" again.
SHOELESS JOE: Where does he mean this time?
KINSELLA: I can't say for sure, but I don't think it's good. I think he wants me to take the No. 7 train and get off at Mets-Willets Point Station.
FINAL SCENE
[The interior of the New York Mets' stadium. It is spring. Mets owner FRED WILPON, DOC "MOONLIGHT GRAHAM'' and TERENCE MANN are chatting while gazing out at the field.]
WILPON: So, I didn't know how I was going to lower my mountain of debt. And then I heard the same Voice that had been speaking to Ray Kinsella. And he explained how I could solve my financial problems.
GRAHAM: What did he say?
WILPON: "Do the math."
MANN: Do the math? What did he mean?
WILPON: Well, I figured the 2013 Mets payroll would be at least $100 million, probably more, and we'll probably still finish last and attendance will go down again. Meanwhile, corn is more than $7 a bushel right now. So I did the math and decided this was the best way to make the field profitable.
[The camera pans to show us what the three have been looking at: KINSELLA, SHOELESS JOE, the rest of the 1919 WHITE SOX and MR. MET are plowing over the Mets ballfield and planting corn in every space they can -- the outfield, the infield, the bullpens, the concourses and even the Alyssa Milano boutique.]
MANN: The ethanol subsidies will come, Fred. The subsidies will most definitely come.
WILPON: Although probably not soon enough to re-sign R.A. Dickey.
CSI: Box Score
Each week, I provide a fragment from an old box score and challenge you to determine what game it is from and why it's significant. I give this one a difficulty rating of 2. Answer below:
Baseball Card of the Week
If the Texas Rangers lose Josh Hamilton to free agency, perhaps they can replace him with this prospect (1991 Legends Sports Memo Card No. 43). Hey, Costner's not that much older than Jamie Moyer.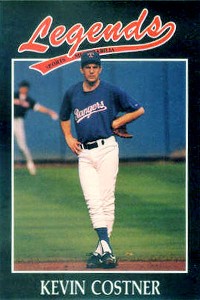 Yeah, Well, That's Like, That's Just Your Opinion, Man
This Contract Could Make The Juan Pierre Deal Look Like A Bargain. The early leader for worst contract of the offseason? The $147 million, six-year deal the Los Angeles Dodgers just gave Zack Greinke. I know it's not my money and I know the Dodgers will be a better team with him in the rotation the first couple years, but Los Angeles way overpaid. Yes, Greinke was awesome when he won the 2009 Cy Young Award, but he has been little more than above average since then. His ERA the past three years is just the 33rd best among starting pitchers during that span, and he's not likely to get better as he enters his thirties. Again, he's a good pitcher; but when you're paying $25 million a year to somebody, you expect him to be an ace, not just an overhyped No. 2.
Such A Modest Group Of Players Have Worn No. 12 That The Yankees Haven't Even Retired It. In recognition of 12/12/12, I list the 12 players most identified with the number 12 on Playbook. That list is dominated by quarterbacks. Oddly, there aren't many baseball greats who wore the number. Hall of Famer Robbie Alomar is the most famous, and the Blue Jays retired his number. Wade Boggs wore 12 with the Yankees and the Devil Rays, but his best seasons were with Boston when he was wearing No. 26. Roger Clemens wore No. 12 briefly with the Yankees, but his best seasons were in No. 21 and No. 22. Jeff Kent wore 12 for part of his career while Mark Langston wore it most of his career. Alfonso Soriano is probably the most famous active player wearing it, though the latter is not necessarily an endorsement.
Amazingly, My Wife Hadn't Thrown Out My Collection. If you're a comic book fan, you should check out "Marvel Comics: The Untold Story" by Sean Howe. The book traces the history of Marvel from its pre-World War II days as Timely comics to the present day, primarily concentrating on the 1960s to the '90s. The book captivated me enough to get me to go through my old comic book collection that I hadn't looked at in more than a decade. I do have one gripe, though. While there are some excellent untold stories from the Marvel bullpen, there is a disturbing lack of financial information. Howe devotes much of the book to how poorly paid the artists and writers were for much of Marvel's history, but provides almost no details on their actual pay. It would be like writing about the financial history of baseball players without ever listing their salaries. (I also would have preferred more specifics on what Todd McFarlane earned while drawing Spider-Man, how much he made from creating Spawn, and how it helped him generate enough cash to buy Mark McGwire's 70th home run for $3 million in 1998.)
CSI: Box Score Answer
This was a gimme. The only clue you needed was the 12 under the RBI column for Bottomley. In recognition of 12/12/12, I figured I would give you the box score from May 30, 1925, when Jim Bottomley set the major league record for RBIs in a game with 12.