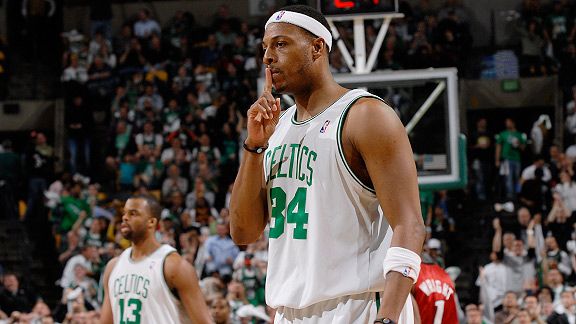 Brian Babineau/NBAE/Getty Images
Stats lean heavy in favor of a team that wins the first two games of a best-of-seven series, but Celtics captain Paul Pierce wants to keep that quiet.WALTHAM, Mass. -- While a lot came easy to the Boston Celtics over the previous two regular seasons, they've been playoff masochists since the new Big Three was formed.
Of the six playoff series the team has completed since 2008, all six have gone to at least six games, with four being pushed to a do-or-die Game 7.
So it's slightly ironic that, in a 2009-10 season where very little has come easy, Boston finds itself in position to make its playoff life much simpler as it packs a commanding 2-0 lead for its trip to Miami for Friday's Game 3 of the teams' Eastern Conference first-round series.
Judging by past history, a win Friday all but guarantees Boston a spot in the next round and likely ensures a swift end to its opening-round matchup. No team in NBA history has ever come back from a 3-0 deficit in a best-of-seven series, and in the 88 times a team has held a three-game lead, only nine times has the series even progressed to a Game 6 (53 ended in four games, while 26 ended in five).
And while Boston players admitted they can smell blood, this team -- prone to second-half collapses all season long -- has rarely shown the killer instinct it will need to ensure a rapid wrap-up to this series.
The Celtics did showcase that stomp-on-their-throat attitude Tuesday night in racing away from the Heat in the third quarter of a 106-77 triumph at TD Garden.
"I just remember [Tuesday] at halftime, guys were like, 'We smell blood,'" said Kendrick Perkins, who then pointed out that Boston emerged from halftime with a 16-point cushion, but quickly motored away with inspired play at both ends of the court.
"Going into Game 3, I hope we still smell blood."
Click HERE to read the full story.