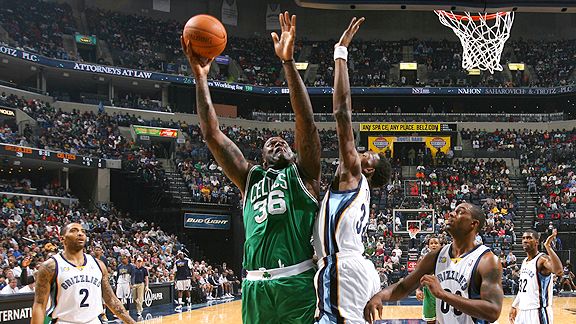 Joe Murphy/NBAE/Getty Images
Shaquille O'Neal goes up with the ball during Saturday's game in Memphis.MEMPHIS -- The season-high 18 points and a team-best plus-9 in the plus/minus category confirmed Boston Celtics coach Doc Rivers' assessment that Shaquille O'Neal turned in his finest performance in a Boston uniform during Saturday's 116-110 overtime triumph over the Memphis Grizzlies at FedExForum.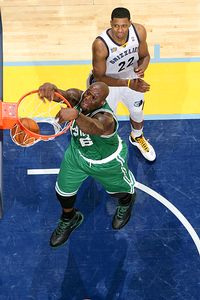 Joe Murphy/NBAE/Getty Images
Shaq has made his presence clear on the floor through his intimidation factor.But there's no statistic that can document the intimidation factor that Boston gains when the 7-foot-2, 325-pound behemoth is on the floor.
How many guards settle for jumpers instead of bruises endured hitting the floor? How many bigs give up rebounds instead of eating an elbow?
O'Neal's value on the court can't always be measured in tangible metrics.
"Just the intimidation factor with him in the game; he gives us a presence that we haven't had, there's no doubt about that," said Rivers. "I told him right after the Miami game [on Thursday night], when you see him on the floor, it changes our team. It makes us bigger and it makes us better."
It was that Miami game in which O'Neal, playing his first contest after sitting out five straight due to a right knee bruise, threw a body-check on LeBron James that would make Boston Bruins defenseman Zdeno Chara blush. As James staggered to maintain his balance after the hit (even as O'Neal thrust his arms skyward to avoid further damage), referees assessed a flagrant foul based largely on the car crash-like impact of the collision.
O'Neal discussed his philosophy on unstoppable forces meeting immovable objects before Saturday's game, reaffirming the notion that his primary job description is "enforcer."
"That's what I do: No [expletive] layups," said O'Neal, throwing out a 12-letter curse word for effect. "Print it just like that and, if you get fined, come see me, and I'll reimburse you."
Clearly, O'Neal is all business about his role. He noted that there's a difference between a hard foul and a foul aimed at injuring an opponent. He aims for the former and, the way he sees it, he's got six of them to give a night.
Click HERE to read the full story.