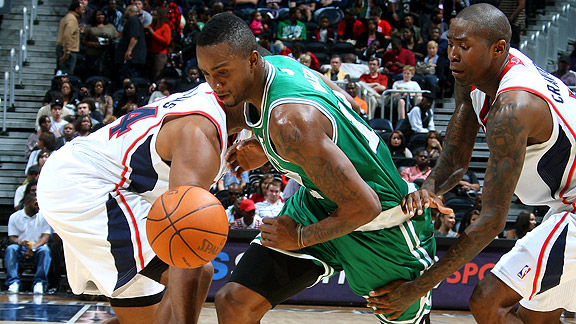 Scott Cunningham/NBAE/Getty Images
Von Wafer says he's bought into the Boston system and wants to be part of something special.BOSTON -- Von Wafer knows the key to his playing time is simple: Prove to the coaching staff he's bought into the Boston system. He wonders what it will take to show coach Doc Rivers he's done just that. Shaking pom-poms? Handing out cups of Gatorade? Whatever it is, he's game.
As his coach made a public plea following Friday's win over the Bulls for one more role player to step up, Wafer admitted it's frustrating waiting for his opportunity, but stressed that buying into the Celtics' system taught him to be patient during the process and he said he'll be ready when his number is called.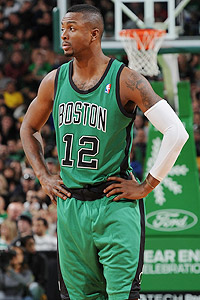 Scott Cunningham/NBAE/Getty
Wafer shined last month against New Jersey and could get another opportunity to prove himself Sunday vs. the Nets."It is frustrating, but it's not about me," said Wafer. "It's about our team. That frustration doesn't even matter. I just want to be out there with my team. But if they need me to sit on the bench and be a cheerleader, or bring water to the guys, I'll do that. I've just bought into what's going on around here -- this team, these coaches. I'm just happy to be a part of it."
Having worn seven jerseys over the span of six NBA seasons, Wafer has seen how things operate across the league. He's played for both Los Angeles teams, Denver, Portland, and Houston. After chasing a big payday to play overseas in Greece last season, he quickly returned home to rekindle his NBA dream and signed a 10-day contract with the Mavericks late in the year (though he never appeared in a game for the team). Those travels made him appreciate what he's found in Boston.
"It's been different with other teams, this is the first team that I've been on where everyone is on the same page -- one goal, one agenda," said Wafer. "I've been on teams where, you know how it is, guys are trying to get contracts or guys are doing what they want to do. You see that and you fall into it. Here they do it the right way.
"[I've learned how to be a] professional. I've learned about what it takes to be a champion, watching these guys. These guys are incredible -- Kevin Garnett, Ray Allen, and Paul Pierce -- they're at the gym every day, working hard. I've become a better professional because of them."
Now he's simply waiting for another opportunity to prove it.
It appeared his break might have come late last month against the New Jersey Nets. Delonte West fractured his right wrist at the end of the first half and the Celtics desperately needed a bench guard to hold the fort at the start of the fourth quarter as the starters squeezed in some rest.
Wafer logged five inspired minutes, drawing an offensive foul on New Jersey sharpshooter Anthony Morrow right in front of the Boston bench that left Rivers raving about how Wafer had bought into the team's defense-first mentality. Teammates showered him with praise in the locker room, reminding him how that sort of effort would keep him on the floor.
"His stat line's going to say basically nothing," Rivers said after that game. "But I thought his defensive energy was phenomenal, and it was great for Von in the locker room -- everybody was grabbing him and [congratulating him] because --finally -- defense and Von Wafer can now go together. And that's a great thing, it really is. He's bought in, and it's a great lesson for him: Just hang in there."
But he's still hanging in there. Wafer, who has six "DNP -- coach's decision" on his game log this season, has appeared in all four games since that New Jersey contest, but logged a total of only 8 minutes, 7 seconds of action, including a mere three-second stint in Wednesday's win over the Portland Trail Blazers.
The Celtics haven chosen to operate with a shorter bench despite West's injury, leaning heavy on veterans like Ray Allen and Paul Pierce to run with the second unit. But glancing at the stat sheet after Friday's win over the Bulls, a lopsided affair in which Allen still charted 36 minutes in part because the second unit fumbled away an early lead, Rivers suggested his team needed one more reserve to step up and eat minutes, especially as minor injuries nag at key players like Rajon Rondo and Nate Robinson.
"We've got to get now one more guy to play," said Rivers. "Von is probably the first candidate. We've got to figure out a way of getting him going a little bit."
Asked what Wafer needs to do to prove to Rivers that he's ready, the coach hinted it's all about consistently proving he's bought in.
"I don't know," said Rivers. "We'll figure it out. He's close, he's working. He's got to remember why we play him, and he'll figure it out."
It appears that Rivers, in so many words, is suggesting Wafer needs to find a way to bottle that defensive energy he unveiled against New Jersey and bring that on a consistent basis. Wafer admitted he's uncertain where his legs are because of a lack of playing time, but knows his offense will come naturally if he can stay on the floor long enough to develop a rhythm.
Wafer is trying to win his coaches over on the practice court, avoiding situations like an early season dust-up with Delonte West that ended with the two engaging in a fist-fight after some intense post-practice 2-on-2 games.
"I'm doing what I've been doing: Coming to the gym early, getting up shots... Just listening to what the coaches say and not becoming a distraction. Hopefully they'll notice the work I'm putting in because I want to be part of something special here."
Before the season, Pierce called Wafer a potential X-factor for the Celtics, the type of player who could come off the bench and score points in bunches (as he did for Houston during the 2008-09 season, averaging 9.7 points per game off the pine). The Celtics need him to also be an X-factor defensively, because Boston's system only thrives when all five players on the floor have bought in.
Wafer gets that now. He simply needs an opportunity to prove it and that opportunity could come as early as Sunday's game in New Jersey.