The ninth in a series of profiles of players that might be of interest to the Boston Celtics during the 2011 NBA Draft (June 23, Newark, N.J.):
Raw but physically appealing, Smith is a 6-foot-10 center out of Fresno State, where he averaged 11.7 points, 8.1 rebounds, and 1.1 blocks per game as a sophomore last season. From ESPN's player evaluation: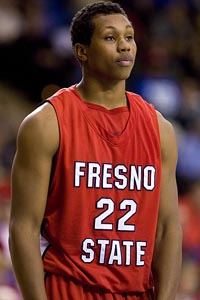 Jason O. Watson/US Presswire
His offensive game is raw, but Greg Smith is an appealing big man.Projection: Second round
Positives: Solid, low post player... Has strength to create space down low... Decent athlete for his size
Negative: Hasn't improved from his freshman to sophomore year... Lacks focus... Doesn't have any sort of perimeter game... Lacks a great motor
Ford's analysis: From May 13, "Smith is a physical specimen. He's a 6-foot-10, 250-pound power player with a 7-foot-3 wingspan and just 6.4 percent body fat. He had the biggest hands (11.25 inches) of anyone at the New Jersey workouts and recorded a 35.5-inch vertical -- a terrific number for a player his size. However, he is still pretty raw offensively... Smith is going to be a project, but his physical tools may make him worth it -- Daniel Orton went as a first-rounder with a similar tool set."
In the news: Smith made virtually no improvement in the scoring column during his sophomore season a Fresno State, which has raised a lot of questions and some uncertainties from teams with the June 23 draft fast approaching. As a result, some of Smith's pre-draft talk has simply been him trying to sell his game to potential suitors. From HoopsWorld: "There are a lot of teams that I think I could play for. All 30 teams could use a guy like me who is physical down low and going to play defense and rebound. I think that I am a fit for a lot of teams that run and gun or play half-court offense. I am a smart player and have a good I.Q. so either system is good for me."
Payne's take: Smith is currently projected as a second-round pick, and would be a great low-risk, high-reward selection for the Celtics should he still be available at No. 55. At just 20 years old, Smith still has to develop in a number of key areas (free throw shooting in particular), but he already possesses most of the physical tools to be a successful post player in the NBA. Even if the Celtics address their thin big man situation in the first round with the 25th overall pick, if Smith is still available, he might just be too enticing to pass up. An impressive athlete, sticking Smith besides the always-looking-to-run Rajon Rondo on the fast break could make for some effective uptempo basketball in future years.
Greg Payne is a student intern for ESPNBoston.com