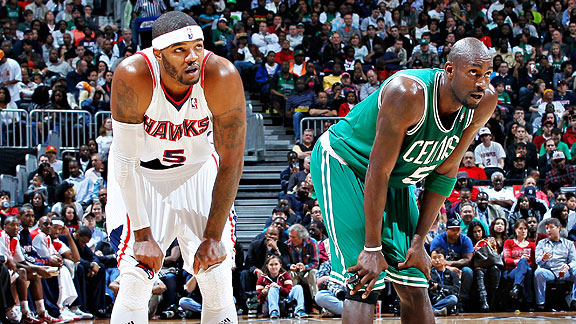 Kevin C. Cox/Getty Images
Could Kevin Garnett groom Josh Smith as Boston's power forward of the future?A Yahoo! Sports report Monday suggested that the Atlanta Hawks have begun gauging trade interest in power forward Josh Smith, who sources told the website would be interested in playing for the Boston Celtics.
From Yahoo!'s Adrian Wojnarowski:
The Atlanta Hawks have started to gauge trade interest on forward Josh Smith, and Smith isn't averse to ending his seven-year stay with his hometown team, league sources told Yahoo! Sports on Monday. Smith hasn't requested a trade, but has privately told league friends that the Boston Celtics, New Jersey Nets, Houston Rockets and Orlando Magic are his preferred destinations should the Hawks decide to move him...

The Hawks have looked to identify veteran players near the end of their contracts, sources said, but have had no serious discussions on trading Smith.... Hawks GM Rick Sund has long coveted Kevin Garnett and Ray Allen -- two aging Celtics entering the final years of contracts -- but Celtics GM Danny Ainge has yet to show an inclination to break up his core for next season.
Let's tackle some obvious questions:
* Do the teams have the assets to make a deal?: Under the current collective bargaining agreement, the Hawks could trade Smith ($12.5 million next season) straight up for Ray Allen ($10 million next season) as a team over the cap can receive up to 125 percent (plus $100,000) of outgoing salaries. If the Hawks coveted someone like Garnett ($21.2 million next season), it could offer a package like Smith and Kirk Hinrich ($8.1 million next season).
* Would the Celtics be interested in such deals?: Adding 25-year-old Smith would certainly add youth to an aging Boston roster, but the Celtics' biggest current needs -- center and backup wing -- don't jive with a straight up swap of Smith and Allen. A Garnett swap is intriguing because you get younger at the power forward spot and potentially get a key bench asset in the likes of Hinrich, but the defensive drop-off from Garnett to Smith is pronounced (though it would be with any player; Smith did rank in the top 10 in defensive rating in 2009-10 and is one of the league's best shot blockers). It would seem far more ideal for Boston to have Garnett around to mentor Smith (who finished second in Defensive Player of the Year voting during that 2009-10 season).
* Would Atlanta really want aging veterans for Smith?: There comes a time when a clean break is needed -- we might be seeing that in Boston with Glen Davis -- but it would be curious if the Hawks were willing to trade away a young impact player for one-season veteran rentals (and the cap space that followed). Even without Smith's $13.3 million salary in 2012-13, the Hawks are still on the books for as much as $45.9 million that year and that's with only four contracts. Barring another move to shed a big-money deal, it's not as if the Hawks would be immediate players in the Dwight Howard sweepstakes thanks to cap-clogging deals to Joe Johnson, Al Horford, and Marvin Williams (in fact, the loss of Smith would seem a detriment to any Howard courtship). If Atlanta is eager to move Smith, thereby allowing Horford to move back to power forward, it's going to be looking for a center in any deal. Boston doesn't have that unless Sund counts Jermaine O'Neal among his intriguing aging veterans.
* Would Boston want to mess with its own impending cap flexibility for Smith?: The Celtics are set to shed big money from their books after the 2011-12 season, with only $29 million committed to three players (Paul Pierce, Rajon Rondo, and Avery Bradley) the following year. Ainge has been careful to maintain that flexibility to allow for a chance at a big-ticket free agent and Smith's $13.3 million price tag for the 2012-13 campaign essentially takes Boston out of a max contract sweepstakes.
* So why would Boston be intrigued by any possible deal with Atlanta?: It's worth noting that Smith and Rondo were roommates at Oak Hill Academy in Virginia as they climbed the prep ranks. A quick visit to YouTube is enough for most Boston fans to dream about reuniting that combination, Smith's athleticism drool worthy given Boston's AARP trend (outside of Rondo) in recent seasons. After trading away Rondo's best friend on the team last season in Kendrick Perkins, some might even suggest the Celtics could atone by bringing in an old pal.
* Final thoughts?: Ainge has never been shy about pulling the trigger on a bold move. He's the one who's often said that Red Auerbach should have broken up the old Big Three while those players still had value. Given Boston's current cap inflexibility, this is the sort of deal Ainge certainly must ponder, if only in his mind. The Celtics would have to be convinced that Smith still has Garnett-like upside -- particularly on the defensive end -- in order to even consider it. As it currently stands, both teams are seemingly in need of impact centers in order to improve their championship potential, so not sure a blockbuster deal makes sense to either side when you've got known commodities in hand (particularly with so much uncertainty about the next CBA).