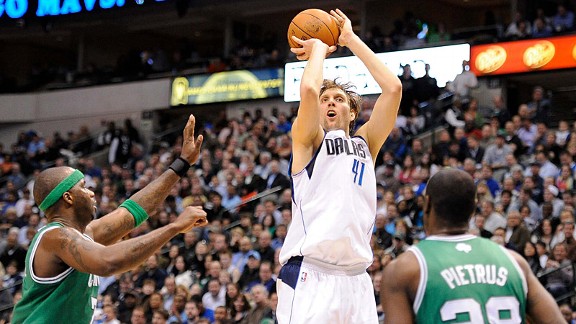 Jerome Miron/US Presswire
The Celtics couldn't keep up with the offensive talents of Dirk Nowitzki and the Mavericks.Observations after the Boston Celtics' 89-73 loss to the Dallas Mavericks at the American Airlines Center on Monday.
* Depleted lineup not enough: As if missing Brandon Bass (knee injury) and Kevin Garnett (family matter) wasn't enough, word broke just hours before the game that Rajon Rondo would miss Monday's tilt as part of a two-game suspension for throwing the ball at an official during Sunday's loss to the Detroit Pistons. Put simply, the Celtics just didn't have enough firepower to contend with Dallas' wealth of talent.
The C's managed just 73 points, scoring a mere 15 in the first quarter on 6-of-20 shooting (30 percent), and entered halftime with just 34 points on the board, trailing the Mavericks by 10 at the break. The C's then scored just 19 points in the third quarter as Dallas outscored them by seven, taking a comfortable 17-point edge into the fourth frame that the Celtics never really cut into.
All things considered, the Celtics have had similar (if not poorer) offensive showings with a fuller (if not complete) lineup (just consider a 79-71 home loss to the Phoenix Suns on Jan. 20, also without Rondo, but with Garnett and Bass). With Rondo and Garnett out, Dallas had more freedom to load up on Paul Pierce -- who put in a team-high 20 points on 7-of-13 shooting -- and Ray Allen, who was just 6-of-15 shooting while scoring 15 points. Mickael Pietrus, Boston's biggest hope off the bench, also struggled, making just two of his eight field goal attempts and finishing with only six points.
The offensive struggles were to be expected, quite frankly. Dallas boasts one of the NBA's elite defenses, and without Rondo roaming around and creating opportunities for himself and others, Boston's offense became stagnant. It's impossible to predict exactly what kind of impact Rondo would have had on Monday's outcome, but any hope of breaking out in transition and scoring easy buckets inside was further limited without Employee No. 9.
Look no further than Chris Wilcox, who's been at his best this season when he's been able to run alongside Rondo and generate transition baskets. Without his main distributor to run with, Wilcox, who left the game in the third quarter with a right adductor strain (more on that below), was limited to just two points and one rebound in 13 foul-plagued minutes.
Offensively, the lone bright spot was Avery Bradley, who started in place of Rondo and knocked down his jump shot with surprising consistency, finishing with 11 points on 6-of-11 shooting.
* Celtics lose O'Neal, Wilcox to injuries: Celtics center Jermaine O'Neal and forward Chris Wilcox left the game at different points in the third quarter with injuries and did not return. O'Neal was diagnosed with a sprained left wrist -- appearing to sustain the injury late in the first half after drawing a charge on Mavericks guard Dominique Jones -- and departed just minutes into the quarter. Wilcox suffered the right adductor strain late in the quarter and did not return.
O'Neal finished with three rebounds, four blocks and a charge drawn in 19 minutes.
The Celtics were already down double digits when both players departed, but any hope of a comeback was further hindered by their obvious lack of available big men. With Garnett and Bass out of the lineup on Monday, the C's basically were left with JaJuan Johnson and Greg Stiemsma to man the paint defensively (although they resorted to a small-ball lineup for much of the final frame). There's no word yet on whether O'Neal or Wilcox will be available for Wednesday's bout with the Oklahoma City Thunder. Wednesday's contest is Boston's final game before the All-Star break, so if the pair can't go, at least they'll have an extended break to heal.
* No answer for Nowitzki: Just as it was easy to predict the Celtics' offense would struggle without Rondo, it wasn't hard to surmise that they'd also have trouble dealing with All-Star forward Dirk Nowitzki with Garnett out of the lineup. Sure enough, Nowitzki came through with a monster effort with 26 points (on 10-of-24 shooting) and 16 rebounds as he thrived on pick-and-pop opportunities and dominated Wilcox -- the man the C's put on Nowitzki to start the game. Wilcox wasn't alone in struggling to defend Nowitzki, though, as Pietrus, O'Neal and Pierce also were rather ineffective against the reigning NBA Finals MVP.
Along the way, Nowitzki moved into 20th place on the NBA career scoring list during Monday's game, surpassing Celtics legend Robert Parish.
* Familiar issues, familiar results: It's difficult not to sound like a broken record these days, but the Celtics once again suffered mightily due to turnovers and offensive rebounds allowed. The C's turned the ball over 17 times, good for 25 Dallas points, while surrendering 13 offensive rebounds and 12 second-chance points. (Boston did score 15 second-chance points, if you're looking for silver linings.)
Again, a lack of key personnel affected both of these areas. The Celtics have had turnover issues even with Rondo in the lineup, but there's little doubt they're in better hands when he's the one in charge. Some of Boston's turnovers were simply a product of not having enough offensive weapons. Dallas wasn't shy about doubling Pierce at times, and on at least one occasion, he was forced into a poor pass that the Mavericks easily picked off.
Garnett and Bass clearly would have made a difference on the glass. Dallas finished the game with a 52-44 rebounding advantage, but might not have had such an easy time had Garnett and Bass been involved.
The Celtics have dropped six of their last seven, including both ends of this back-to-back. Monday's loss to the Mavericks is far more forgivable than Sunday's loss in Detroit, though. On Sunday, it looked like the Celtics simply threw in the towel when times got tough. There wasn't that same sense of surrender on Monday. Pierce and Co. were vastly outmatched, and while they attempted to stay within shouting distance for much of the game, they just lacked the necessary personnel to deal with Dallas' key players.
Right now it's more about getting to the All-Star break than anything else for this group, as the team's health has to be one of the top concerns, particularly with O'Neal and Wilcox developing their own maladies on Monday. Don't forget that Garnett and Keyon Dooling still could be dealing with nagging hip injuries, while Pietrus' right knee still might not be at 100 percent. After Wednesday's tilt against the Thunder, the C's will have nearly a week off (except Pierce, who'll be playing in the All-Star Game on Sunday) to rest their bodies and refresh their minds for the second half of the season.