TORONTO -- On the eve of the Boston Celtics' season-opener, Jeff Green reclined on some mats inside the team's training facility in Waltham and talked with noticeable calmness in his voice. Despite an underwhelming preseason -- this after ascending to the throne of king of Boston's new-look offense -- Green promised his 2013-14 season would have more ups than downs and further embraced his role as go-to guy.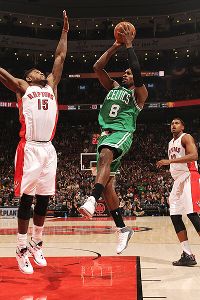 Ron Turenne/NBAE via Getty
Jeff Green did an excellent job staying aggressive against the Raptors.But he still had to prove it on the court and Green started the regular season off on the right foot. Showing the aggression he often lacked during the eight-game exhibition slate, Green attacked the basket at every opportunity Wednesday night and the end result was a game-high 25 points to go along with five rebounds, two assists, a steal and a block over 37 minutes in Boston's 93-87 loss to the Toronto Raptors at the Air Canada Centre.
Green didn't just finish 8-of-16 shooting from the floor, he got the foul line for nine attempts (making seven) and rarely got caught waiting for the game to come to him. Thrust into the role of shooting guard in Boston's big lineup -- which often left him covering Toronto's talented tandem of Rudy Gay and DeMar DeRozan -- Green still found the energy to attack offensively, giving Boston much-needed scoring jolts.
The advanced stats are more encouraging than the standard line. Green accounted for a team-high 21 plays finished, generating 1.19 points per possession, according to Synergy Sports data. He generated points off 57.1 percent of his finished possessions, drew shooting fouls on 23.8 percent of his touches, and limited his turnovers (1) on a night the Celtics as a whole were sloppy with the ball. Green was plus-8 overall in plus/minus.
"I was kind of zoned out," said Green. "Going into the game, I just told myself, put your head down and drive. Be aggressive. And, if I play hard, the offense will come, but I wanted to focus on defense. I was guarding DeMar, he's a great player. I just wanted to try to be aggressive and put them on their heels."
Green was up and down defensively, but it's encouraging that he was willing to take on the challenge of two of the opponent's top scorers when all the casual fan tends to worry about is his offensive production. Green gave up 12 points on 11 possessions defended, according to Synergy data, but didn't commit any shooting fouls and the Gay/DeRozan combo made tough shots over him at times.
The Celtics would happily bottle up this effort from Green for future use.
"I thought he was pretty aggressive, I thought he was pretty good," said Stevens. "He was playing against two good players ... and to do it on both ends is a sign of good things to come for Jeff."
Asked what he liked offensively from Green, Stevens added, "He got out in transition, that's what he does best. I think the more we can get him the ball the better."
Synergy data credits Green with generating 10 of Boston's 14 points in transition. He was 4-of-5 shooting on six transition plays with one turnover.
An Avery Bradley pickpocket got Green an easy dunk midway through the first quarter and got him going. Later in the frame, Green took a pass from Kris Humphries before midcourt, noticed no one stepping up to stop the ball and drove right at the hoop for a layup over a backpedaling Raptor. Green seemed to feed off those scores, more confident the next time he went into the post or got an open 3-point look from the corner.
"Just attack. That's my mindset every time I touch the ball," said Green. "Just attack. If the 3 is there, take it. If there are shots there, take it. But my mindset is just getting to the rim."
Now the challenge is keeping Green in attack mode. There's still room for him to grow and even more opportunities for him to attack, but this was as encouraging an effort as we've seen since this new-look team hit the floor in early October.
Green promised more ups than downs. After one game, it's Ups 1, Downs 0.