WALTHAM, Mass. -- Oklahoma State's Marcus Smart had just completed a workout for the Boston Celtics that featured some of the other top guards in this year's draft class and he was asked if he had a chance to chat with Rajon Rondo.
Smart's eyes lit up and you couldn't be sure if he wanted to say hello to Boston's All-Star point guard or challenge him to a game of 1-on-1.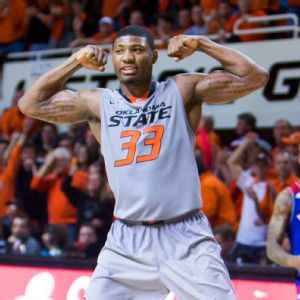 William Purnell/Icon SMI
Marcus Smart has an NBA-ready body and is pegged as a top pick in this year's draft.See, there's nothing that Smart appears to crave more than competition. While he's cemented himself as a high-lottery pick -- with some mocks projecting him to go as early as No. 4 to Orlando -- Smart loves the idea of proving his worth against his chief competition.
Which is why he was in Boston for a workout last week that featured Michigan State's Gary Harris, Michigan's Nik Stauskas, Louisiana Lafayette's Elfrid Payton, UCLA's Zach LaVine, and Missouri's Jordan Clarkson. That's a six-man group that includes as many as five potential lottery picks.
While some of the draft's top names, including Australian point guard Dante Exum, have limited their workouts and group sessions, Smart is trying to ease any concerns of potential future employers by embracing the challenge of working out with other top names.
"I don't think it's a strategy, it just kind of happened," said Smart. "But I told my agent, Lee Melchionni, you see all these guys dodging -- agents know that you're not going to work out if [another top name is] there. My biggest attribute to me is that I'm a competitor. I show my best skills when the game is on the line and somebody is guarding me and there's competition. Whoever you put in front of me, I'm not going to back down, I've never backed down from a challenge. That's not me, that's not what my makeup is.
"In a sense, it's kinda showing the teams that it doesn't matter. I'm supposed to be ranked one of the top guards in here, but I'm still playing against guys that might have a chance [to vault him] if they do this or they do that... But that doesn't scare me. I'm a competitor."
Smart is a 6-foot-3 bowling ball of a point guard. He's got an NBA-ready body and a desire for contact, which ought to make him a handful for opponents at both ends of the court. Smart lives up to his surname with a high basketball IQ and is regarded as a leader, which shines through when you talk to him.
"I thought he was good, thought he was physical, thought he's a leader, though he shot the ball well in drills," said Celtics coach Brad Stevens after leading the six-man workout. "I think that clearly he's got a way about him that people follow. He is a very tough guy and he competed the whole time. My expectations for him were high from that regard, but he certainly met them. He's going to be a good player, too."
The scouting report docks Smart for his poor perimeter shooting and there are questions about whether he can play the 2 for extended minutes at the NBA level. He came under fire for a fan-shoving incident this season that left him suspended for three games.
Celtics president of basketball operations Danny Ainge is on record as saying he likes Smart's fire. For his part, Smart says his competitiveness got the best of him that day and said NBA teams seem to be at peace with his role in the incident. When asked if maturity was a concern with Smart, Stevens quickly answered, "No, not at all."
Smart admits that his game has "a little swag to it." Asked if he tries to get under his opponent's skin, he downplays the notion, but says, "If it happens, it happens." His physical nature ought to make him an agitator at the next level.
Which makes you wonder what a Rondo-Smart practice session would be like, the two ultra-competitive players going head-to-head on offdays. When asked about Rondo and the possibility of being a backup here if the Celtics were to select him, Smart emphatically says he'd embrace that role.
"Rondo is one of the greatest point guards to ever play this game," he said. "If I'm fortunate enough and Boston picks me, and that means I have to sit on the bench and play behind Rondo, that's an honor to learn from one of the greatest point guards, especially me playing the point guard position. He's been playing it for a while, he's a veteran. He knows what he's doing and he's one of the best to play this game. It would be an honor to play behind him."
Added Smart: "Everybody knows Rondo, he's a fighter. On defense, he's a guy that you do not want to play against if you're an offensive player. He's a pest as people like to say. And that's kinda what I am. Especially at my size, 6-4 and I can move very well for my size and my length, it causes problems for [other guards]."
The Celtics have tough decisions to make about Rondo soon. He'll enter the final year of his contract this offseason and expects to test unrestricted free agency next summer. The Celtics have said they see a long-term future for Rondo in Boston, but it's probably fair to say that Smart could offer a backup plan in more ways than one.