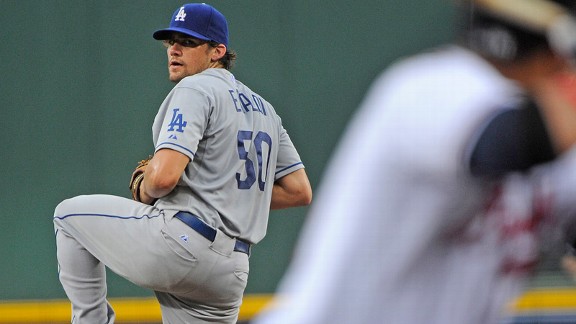 John Amis/AP
Nathan EovaldiThe setup: Having spent most of 2010 in Single-A ball with Rancho Cucamonga, for whom he posted a 4.45 ERA with 6.1 strikeouts per nine innings, Eovaldi was slated for nothing more than a year's worth of learning with Chattanooga in the calm of the Double-A Southern League. But his banner season — 2.62 ERA, 99 strikeouts in 103 innings — combined with injuries to Jon Garland, Vicente Padilla and Rubby De La Rosa, vaulted Eovaldi into the Dodger starting rotation August 6.
The closeup: Eovaldi made six starts for the Dodgers before they pulled the 21-year-old into the bullpen as a workload precaution. In all but one of the starts he pitched at least five innings and allowed no more than two runs, and if not for a sun-aided bloop double that fell in front of Trent Oeltjen against Colorado on August 28, Eovaldi could have easily gone 6 for 6. Even so, he had a 3.09 ERA as a starter with a .649 opponents' OPS. Of more concern is that he allowed 43 baserunners in 32 innings while striking out 23. His Expected Fielding Independent Pitching ERA (xFIP), according to Fangraphs, was 4.80.
After his final start, Eovaldi went nine days without pitching in a game, then faced only 15 batters over a 15-day stretch as a reliever, with seven of them reaching base.
Coming attractions: With De La Rosa needing most if not all of 2012 to recover from Tommy John surgery, Eovaldi is a leading contender to take a place in the Dodger starting rotation — though it's far from impossible that, if Hiroki Kuroda returns, the Dodgers might find a way to start Eovaldi in the minors again. There's great respect for the three-level leap that U-less made this year, but whether he's ready to sustain that over an entire major-league season at age 22 remains somewhat in doubt. Nathaniel Stoltz's analysis at Seedlings to Stars (via Lasorda's Lair) suggests that Eovaldi might be too reliant on his fastball.