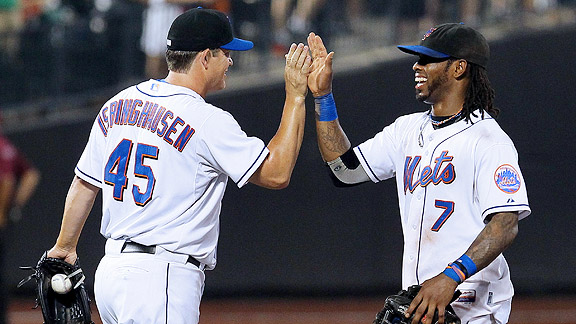 Jim McIsaac/Getty Images
Jason Isringhausen celebrates with Jose Reyes after Izzy produced his first save as a Met in 12 years.
Jason Isringhausen notched his first save as a Met since July 6, 1999. It also was his first save since Aug. 1, 2008, when he pitched for the St. Louis Cardinals. Isringhausen now has 294 career saves.
Isringhausen's 12-year, 13-day gap between saves for the Mets is the seventh-longest gap between saves for a team in MLB history, a little more than three years off the record, according to ESPN Stats & Information. The longest gap: Darren Oliver, 15 years, 271 days between saves for the Texas Rangers.
Here's what Izzy had to say afterward …
#45 RP
New York Mets
2011 STATS
Emotional entering in ninth?
"A little nerve-wracking. Nerves are good though. If I'm not nervous, I don't want to be out there. I was nervous in the eighth inning, but a little more nervous in the ninth, especially against the Cardinals."
Tough part of the order to face?
"I thanked Bobby (Parnell) for getting through Albert (Pujols) for me."
Did you envision getting saves when you were in spring training?
"No. I didn't envision it. All I was trying to do was just make a team and wanted to contribute any way I could. … We knew what might happen with Frankie (Rodriguez). Tomorrow, you never know. I'll be ready when the phone rings. And so will Bobby. And so will Pedro (Beato). We'll just see what happens tomorrow."
Three hundred saves important?
"That's one reason I came back. I want to give myself every shot to get it. Granted, I know guys have 600. But, for myself, 300 is a big number."
Fitting versus Cardinals?
"I knew it was going to happen this way. As soon as they came into town, I knew I was going to have to pitch -- probably all three games. That's just the way it goes. The baseball gods, that's just the way they do it."
How many days in a row can you close?
"It kinds of depends on the amount of pitches I throw, because I know earlier in the year I threw seven out of nine days."
Thoughts?
"It was different tonight because it was the Cardinals, just because I have so many ties over there. But I get nervous every time I pitch. I was taking that same intensity into the eighth inning as I was into the ninth. I just reacted the same way."
More important for team to get first save post-K-Rod?
(Agrees.) "I also know that tomorrow is another day signing and I could be singing a different tune."
Think where you'll be on Aug. 1?
"That's the last thing on my mind right now. I just try to get through day to day. I talked to Terry (Collins) a little bit today, and it's just, I'm happy here. He knows that. Sandy (Alderson) knows that. So we just leave it at that. I also know that if getting rid of me helps this team then that's what they're going to do. But I don't know what they're going to get for me, so we'll just see what happens.