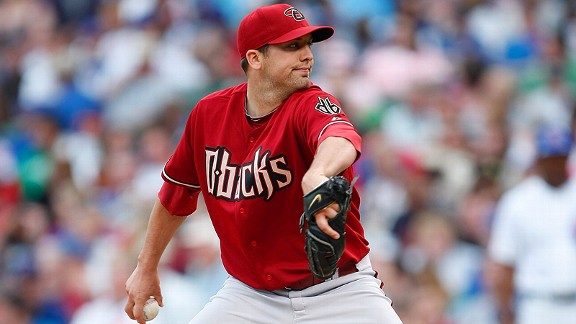 Scott Boehm/Getty Images
Kevin Mulvey is returning to the organization that used its top pick to draft him in 2006.
Right-hander Kevin Mulvey, who was traded to the Minnesota Twins in the Johan Santana deal, has re-signed with the organization. He will proceed directly to minor league camp.
Mulvey, 26, hails from Parlin, N.J., and attended Bishop Ahr and then Villanova University.
"It's great to be back. Full circle," said Mulvey, who was the Mets' top pick (second round) in 2006.
He last appeared in the majors in relief with the Arizona Diamondbacks in 2010, logging three innings. He allowed a pair of solo homers among five hits and also walked two batters. He went 4-9 with a 6.64 ERA in 19 starts at Triple-A Reno last season.
From a prospect perspective, the Mets-Twins trade involving Santana worked out. The other players shipped with Mulvey to the Twins were outfielder Carlos Gomez (now with the Milwaukee Brewers) and right-handers Philip Humber (Chicago White Sox) and Deolis Guerra (5.59 ERA in Double-A for Twins last season). But in evaluating the deal, the fact that giving Santana a six-year, $137.5 million contract as part of the deal must be taken into account. If Santana does not vest for 2014, he will receive a crippling $31 million in '13 from the Mets.
Mulvey was traded from the Twins to the Diamondbacks in September 2009 for now-Met Jon Rauch. He was released during spring training by Arizona.