Miller Safrit/ESPN
Five-star recruit Kendall Sheffield committed to Alabama last month.National Signing Day is one day away, and the SEC looks poised for another dominant recruiting year.
The SEC has eight of the top 15 classes, according to ESPN's RecruitingNation, and many of the top undecided recruits have at least one SEC school on their list of contenders.
Although top-notch recruiting does not always translate to on-field success, the SEC has recruited like no other conference in recent years.
Consider these numbers. From 2012 to 2014: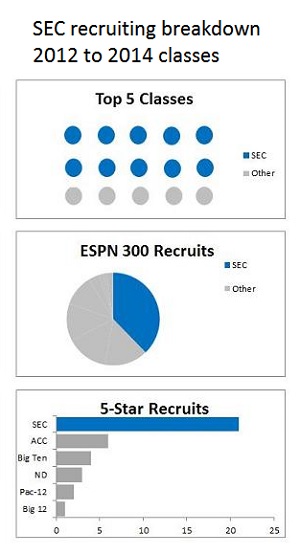 • Looking at the top five classes each of the three years, 10 of the 15 belong to the SEC.
• The SEC signed 302 players ranked in the ESPN 300, 181 more than any other conference.
• The SEC signed 21 five-star recruits; the rest of the country, 16.
No. 1 within Alabama's reach
The SEC's recruiting dominance begins with the Alabama Crimson Tide. The Tide have signed a top-three class in each of the last seven seasons and are likely to sign an unprecedented fourth straight No. 1 class in 2015.
No other team this decade has come close to Alabama in terms of recruiting. Since ESPN started giving out five-star ratings in 2010, 77 players have earned that distinction. Alabama has signed an FBS-high 10 of the 77, with a commitment from another in 2015 (cornerback Kendall Sheffield).
In 2015, Alabama is set to sign another top class. Entering Signing Day, the Tide have 25 commitments, 18 from players in the ESPN 300. To add context, no other team has commitments from more than 14 ESPN 300 players, and the entire Big Ten has 31 ESPN 300 commitments (2.2 per school).
Alabama probably will lead the nation in ESPN 300 signees for a fourth-straight season. It's not surprising that Alabama had nine more ESPN 300 players on its active roster last year than any other FBS team.
Most ESPN 300 recruits on active roster 2014 season
The SEC's recruiting dominance begins with Alabama, but plenty of other teams are making an impact on the recruiting trails. Last season, in Butch Jones' first full recruiting season, Tennessee signed a top-five class. The Volunteers, with 29 committed players, are likely to sign another top class in 2015. Georgia joins Tennessee with a projected top-five class, the Bulldogs' first in the last three seasons.
As Ole Miss' fifth-ranked class in 2013 showed, top-notch recruiting can have an impact on the field. SEC schools Ole Miss, Alabama, Georgia, Tennessee, Texas A&M, LSU, Auburn and Mississippi State are all projected to sign a top-15 class. If those numbers hold, it will be the most top-15 classes (eight) for any conference in any year since 2006.
Those class rankings are likely to change on Wednesday, with six of the top 10 players set to announce their intentions on ESPNU. All six of those players have at least one SEC school on their shortlist, which means it could be another dominant Signing Day for the schools down south.