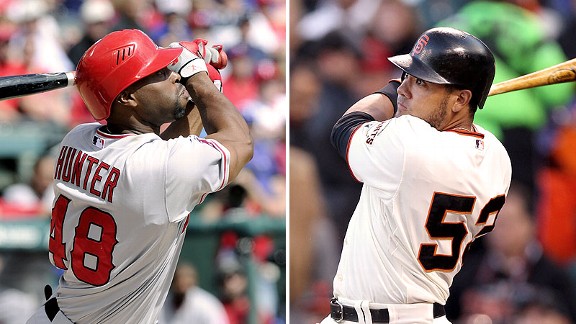 Getty Images
Torii Hunter and Melky Cabrera are headed to new teams in 2013.Throughout the offseason, we'll feature regular in-depth reviews of MLB moves. Our first look focuses on a pair of outfielders who share the common bond of trying to duplicate a season that was unusually good in one respect
Tigers sign Torii Hunter
The Tigers will be very excited to have Torii Hunter in their lineup next season, as he fills two very specific needs.
Hunter's late surge with the Los Angeles Angels pushed his OPS to .817 by season's end.
Fewest Defensive Runs Saved
Rightfielders Last Season
Last season, Tigers rightfielders combined to compile a .641 OPS, lowest of any team in the majors and 58 points lower than any other AL team.
Hunter will also make a huge impact for the Tigers on defense. Tigers rightfielders cost the team 17 runs in the field last season, the second-worst total in the MLB.
Hunter finished third among major league rightfielders with 15 Defensive Runs Saved last season.
Hunter produced a career-high 5.5 Wins Above Replacement last season in his age 36 season, as he finished with a .313/.365/.451 batting average/on-base-percentage/slugging percentage slashline. It was the first time in his career he batted over .300 in a season.
However, this acquisition comes with a few caveats.
* Hunter struck out at a career-high rate last year (23 percent of his plate appearances).
Torii Hunter Last Season
* After walking at an above-average rate for three straight seasons, Hunter drew walks at his lowest rate in five years with the Angels (seven percent of plate appearances).
* Hunter also posted his lowest Isolated Power (extra bases per at-bat) since 2000 (.139).
Hunter finished 2012 with an AL-best .389 batting average on balls in play, including .449 over his last 63 games.
Hunter does not typically post this sort of BABIP. His career BABIP entering last season was .307. His previous career high BABIP for a single season was .336 in just 99 games in 2000.
Next season, if Hunter were to maintain last season's strikeout, walk and home run rates while reverting to his previous career .307 BABIP, in the same number of plate appearances, he'd have 34 fewer hits, resulting in a .249 batting average.
--Will Cohen & Katie Sharp
Blue Jays sign Melky Cabrera
What is a stat to keep an eye on for Melky Cabrera from a pitch-performance perspective as he transitions to the Toronto Blue Jays in 2013?
The number that differed most significantly for Cabrera in 2012 from his past performance was how he fared when a left-handed pitcher threw him a pitch to the lower-half of the strike zone or below.
Last season with the Giants, Cabrera saw 335 pitches to that area from lefties. He turned those into 42 hits but made only 48 outs, and missed on only 10 percent of his swings.
Melky Cabrera
BA/OPS by Pitch Location
Of those 42 hits, eight were home runs. Only three players had more home runs against lower-half pitches from lefties last season- Ryan Braun (12), Mark Trumbo (10), and Edwin Encarnacion (9).
This is part of a two-year run for Cabrera in which he transformed himself into an elite low-ball hitter, as noted in the chart above. Had Cabrera hit like he had hit against lower-half pitches from all pitchers in 2009 and 2010, he'd have batted .283, instead of .346.
--Mark Simon