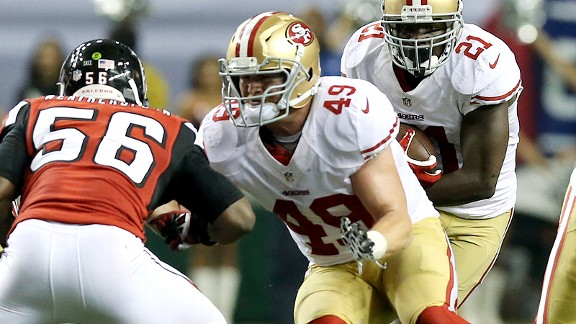 Matthew Emmons/USA TODAY Sports
Fullback Bruce Miller is the 49ers special ingredient to their option offense
The San Francisco 49ers option rushing attack has generated 244 yards on 8.4 yards per rush, and four touchdowns this postseason. Including the regular season, the Niners have boasted the most efficient option scheme in the NFL. No team which used the option regularly averaged more than San Francicso's 7.1 yards per rush with the play this season.
But what is it that makes the 49ers option so good?
Highest Yards/Rush on Options
This Season Including Playoffs
This postseason, 21 of the team's options plays have employed a fullback in the backfield, with the 49ers averaging 7.8 yards per rush from those sets.
Utilizing a fullback on options hasn't been the preference in the NFL this year. Only 44 percent of option plays across the entire league, including the playoffs, were run with a fullback in the backfield.

Miller
Since Colin Kaepernick took over as starter in Week 11, fullback Bruce Miller has played on 53 percent of the 49ers snaps. In Weeks 1 through 10, Miller played just 39 percent of the team's offensive snaps.
And the Niners have greatly expanded their option use in the postseason. They ran out of the option 3.7 times per game in the regular season with Kaepernick starting, but have upped that to 14.5 rushes per game in the playoffs.
49ers Option Rushing
This Season Including Playoffs
However, San Francisco has shown vastly different looks in each playoff game. Kaepernick didn't keep the ball on a single option in the NFC Conference Championship against the Atlanta Falcons, after keeping it seven times against the Green Bay Packers.
Against Atlanta, Kaepernick handed off to Frank Gore on all 11 option runs. Both times that Gore found the end zone, Miller led the way with key blocks, allowing Gore to go in untouched. Check out those plays here and here.
Of course the Baltimore Ravens will be aware that Kaepernick can keep the ball and do things like this (note Miller on the field again). Against the Packers, Kaepernick kept the ball on seven of 16 plays and was not contacted by a defender on five of those seven, including his 56-yard touchdown run.