Pingpong is an Olympic sport.
So is badminton. And trampoline. Shooting, too. The always popular rhythmic gymnastics and synchronized swimming as well, of course. And golf is being added for 2016.
But baseball is not being played at these London Games. Nor will it be four years from now, when the Olympics are in Rio de Janeiro.
Baseball is the national pastime of countries in North America, the Caribbean and Asia, a sport that has sent players raised in Italy, the Netherlands, Brazil, Australia and Taiwan to the major leagues in the past year. It's a game with major leaguers from every habitable continent except Africa, which has numerous prospects in the minors. But baseball apparently no longer meets the International Olympic Committee's rigorous standards as an international, exciting sport fans love to watch around the globe.
Not like table tennis.
There are a couple of reasons the IOC booted baseball out after the 2008 Games. One, the infrastructure cost in building a baseball stadium that will not be used again in some host cities is high. But since when did the bloated IOC really care about containing costs?
A bigger reason is the absence of major leaguers, unlike the NBA and NHL players in the Olympic basketball and hockey tournaments. Or at least, the absence of current major leaguers. Baseball players who went on to the majors after the Olympics include Mark McGwire, Barry Larkin, Will Clark, Jason Giambi, Hideo Nomo, Matt Stairs, Jim Abbott, Trevor Cahill, Stephen Strasburg and R.A. Dickey. But future big leaguers don't matter because evidently, Jacques Rogge and the rest of his IOC one-percenters do not subscribe to "Baseball America'' or follow Keith Law on Twitter.
The lack of major leaguers is a lame excuse. The lack of many of soccer's biggest names -- the men's Olympic tournament is restricted to players under age 23 -- doesn't keep that sport out of the Games. So why single out baseball, other than because the European IOC powers persistently and erroneously view it as strictly an American sport?
Baseball and softball failed in separate bids to be reinstated for the 2012 and 2016 Olympics, but now they are combining their bid for 2020. They will be going up against six other sports, including squash, wake boarding and wushu. Can a sport played all over the world hold off squash to get back into the Olympics? If I were Pete Rose, I would bet on it.
"It's going to be a battle. It's not going to be easy,'' gold- and silver-medalist softball pitcher Jennie Finch said. "The people who want it out are going to have to say, 'Oh, we made a mistake.'"
Yeah, and the IOC just loves to admit its mistakes.
There is a solution, though. The key to getting baseball and softball back into the Olympics lies not in just combining their bid but in combining their sports as well. As a colleague suggested, they need to present a bid for co-ed softball.
It's an ingenious idea. It would draw praise for being one of the few Olympic sports progressive enough to have men and women competing together, thereby appealing to both demographics. It would trim costs because the host city would have to build only one stadium. There would be no scheduling conflicts with the baseball season.
More importantly, it would fulfill the IOC's desire by allowing some of baseball's biggest names to play in the form of recently retired major leaguers. If this idea were approved for the 2020 Games, the IOC would be able to see such All-Stars as Jose Bautista, Alex Rodriguez, Josh Hamilton, Ryan Howard, Adam Dunn, Adrian Beltre and Curtis Granderson. You could have Finch and her husband, Casey Daigle. You could probably even have Matt Treanor and his wife, beach volleyball legend Misty May-Treanor.
Heck, Jamie Moyer could pitch until the 2028 or 2032 Games. And tossing underhanded, his velocity might even go up.
Further, it would provide tremendous marketing deals through players drinking the official beer of the Olympics during competition. The sponsors would love the marketing opportunities, pouring in more millions for the chance to see Heineken
, Budweiser or Guinness displayed as the newest energy drink for athletes.
I'm telling you, co-ed softball is the secret. Picture John Kruk at first base and tell me this would not be hugely successful.
CSI: Box Score
Each week I provide a fragment from an old box score and challenge you to determine what game it is from and why it's significant. I give it a difficulty rating of 5. Answer below:
Baseball Card of the Week
From the looks of the rather narrow shoulders on his rookie card (1985 Topps, No. 401), Big Mac probably didn't have to worry too much about drug testing at the 1984 Olympics when baseball was a demonstration sport.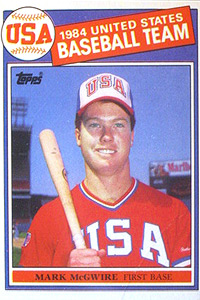 Box Score Line of the Week
Hisashi Iwakuma struck out 13 batters (8 IP, 4 H, 1 R, 1 ER, 3 BB, 13 K). Josh Hamilton went hitless but still drove in two runs (4 AB, 0 R, 0 H, 2 RBI). And A.J. Burnett pitched a one-hitter (9 IP, 1 H, 0 R, 0 ER, 2 BB, 8 K). But this week's award goes to Anaheim's Jerome Williams, who earned a save Sunday despite allowing five runs to "protect" a 12-3 lead. His line:
4 IP, 8 H, 5 R, 5 ER,1 BB, 1 K
How do you get a save when you allow five runs? Because the official scorer is allowed to award a save if a reliever maintains the lead and pitches effectively the final three innings of a victory. But since when is allowing five runs in four innings pitching effectively?
CSI: Box Score Answer
The biggest clues were all those zeroes, plus the names Vaughn and Toney. Yes, this was the famous double no-hitter between Fred Toney and Hippo Vaughn on May 2, 1917, when the two pitchers each held their opponent hitless for nine innings before the Reds finally broke out with a hit in the 10th inning. Give yourself a pat on the back if you got that, but don't credit yourself with a right answer unless you also figured out why I ran this box score now, during the Olympics. And to know that, you needed one final clue: "Thorpe rf.''
Yes, that was the legendary Jim Thorpe, who drove in the game's winning run. Thorpe also won the 1912 Olympic decathlon before having his gold medal stripped the next year for having been paid (gasp!) to play minor league baseball prior to the Olympics. Eventually, even the IOC admitted it broke the rules in stripping him of the medal after a stated deadline and reinstated his performance as a co-champion in 1983, three decades after his death.
By the way, Thorpe also played baseball in the 1912 Games, when it was an exhibition sport.